Sparkman Wharf is Tampa's newest hot spot, which just happened to have its grand opening the week before we visited. Having lived in the Tampa area for many years before moving to Philadelphia, we were excited to check out this newly renovated outdoor space. The area, previously called Channelside Bay Plaza, had basically been abandoned for several years, so it was nice to see some life being brought back into the downtown Tampa area.
Sparkman Wharf is part of phase 1 of a multi-billion dollar commercial real estate revitalization in Tampa. Eventually, development will expand all the way to the Amalie Arena, where the Tampa Bay Lightning play. Since the weather is warm in Tampa, this is a space that can stay open all year round, giving people a fun option in the downtown area.
We went on a Friday night. The place was packed, but there was plenty of space and seating, so we never felt crowded. There are plenty of parking lots around within walking distance, but your best option is to valet as it only cost $5 and the cheapest lot we could find was $15.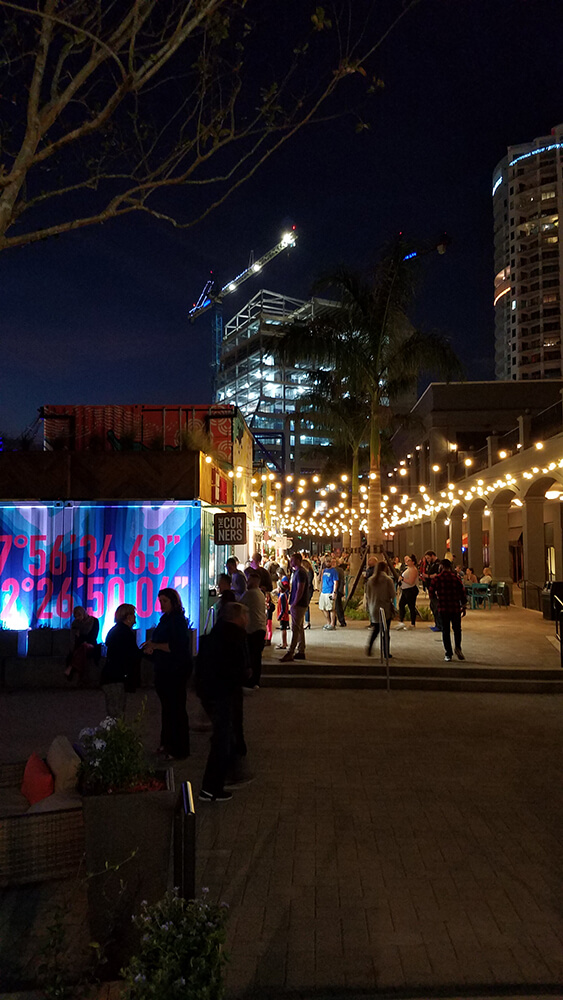 Sparkman Wharf had a cool, hip vibe and reminded us of several of the pop up parks that are open in the summer back in Philly. The colorful shipping containers, murals and cool lounge chairs are an Instagrammers dream. Before, the space was enclosed, lacked an identity and had no view of the water. Now, the space is open and airy, has a great view of the water and a good layout that will make it easy to expand upon.
Sparkman Wharf is both kid and dog friendly, so it's a great option for a night out with the family, romantic date night or a place to get a bite to eat after a hockey game. Years ago, this area was filled with bars and clubs that had strict dress codes and were 21 and older. Now, you'll see people (and dogs) of all ages having a good time in a casual atmosphere.
Food
Sparkman Wharf currently has 10 different food vendors, so if you're hungry, there are plenty of choices. Vendors sell upscale food of out of recycled shipping containers in what is called the Dining Garden. We had dinner reservations later that night, so we just stuck to drinks, but the food looked good and was reasonably priced. None of the restaurants offer table service, so you just order at the counter, similar to a food truck. This gives you the opportunity to try a few places, which is nice when you're with a group of people.
Drinks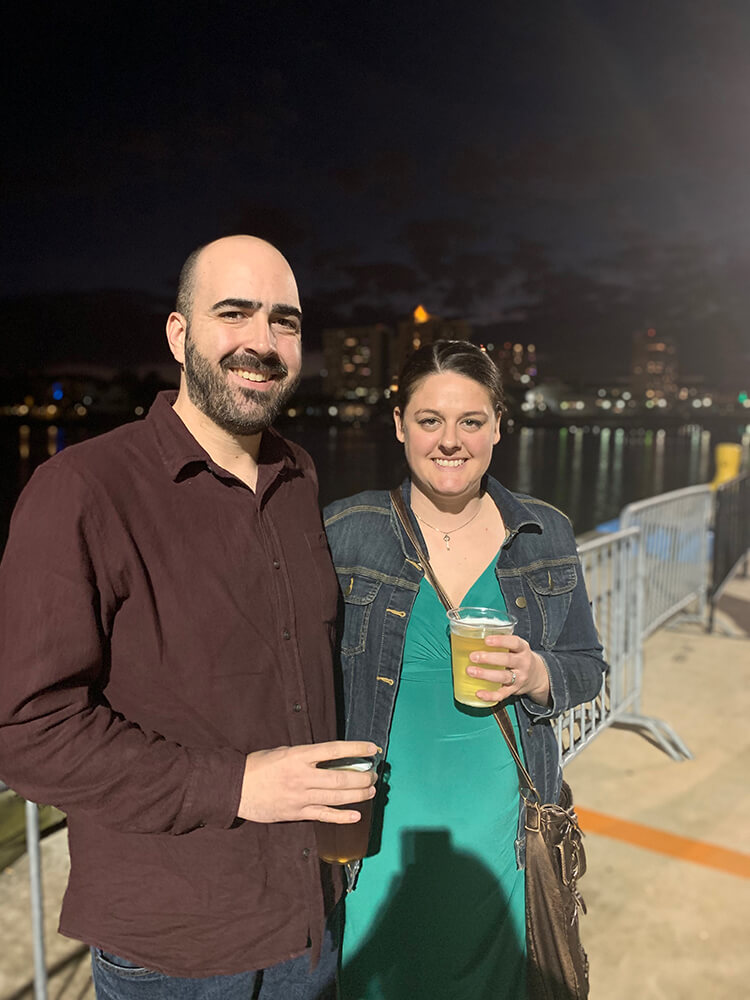 For drinks, we headed to the Fermented Reality Biergarten, located in the middle of the wharf. They offer lots of local brews, wine and even non alcoholic drinks under a shaded tent.
Pros- Plenty of bartenders so we didn't have to wait in line and lots of local brews.
Cons- Expensive. $8 for one drink is high even for Philadelphia standards. A lot of the food vendors also serve beer, and at a cheaper price.
Entertainment
A live band was playing the entire time we were there. The music was great and really helped set a fun mood. They also had shuffleboard, cornhole and giant chess games you could play. We played a few rounds of cornhole while listening to the band, but if that's not your thing, you can simply sit back in a lounge chair and enjoy the beautiful view of the water.
Overall, we really enjoyed our time in Sparkman Wharf and think it's a great addition. With food, drinks and outdoor activities, it offers something for everyone and will hopefully bring some new life into the downtown Tampa area. We're excited to see how the wharf changes and expands over time. We will definitely visit again the next time we are back in Tampa.
Save to Pinterest