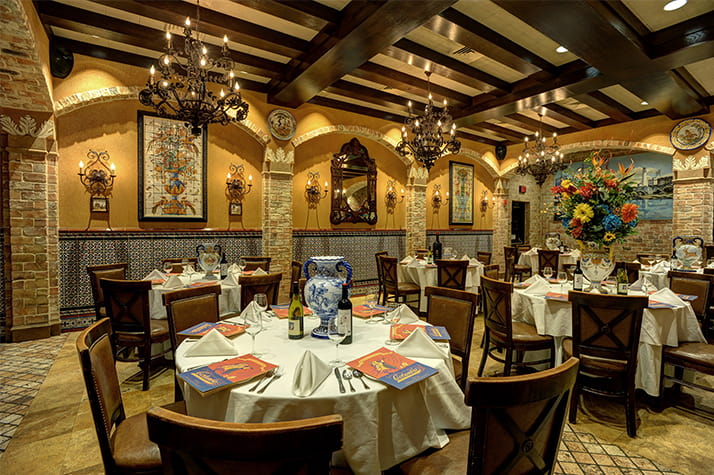 Are you looking for the top affordable restaurants in Tampa Bay? Here's a list of our top restaurants in Tampa Bay that aren't major chains.
I lived in Tampa most of my life (1981-2014). I was born and raised in Tampa and have seen tons of restaurants come and go over the years. These are some of my favorite restaurants that I go to when I visit Tampa.
Tampa has tons of great food! Cuban food is the main attraction in Tampa, but there are also really good Mexican, BBQ and Italian restaurants.
Since we moved out of Tampa in 2014, I know there's got to be great new places we haven't tried.
If you can highly recommend some new places, leave a comment below and we will try to visit those restaurants during our next trip to Tampa.
We will also list our top 3 items for each restaurant that you must try!
Note: We haven't been paid to list any of these restaurants. We want to share our personal favorite restaurants with you!
Interactive Google Map
Use the interactive map below to see the exact locations for each restaurant. Use the full-screen button to open the map in a new window. This is helpful while on a mobile device.
Top 20 Restaurants in Tampa Bay (this list is not in any particular order):
#1 Columbia Restaurant
2117 E. 7th Ave. Tampa, FL 33605 | Menu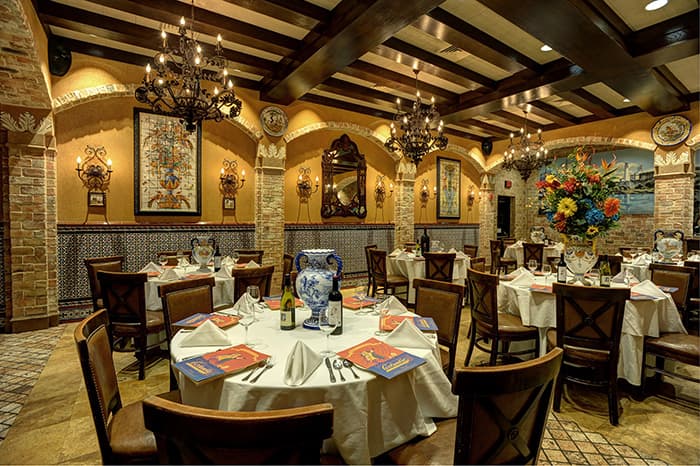 Photo Credit: Columbia
The Columbia in Ybor City is one of the most unique restaurants you will ever visit. The Columbia has been a staple to Tampa for over 110 years and counting. It's a 5 generation owned and operated Cuban restaurant.  They have expanded to 7 locations throughout Florida, but the Ybor location is the original and the biggest. This is the most expensive restaurant on our list, but it's so worth it! Just walking around the different themed rooms is an experience.
We highly recommend checking out the Flamenco show. It's a great show that brings the culture and dance traditions of Spain to Ybor City as a complement to the internationally acclaimed Spanish cuisine of the Columbia Restaurant.
Fun Fact: We love Columbia so much that we had our wedding there! The image above is the exact room we rented out for our wedding.
Top 3 items:
1905 Salad
Ropa Vieja
White Chocolate Bread Pudding
#2 The Bricks
1327 E 7th Ave, Tampa, FL 33605 | Menu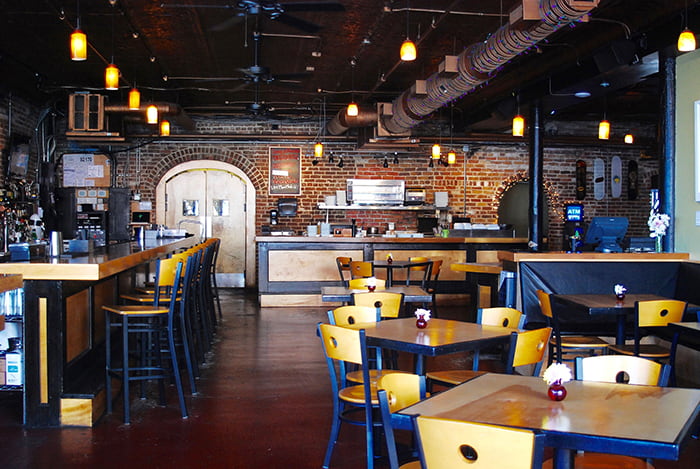 Photo Credit: The Bricks
The Bricks in Ybor is a fun place! It opened in 2010 and is themed and inspired by its predecessor Skatepark of Tampa. It's much more than just a restaurant. They have a great bar and live entertainment. They often have themed events, such as video game nights and Emo night.
Top 3 items:
Bird & Pig Sammy
Supreme Grilled Cheese
Kung Fury Rice Bowl
#3 La Teresita
3246 W. Columbus Drive Tampa, Florida 33607 | Menu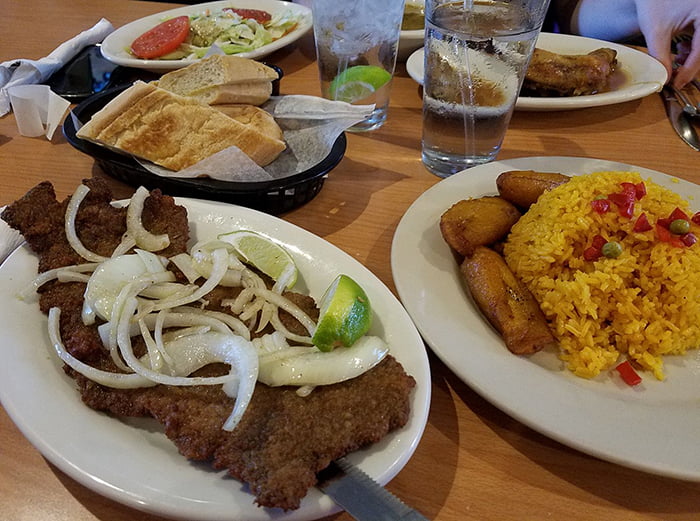 La Teresita is an affordable Cuban restaurant with a rich history in Tampa. They offer great daily specials and it's a very popular lunch place because it's close to business complexes. I used to visit here often when I worked in Tampa.
Top 3 items:
Bistec Empanizado (Breaded Steak)
Arroz con Pollo (Yellow Rice & Chicken)
Picadillo (Ground Beef in Sauce)
#4 Miguel's Mexican Seafood & Grill
3035 W Kennedy Blvd, Tampa, FL 33609 | Menu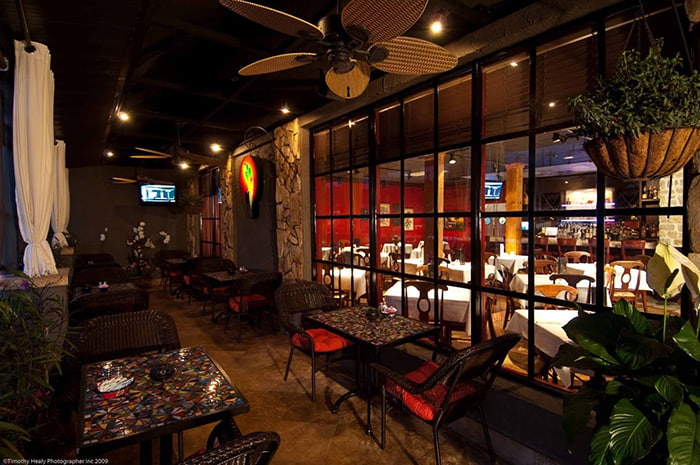 Photo Credit: Google Images
Miguel's Mexican restaurant has been around since the early '90s, I always remember going here with my family after a major event like a graduation, so this place will always hold a special place in my heart. It's in a great location and can get pretty busy for lunch and dinner. They have a great atmosphere inside and outside.
Top 3 items:
ENCHILADAS POBLANO SUIZA
SEAFOOD CHIMICHANGA
FAJITAS BROCHETTE
#5 Datz
2616 S MacDill Ave, Tampa, FL 33629 | Menu

Photo Credit: Datz Website
Datz has been running since 2009. It's a nice South Tampa restaurant that serves comfort food with a flair. Datz is an award-winning restaurant and has been featured on Good Morning America, Travel Channel, Food Network, Cooking Channel, and FYI. They also have a great selection of craft beers. This is a must visit if you're in South Tampa.
Top 3 items:
Datchos
Barry C's Stuffed Meatloaf
Porkfection
#6 Pho Quyen Vietnamese Cuisine
8404 W Hillsborough Ave, Tampa, FL 33615 | Menu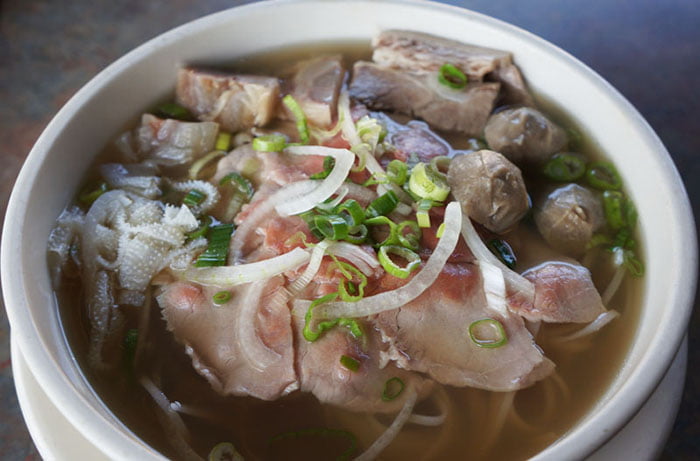 Photo Credit: Pho Quyen Website
Pho Quyen is in my old hometown of Town 'n' Country. This exact location used to be a Ponderosa Steakhouse in the '80s & '90s. All of my brothers and sisters actually used to work there! When Pho Quyen opened in the 2000s my friend from work took me there for lunch and it instantly became one of our "regular lunch restaurants". This was the first place I tried Pho and there's nothing quite like a good bowl of Pho on a cold day!
Top 3 items:
Pho Rice Noodle Soups
Broken Rice- Com Tam
Rainbow Iced Drink
#7 Marina's Pizza
12121 W Linebaugh Ave, Tampa, FL 33626 | Menu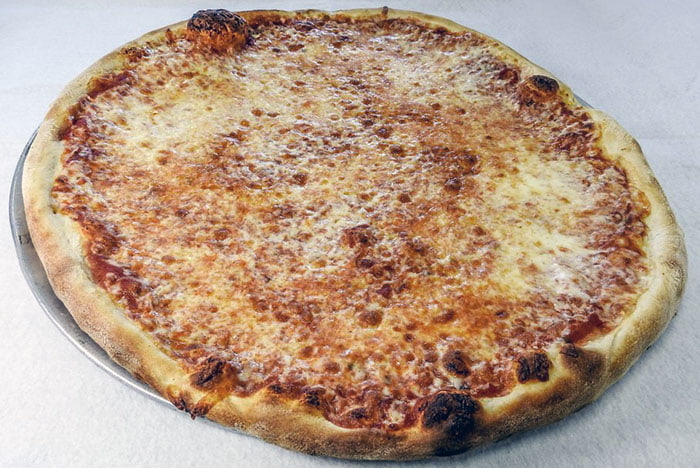 Photo Credit: Yelp
Marina's Pizza in Westchase is my favorite NYC slice in Tampa. As you might know, it's hard to find a good slice of pizza in Florida. I'm a huge pizza junky and Marina's is probably the closest thing I've found to a NYC slice in Florida.  I was lucky enough to live in the town-homes right behind Marina's and would visit here almost weekly. I became a regular and I was okay with that!
Top 3 items:
NYC Cheese Pizza
Garlic Knots
Stromboli
#8 Nicki's Omelette & Grill
6805 W Hillsborough Ave, Tampa, FL 33634 | Menu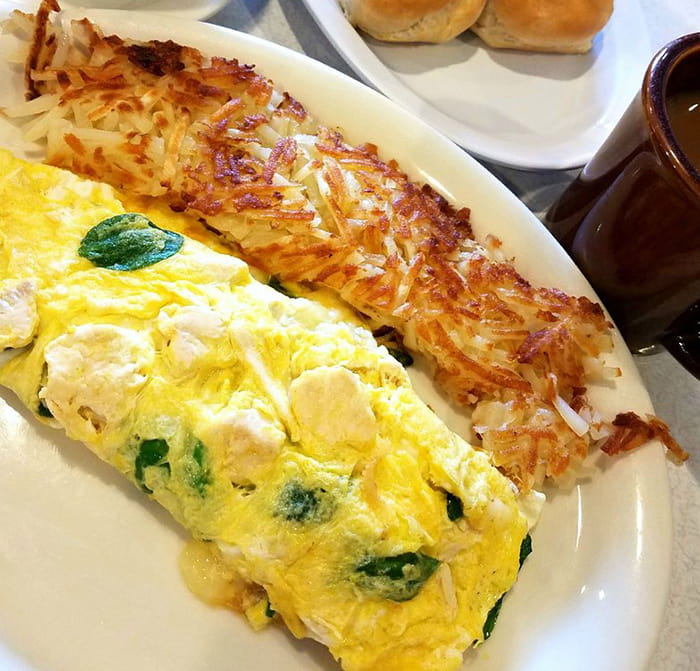 Photo Credit: Yelp
Nicki's Omelette is one of my favorite breakfast places! I do miss this place! They have great prices and large portions. This place can get very crowded on the weekends, so make sure to arrive early if you don't want a big wait.
Top 3 items:
Signature Omelettes
Biscuit Debris
Nicki's Benedict
#9 El Chuzo BBQ
7101 N Armenia Ave, Tampa, FL 33604 | Menu
Photo Credit: Facebook
El Chuzo BBQ is a very affordable place that is open very late on the weekends. Friday & Saturday nights they are open until 4:30 AM! Yes 4:30 AM! This is a great place to grab a late night meal after you've been out all night. They have a large menu selection with BBQ & Spanish dishes. We highly recommend checking it out!
Top 3 items:
De Pernil (Pulled Pork)
Pincho de Pollo (Chicken Kabob)
Perro (Bacon, Cheese Hot Dog)
#10 Hellas Restaurant and Bakery
785 Dodecanese Blvd, Tarpon Springs, FL 34689 | Menu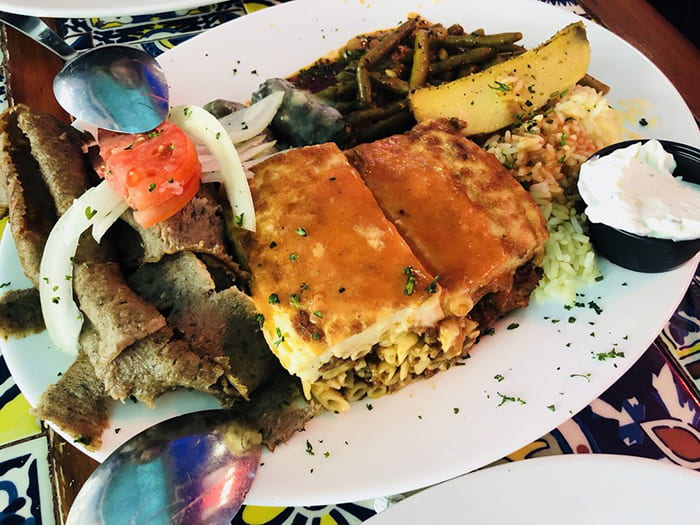 Photo Credit: Yelp
If you're near Tarpon Springs make sure to check out Hellas Restaurant and Bakery. Tarpon Springs has a very large Greek population with a rich history. Hellas has been in business since the '70s. This is one of the biggest restaurants in the sponge docks area. They have a large menu of Greek food with an awesome bakery next door. Make sure to save room for dessert!
Top 3 items:
Saganaki (Opa! Cheese)
Hellas Gyro
Spanakopita
#11 Hungry Harry's Famous Bar-B-Que
3116 Land O' Lakes Blvd, Land O Lakes, FL 34639 | Menu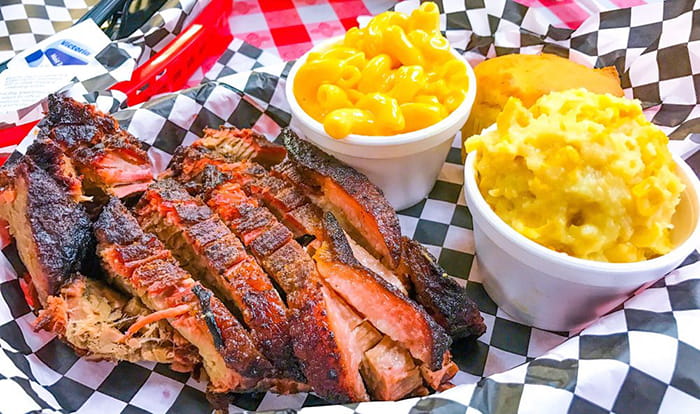 Photo Credit: Yelp
Hungry Harry's is my favorite BBQ place in Florida! Living up north now it's hard to find good BBQ and I often crave it. They have a great selection on the menu and offer tons of great options for larger parties. They even have family packs that save you some money.
Top 3 items:
Sampler Platter
Brisket Sandwich
Home Style Cobbler
#12 Capital Tacos
6765 Land O' Lakes Blvd, Land O Lakes, FL 34638 | Menu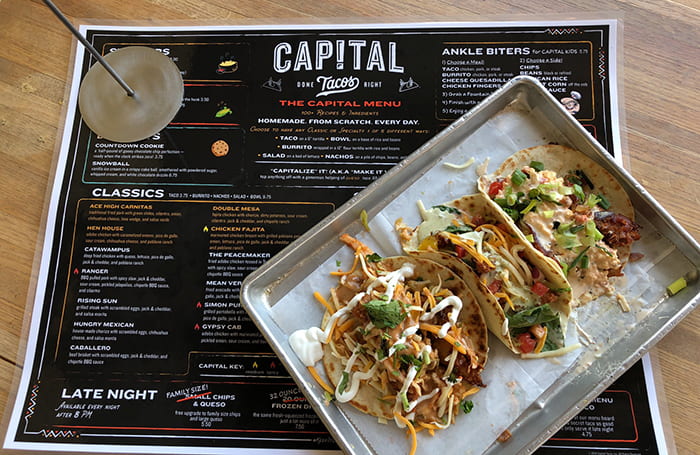 Photo Credit: Facebook
I'm going on record to say Capital Tacos has my favorite selection of tacos anywhere! Barbara used to live really close to the Land O'Lakes locations and we would visit often. The best part is everything is homemade and made to order. They aren't afraid of trying unique combinations and spices. I haven't seen another taco place this creative anywhere.
You get to choose between taco, burrito, nachos, salad, and bowl when selecting your food. I love to mix it up every time I go there.
Top 3 items: 
The Austinite
3 Little Piggies
Texas Flood
#13 GINO's Restaurant & Bar
10006 Armenia Ave. North, Tampa, FL 33612 | Menu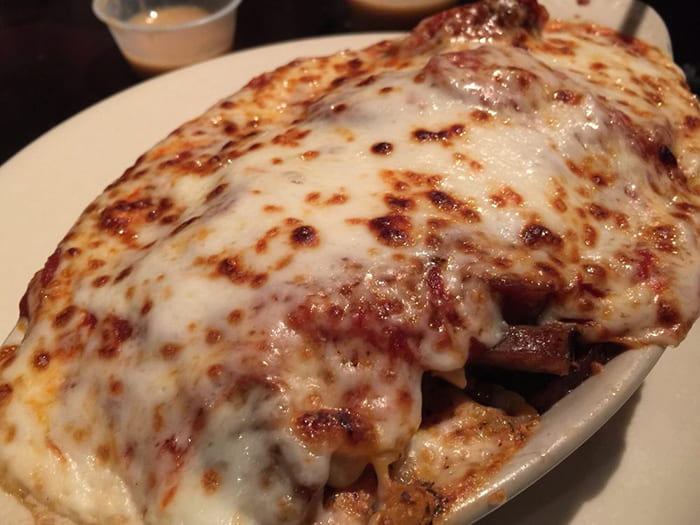 Photo Credit: Yelp
Gino's is my top Italian restaurant in Tampa. I've been going there since the '90s. It's always been a challenge to find a good family-owned Italian restaurant in Tampa. Gino's is a small place, so sometimes there will be a wait to be seated, but it's definitely worth waiting for.
Top 3 items:
Eggplant Parmigiana
Baked Ziti
Jumbo Cheese Ravioli
#14 Acropolis Greek Taverna
14947 Bruce B Downs Blvd, Tampa, FL 33613 | Menu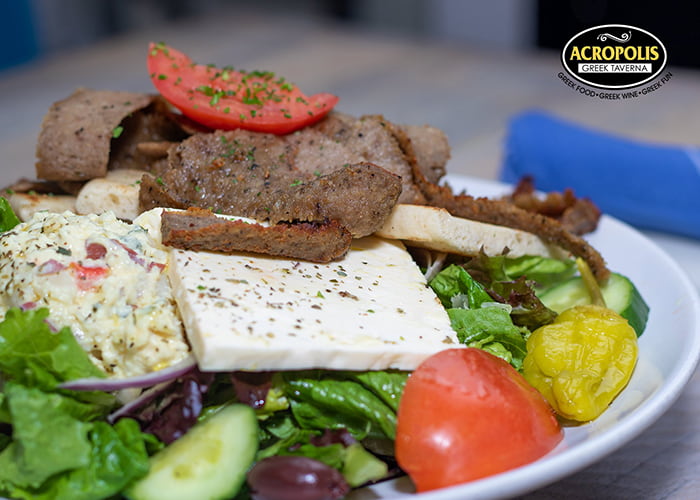 Photo Credit: Facebook
Acropolis is another great Greek restaurant that we highly recommend. They now have 6 locations throughout Tampa Bay. What makes this place different is the entertainment – belly dancing, plate breaking, napkin throwing, zorba dancing and live music.
Top 3 items: 
Gyro Platter
Makedonikos
Spanakopita
#15 Mr. Dunderbak's Biergarten and Brewery
14929 Bruce B Downs Blvd, Tampa, FL 33613 | Menu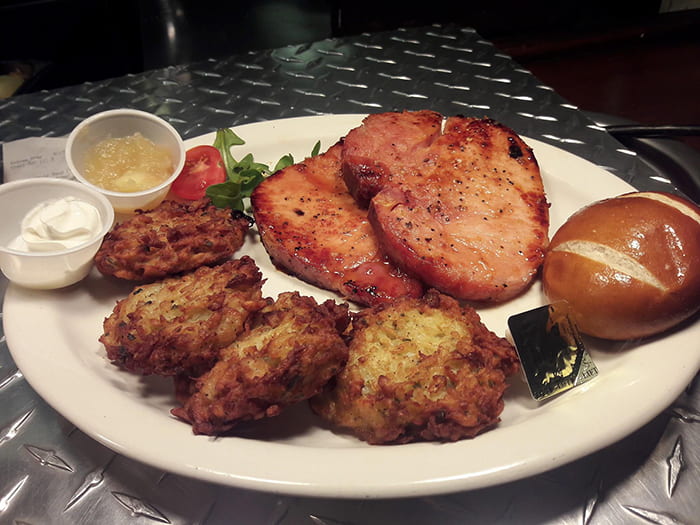 Photo Credit: Facebook
Dunderbrau Brewery is Tampa's original home for the European & Craft Biergarten. They have been around for over 45 years. The food is their own unique twist on old Bavarian traditions. Their intention was never to be the typical "authentic" German restaurant. Rather, they strive to bring you flavors from Bavaria, changed a little and Americanized through the generations.
Top 3 items:
Kartoffelpuffer (potato pancakes)
Oktoberfest Sausage Platter
Der Reuben Sandwich
#16 Pete & Shorty's Iowa Bistro
2820 Gulf to Bay Blvd, Clearwater, FL 33759 | Menu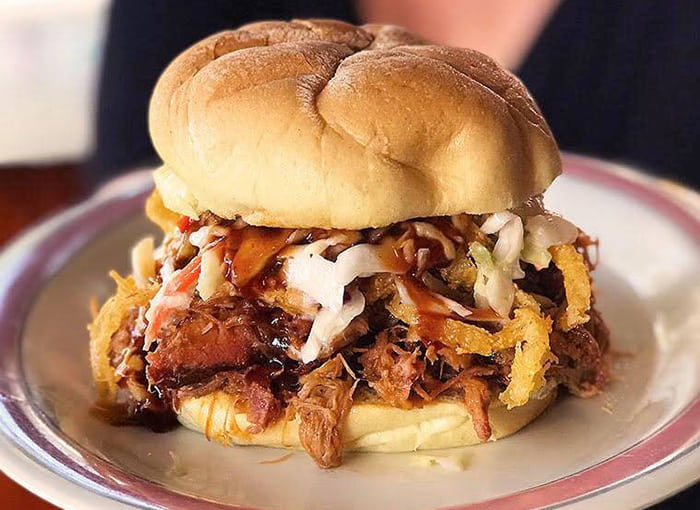 Photo Credit: Facebook
Pete & Shorty's in Clearwater has been around for over 15 years. I used to visit here often for lunch, they have great lunch deals. This is more of a laid back type of restaurant/pub. It's a great place to watch a sporting event. Besides good food, they have a good selection of draft beers.
Top 3 items:
Shorty Burgers
Pork Tenderloin Sandwich
Shepherd's Pie
#17 Pancho's Villa Mexican Restaurant
32804 Pennsylvania Ave, San Antonio, FL 33576 | Menu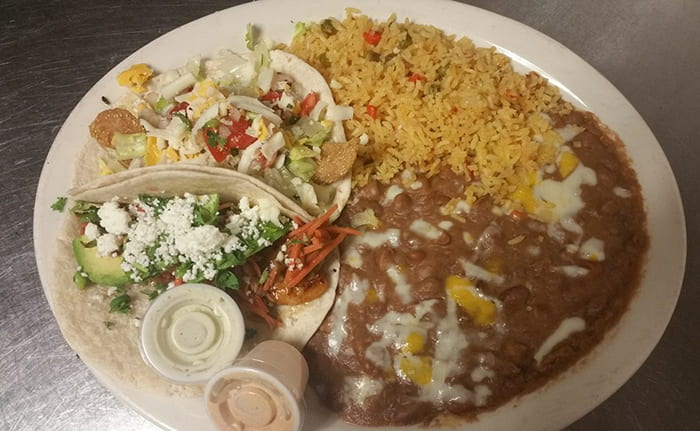 Photo Credit: Facebook
Pancho's is my overall favorite Mexican restaurant anywhere! I used to live in Wesley Chapel and would visit here very often. I became a regular for a while and have brought tons of friends here. They all have said this place is their favorite Mexican restaurant also. I know this place is probably out of the way, but trust me it's worth the trip! I've tried so many things on this menu and haven't had a bad meal or service.
This place is very small and gets packed on the weekends. I've waited over an hour before, but like I said, worth it!
Top 3 items:
Chimichanga
Chile Rellenos
Deep Fried Ice Cream
#18 Lolis Mexican Cravings
8005 Benjamin Rd, Tampa, FL 33634 | Menu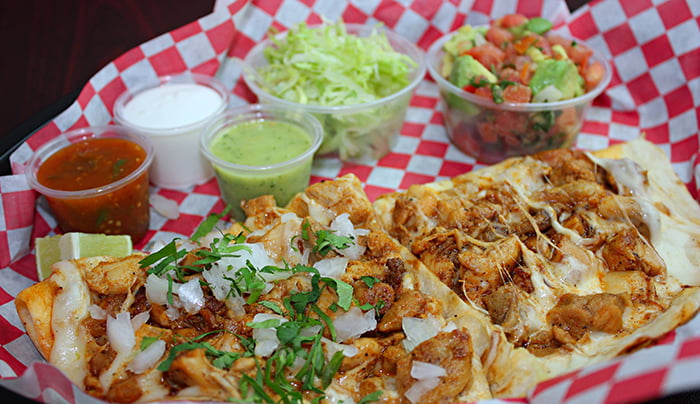 Photo Credit: Facebook
Another great Mexican restaurant has made my list! This is one of the newest places on my list. This location is down the street from my childhood home and I wish it was around back when lived there!  The best part about Lolis is they have homemade tacos, sopes, and tamales. I will make sure to visit here when I'm in my old neighborhood.
Top 3 items:
Carnitas Tacos
Shimp Sopes
Chile Relleno Tamales
#19 Cafe Cibo
8697 4th St N, St. Petersburg, FL 33702 | Menu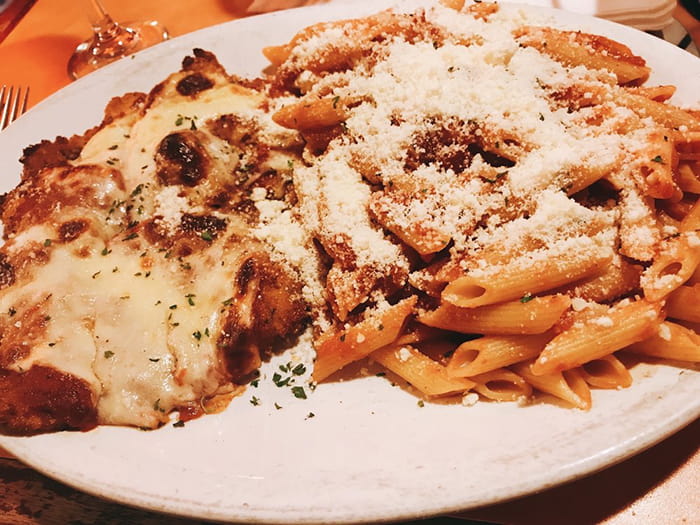 Photo Credit: Yelp
Cafe Cibo is a cozy Italian restaurant in St. Petersburg. The owner is very friendly and the service is fantastic. It's a great place to go with family because the atmosphere is very relaxed. One of the best things on the menu is their bread. They make a dipping sauce that is out this world!
Top 3 items:
Crab Ragu
Baked Ziti w/ Eggplant
Chicken Piccatta
#20 Saffron Palace
10044 Cross Creek Blvd, Tampa, FL 33647 | Menu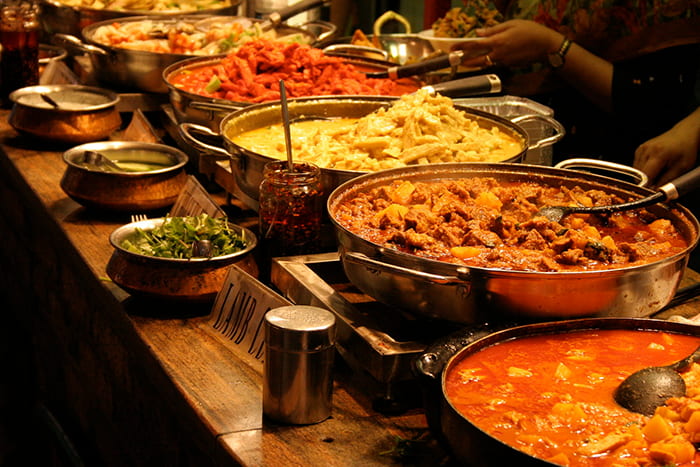 Photo Credit: Saffron Website
I can't forget to add one of our favorite Indian restaurants to the list. I used to visit here often and have always had a great meal.
Top 3 items:
Garlic Naan
Chicken Tikka Masala
Seekh Kabab
No matter what type of food you are craving, Tampa Bay has you covered. Use our top 20 restaurants list to try some great food when you visit Tampa.