The Freemasons have been a part of Philadelphia's history since the 1700s. The Masonic Temple was built in 1867 and is located on North Broad Street, just across from City Hall. This building has undergone many changes through the years, but it still stands as one of the oldest buildings in downtown Philadelphia. Join us for a tour of one of the most beautiful and fascinating buildings we have ever seen!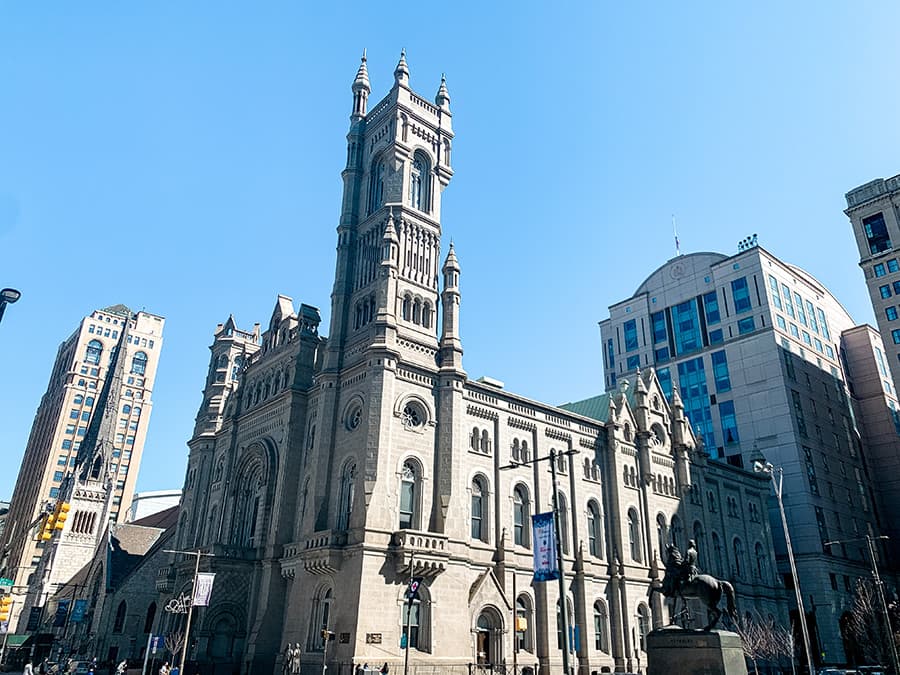 Philadelphia is home to many tourist attractions like the Liberty Bell, Independence Hall, and Rocky steps at The Philadelphia Museum of Art. However, there are still some hidden gems that tourists don't usually know about. One such gem is Philadelphia's Masonic Temple, a must-see for history buffs or travelers interested in architecture.
We have lived in the Philadelphia area for several years now and had no idea until just recently that you could tour this building. We used to walk by it almost daily when we lived in Center City. Considering the outside was so impressive, we always had wondered what it looked like on the inside. When we found out they were offering guided tours, we jumped at the chance. This tour isn't something that you'll find on lists for popular tourist destinations but is one of the most unique places to visit in the city.
What is Freemasonry?
Freemasonry is one of the largest fraternal organizations in the world. Started in England in the 1700s, there are currently more than 2 million freemasons worldwide. Freemasonry unites men of different religious, ethnic, or social backgrounds. Freemasonry insists that a volume of scripture is open in a working lodge and that every member has a belief in a supreme being. The discussion of politics or religion is banned.
Masons meet at their local lodge to conduct business and appoint new members. There are different levels of Freemasonry, and candidates are initiated through ceremonies that take place in the lodge. In addition to paying annual dues, all mason's contribute some amount of money for charity each year as well.
If a man wants to become a Freemason, he has to contact his local lodge and ask for a petition to join. The requirements for joining vary depending on the location, but in general, you must be over 18, believe in a supreme being, be recommended by at least 2 existing Freemasons from the lodge you are petitioning, and have a desire to be of service to mankind.
Some of the most important men in American history have been Freemasons, including George Washington, Benjamin Franklin, Andrew Jackson, and Theodore Roosevelt, just to name a few.
The Philadelphia Masonic Temple
The temple took 5 years to build and was completed in 1873. The interiors were designed by Geoge Herzog, who spent 15 years finishing the task of designing it. One of the most unique features of this building is that each room is designed to represent a specific style of architecture. Every room was so detailed and elaborate, so it was hard to pick a favorite! They were all so incredible.
One interesting fact we learned on our tour was that this building was one of the firsts to use electricity. It's likely due to the fact that Benjamin Franklin was a Philadelphia Freemason and pushed for it to be done.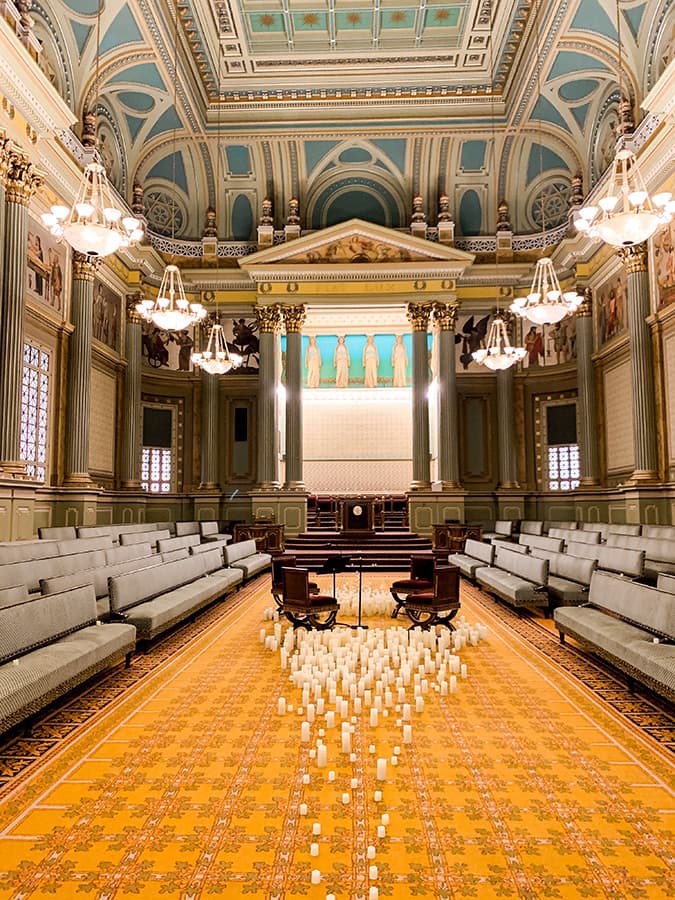 Corinthian Hall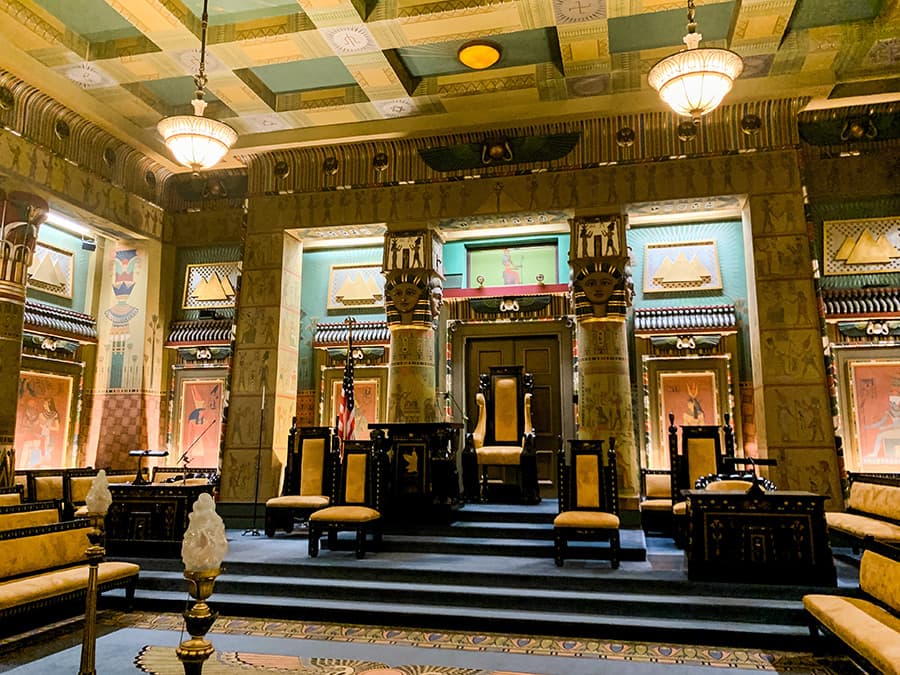 Egyptian Hall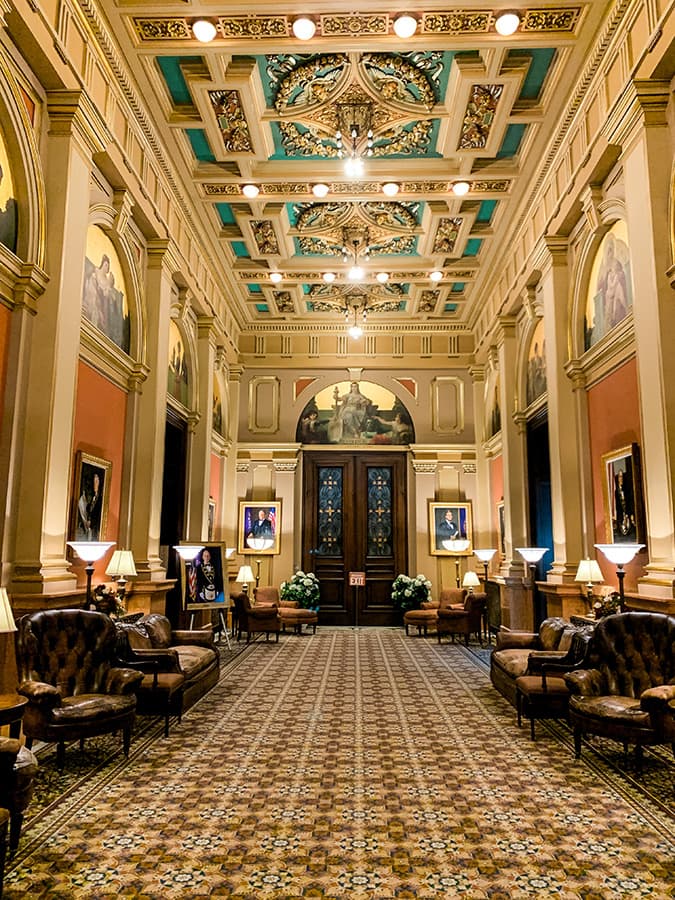 The Franklin Room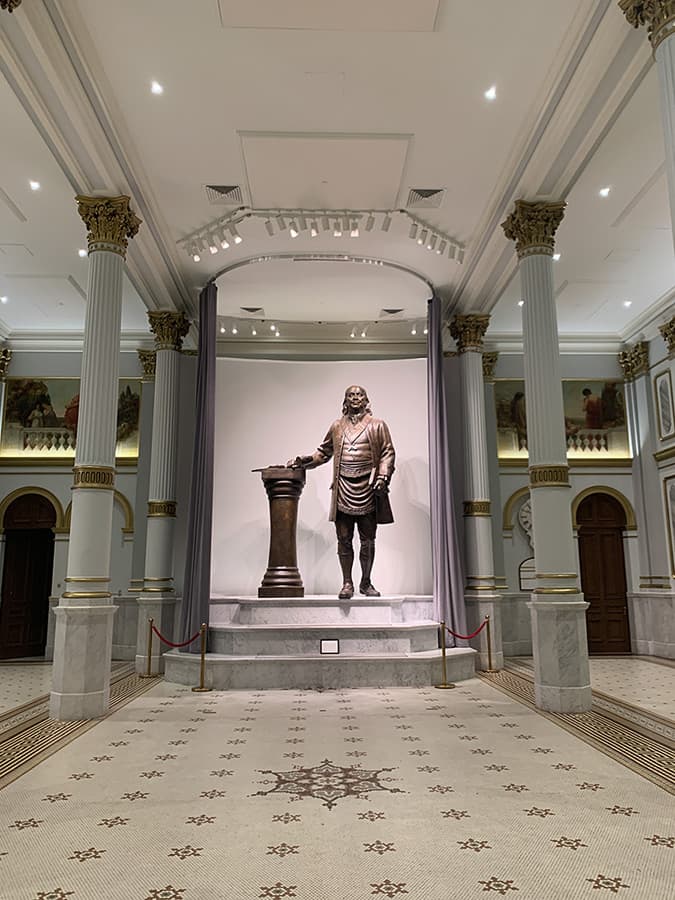 The Grand Ballroom features a giant statue of Benjamin Franklin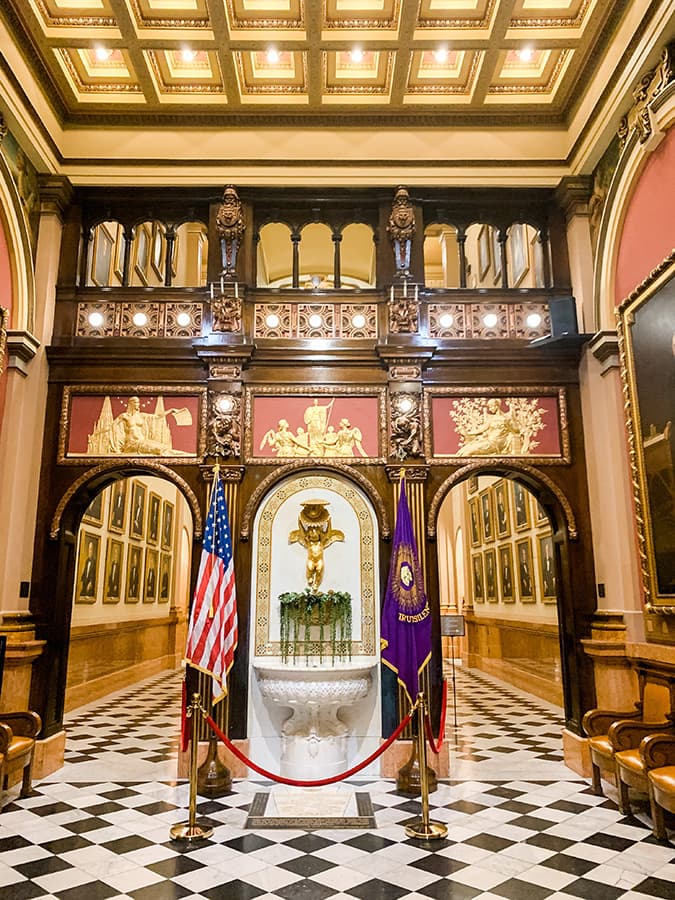 The Grand Foyer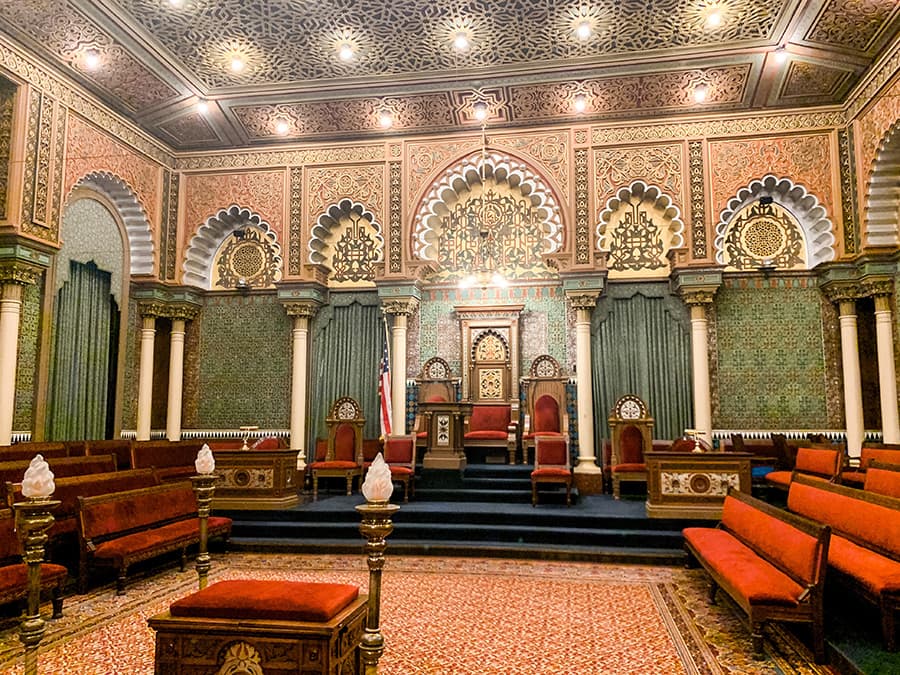 The Masonic Museum
Our tour ended in the Masonic Museum, a room filled with all sorts of masonic items and history. One of the most notable pieces is George Washington's Masonic apron. Seeing that really got us thinking about all the important men in our history that stood in the same rooms we were in.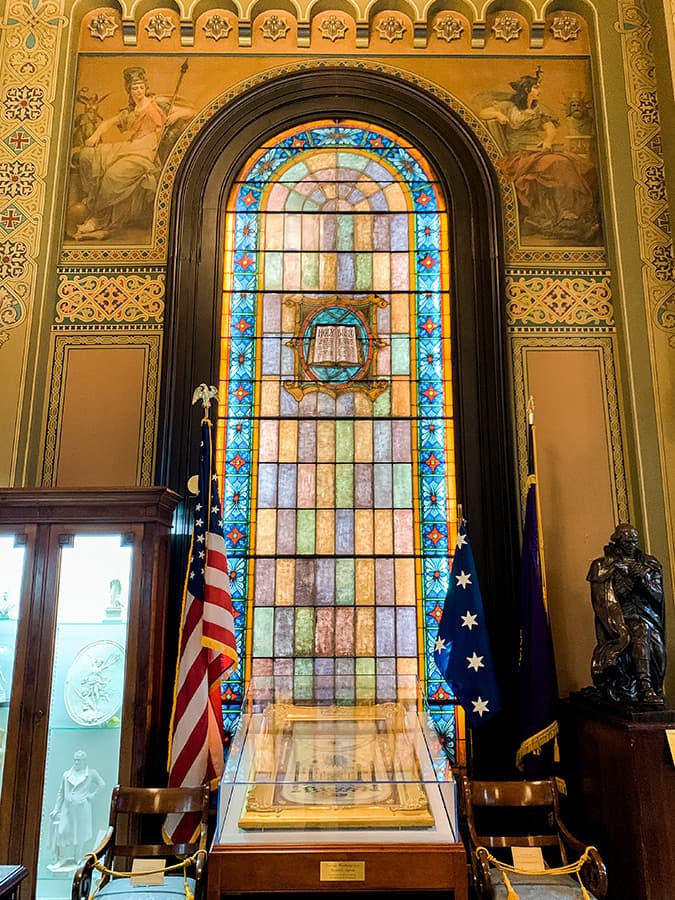 George Washington's Masonic apron
The Masonic Temple Might be the Best Kept Secret in Philadelphia
While it's unlikely that you'll find the Philadelphia Masonic Temple on lists of things to see in the city, it's definitely worth checking out. We were blown away by the architecture and interiors of this building. We truly believe it's one of the best kept secrets in Philadelphia.
Useful Information
Tours are offered Tuesday – Saturday, 10 a.m. and 2 p.m., excluding major holidays or when special events or Masonic functions are happening.
Pennsylvania Mason with Dues Card: FREE
Non-Pennsylvania Mason: $10
Active Military and Children Under 5: FREE
Adults: $15
Students with ID: $10
Children 12 & Under:$5
Senior Citizens 65 & Over: $10
Family (up to 6 people) $35*
Groups (Advanced Reservations – 15 or more) $10*
Library Research Fee (per hour) $30*
*At the time this was written, tour sizes were being limited due to Covid-19. Check their website or their Facebook page for updates.