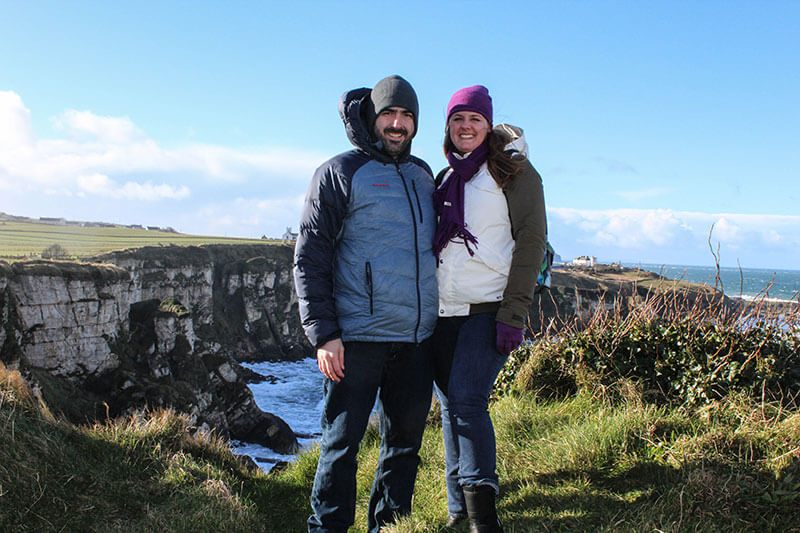 A lot of people ask us how we're able to travel as much as we do. While we are fortunate to run a successful business, we aren't rich and definitely don't have stacks of money lying around. So how are we able to travel to multiple places a year?
Travel hacking.
Over the years, we've learned a lot of different ways to hack the system and get great deals. So much, that we haven't paid for a flight in the U.S. in almost 3 years.
There are a lot of articles on the subject of travel hacking, but I find a lot of the tips suggested to be really impractical. Sure, becoming a nanny or taking a job overseas is a great way to see the world, but most people really can't do that. (If you can, by all means, go for it!)
Instead of suggesting that you uproot your entire life, I'll be sharing exactly what we used to find great deals, save money and eventually, fly for free.
We Signed Up For Rewards Programs
Practically every travel website and airline has some sort of rewards program. Honestly, all the different programs can get pretty overwhelming. Instead of telling you to sign up for every single one, my suggestion would be to research airlines that fly to destinations you want to visit, then sign up for the programs that they have available. If you book through places like Expedia or Orbitz a lot, sign up for their programs as well. It's a lot easier to sign up for something that you might actually use, rather than be on the email list for hundreds of different websites.
Below are the rewards programs we signed up for.
Southwest Rapid Rewards Program
The best airline rewards program for us was Southwest Rapid Rewards. They fly pretty much all over the United States and have a huge presence in Philadelphia. You can generally get pretty good deals on flights and they offer free checked bags, so you don't have to worry about that extra expense.
Anyone can sign up for a Rapid Rewards account. Whenever you book a flight through Southwest, they'll give you points that you can use towards future flights or amenities. It's one of the few programs available that doesn't require you to have a bajillion points to book a flight. I've been able to book flights for as low as 3,500 points before. That said, it does take some time to rack up enough points to book a free flight, especially if you don't fly a lot. So in order to get them faster, I signed up for their credit card.
Southwest Rewards Card by Chase
There are several different Rapid Rewards credit cards available and each one has different benefits. I signed up for their Rapid Rewards Plus card, which at the time, was giving 40,000 bonus points if you spent $3,000 in 3 months. They also waived the membership fee for the first year.
For those first 3 months, Mark and I put everything on that credit card in order to hit the amount required to get the bonus points. Once we hit the $3,000, Mark signed up for his own card. We stopped charging to mine and started using his, so he would get the bonus points. I made sure to have him sign up through my referral link because doing so gave me an extra 10,000 points.
In total, we accumulated over 100,000 reward points in the year we both had those cards. The points never expire, so we were able to book flights for free for about 2 years.
Chase Sapphire Preferred Visa
After a year of having the Southwest card, I decided to cancel it and open up a Chase Sapphire Preferred Visa (affiliate link). Again, they were offering a promotion where you got 40,000 bonus points if you spend $3,000 in 3 months. We repeated the process of charging everything to that card for 3 months so we would get the bonus points.
There are a lot of great bonuses available with the Chase Saphire card. They give you double or triple points on certain purchases, lots of great travel amenities and your points are worth more if you book travel through them. One of my favorite things about the card though is that you can transfer your points to different travel partners for free. One of those partners is Southwest Airlines.
As we were going through all the Rapid Rewards points we previously accumulated, it was really great to be able to transfer points over from my new card to my Rapid Rewards account. Like I mentioned before, the Southwest program is one of the few that doesn't require a ton of points to book a flight. What might have cost us 30,000 points through the Chase rewards website might have only been 7,000 on Southwest, so having the ability to transfer these points at no cost really helped us get the most out of them.
We both have and use the Chase Sapphire cards now. For us, they offer the most flexibility and the best benefits. We've used the points to book not only flights, but hotel stays as well. We booked a great hotel last summer in Montreal using our points. It's really a great card to have for traveling.
A note about credit cards
I think it's important to state that you should never go into debt to try and get something for free. The things we purchased on our cards were things we were planning to buy anyway. Instead of using cash, we used the cards instead. We pay our credit cards balances off every month to avoid paying any interest.
There's a right and wrong way to use credit cards. When used correctly, they offer many advantages, but using them incorrectly could do much more harm than good. Always be careful and don't get yourself into debt to try and travel the world.
Expedia Rewards
We have booked several of our trips through Expedia, which has given us a good amount of rewards points. While we haven't been able to get entire trips or free yet, we did use Expedia points to rent a car in San Diego last year. The more trips you book through Expedia, the better your rewards will get, so it's definitely worth signing up for.
We Book Several Months In Advance
A lot of travel hacking is about planning. We generally will book our trips several months in advance in order to take advantage of points. If we want to travel in the summer, I usually start doing research in the winter.
Something that has really helped me with research is signing up for email alerts on these different websites:
These sites are great because they compare prices from multiple airlines and airports. Instead of going to multiple websites and doing the research on my own, these sites will send me a daily email with deals that they found. It's really helped me save a ton of time.
Once I find a good deal, I see how many points it will require to book the trip. Generally, the better the price, the fewer points it will cost. By doing research several months in advance, we've been able to use points for every U.S. flight we have taken over the last 3 years.
We're Flexible With Dates
Mark and I are fortunate enough to be able to travel whenever we want. While I realize that not everyone has this luxury, the fact that we're flexible with dates has definitely helped us travel for free. We generally try to fly during the week rather than weekends because it's cheaper. Many airlines offer low fare calendars that allow you to see the cost to fly out on different dates, so I'll use those a lot to compare prices. Being flexible with our schedules has really helped us stretch those points further.
Be Flexible With Locations
There are a bunch of different places we want to visit and there's no particular order on when we want to see them. Being flexible on our destinations has allowed us to see what we can get for our points. Of course, some places are more expensive than others. I'll often research multiple destinations at a certain time just to see what we can get.
For example, last year we wanted to take a road trip for our anniversary. We were considering Boston, but the cost for hotels was pretty high. I had suggested Montreal since it wasn't that much further of a drive. When I started researching Montreal, it was a lot cheaper for a nicer hotel, so that quickly became our choice. We were able to book our entire stay using points. If we were set on going to Boston, we would have only been able to book half the stay.
We Use Trusted Housesitters
Trusted Housesitters is a great service that really helps us save money on hotel stays. In the simplest terms, Trusted Housesitters (referral link) exchanges pet care for a place to stay. People with pets can sign up for the service saying they are going away on specific dates and need someone to watch their pets. As housesitters, we apply for stays and if chosen, get to stay in the person's home for free while we take care of their pets. It's a win for both sides- we get to stay in a house for free and the pet owners save money on boarding.
Trusted Housesitters really helps us cut costs as digital nomads. The majority of our monthly budget is spent on accommodations, so getting to stay at places for free has helped us save hundreds of dollars. Plus, we are animal lovers, so it's nice to have cuddly pets around!
Travel Hacking Has Allowed Us to See the World for Free
With some proper planning, research and great rewards systems, we have been able to travel to multiple places for free. I hope this article gave you some ideas on how to get the most for your money. Happy travels!
Save to Pinterest