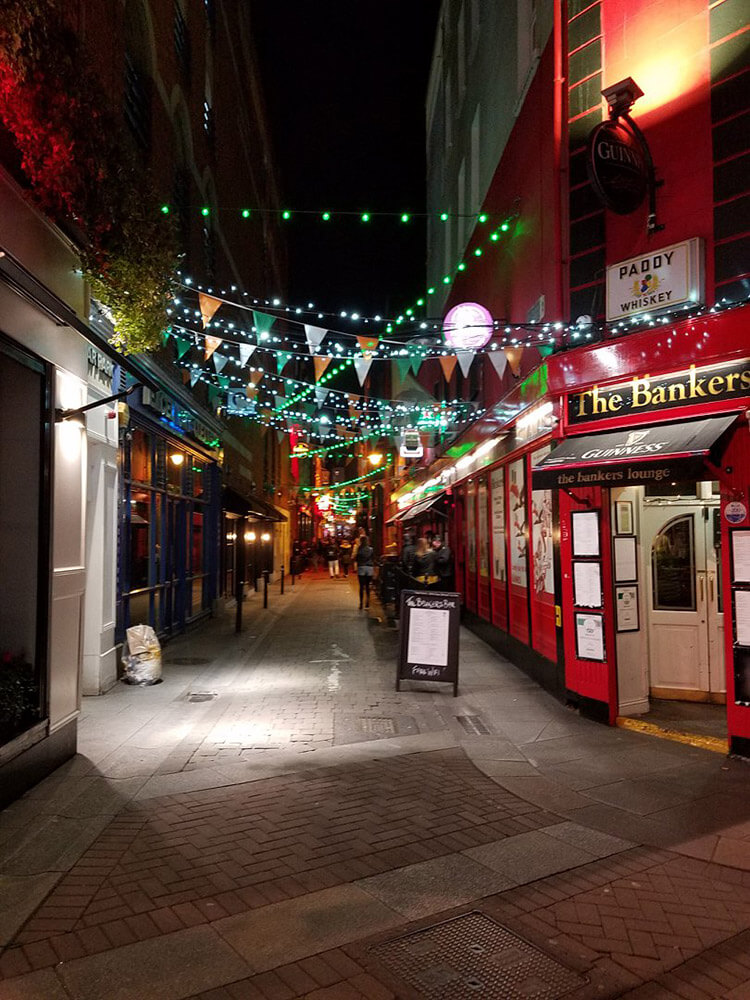 Wondering what you should eat in Dublin? There are plenty of great food and drink choices in Ireland's capital city. We're sharing our favorite Irish foods and restaurants in this comprehensive food and drink guide to Dublin.
We aren't sure why, but Ireland has a reputation for having bad food. It's one in our opinion, that isn't deserved, as we had some really great meals in Ireland. Dublin is becoming a hot spot for culinary, with not only the traditional Irish dishes, but a variety of international cuisines as well.
If you're craving comfort food, something sweet or just want a pint of a great beer, Dublin has it all. Here's what we recommend eating when in Dublin.
1. Boxty at Gallagher's Boxty House
A boxty, a potato pancake filled with either meat or vegetables, is signature Irish dish. Gallagher's Boxty House , located at 20-21 Temple Bar, serves them a variety of different ways, and all are delicious. The owner, Pádraic Óg Gallagher, is considered an expert on the potato and takes great pride in serving this traditional Irish dish. Along with a boxty, get an order of the Boxty Fries, which are seriously addictive! You won't be able to stop eating them.
2. Fish and Chips at Leo Burdock
You may think that fish and chips is more of a British dish, but Leo Burdock served the best we've ever had. For over 100 years, the restaurant has been serving this classic dish and is a favorite to both locals and famous celebrities. They have a few locations now, but the original is located across the street from the Christchurch Cathedral. Definitely a must have in Dublin!
3. Traditional Irish Stew at The Hairy Lemon
You can't visit Dublin without going to at least one pub. The Hairy Lemon is a great place to get a pint and get some traditional Irish food, like their delicious Traditional Irish Stew. It's slow cooked lamb with potatoes, carrots, celery and onions and is the perfect comfort food on a cold day. The Hairy Lemon is located on 41-42 Stephen Street Lower in Dublin.
4. Dessert at Queen of Tarts
Satisfy your sweet tooth with a slice of cake or tart from the Queen of Tarts. They offer a variety of different desserts, but we recommend trying the Chocolate Pecan Tart or the Bailey's Cheesecake. There are two locations in Dublin – Cows Lane, Dame Street or Cork Hill, Dame Street.
5. Ice cream at Murphy's Ice Cream
If you're a lover of ice cream (who isn't?) then you will absolutely love Murphy's Ice Cream Shop! The owners take pride in using milk from Kerry cows and local, all natural ingredients to make their ice cream and desserts. Along with classic flavors you'd expect at an ice cream shop, they have some very interesting ones, like Candied Chili Pepper and Burnt Caramel. They are constantly experimenting with flavors and even made a Smoked Salmon ice cream, which they admit on their website was horrible. Gotta love a place that thinks outside the box! Their Dublin location is located on Wicklow Street.
6. Full Irish Breakfast at O'Neills Pub
Is there anything better than breakfast after a night out? A full Irish breakfast consists of eggs, sausage, bacon, black and white pudding, tomato, baked beans, mushrooms, potato pancakes and toast. Why not have it at one of the oldest pubs in Dublin, O'Neills, which has been around for 300 years? Located in Suffolk Street, close to the Molly Malone statue, this pub has tons of character and has been a favorite in Dublin for years.
7. Smithwick's Red Ale at The VAT House
Dublin is obviously known for Guinness, but if you're looking to try something different, we suggest a pint of Smithwick's Red Ale at The VAT House in Temple Bar. The VAT House is a traditional Irish bar, with an impressive selection and traditional Irish music every night. It was located right next to our hotel, so we went there a few times during our stay. It became one of the highlights from our trip. One of the bartenders recommended Smithwick's Red Ale, so we tried it and loved it! If we see it on a menu at home, we always order it.
Not sure what eat in Dublin? Save this list of what to eat in Dublin for your when you plan your trip!