Watch more videos by subscribing to our YouTube channel.
This Airbnb in Winchester, Virginia used to be an auto repair shop from the 1920s. The owners did a fabulous job of renovating this space into a modern, unique Airbnb. They included many modern upgrades, while still incorporating some vintage style elements. Interested in booking this Airbnb? Check out the listing here.
Outside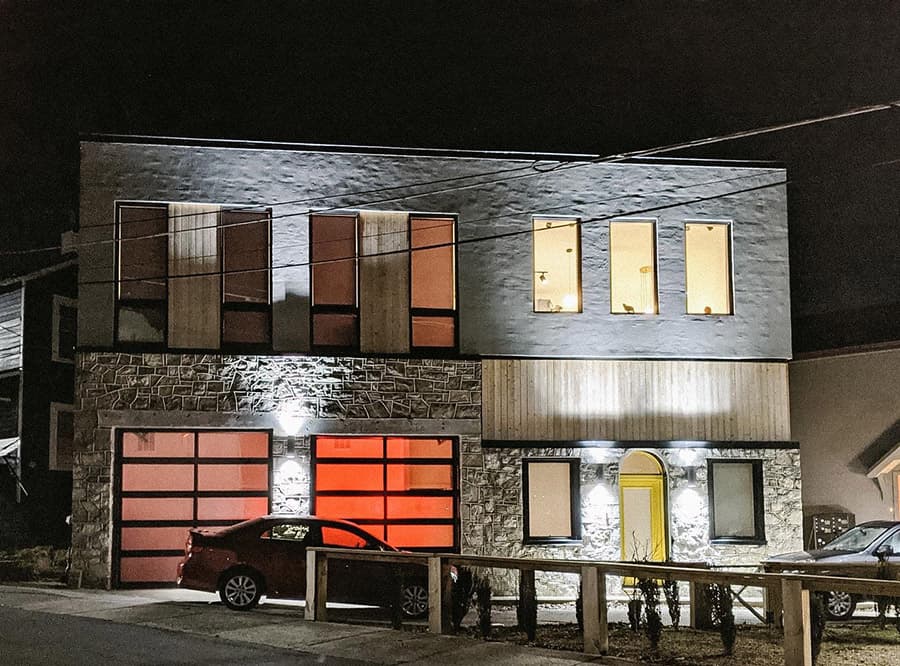 This building has really gone through a complete transformation and the owners did a wonderful job of making it a unique Airbnb experience.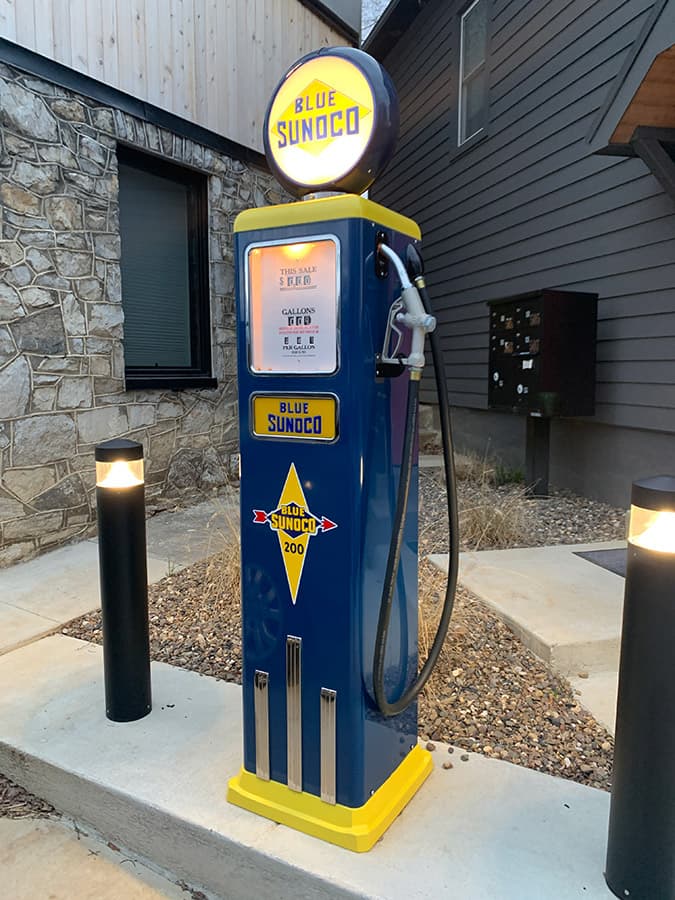 One of the coolest things on the outside is this vintage gas pump. This building used to be an auto repair shop and gas station, so I thought it was super cool that they included this in the renovation.
Front Room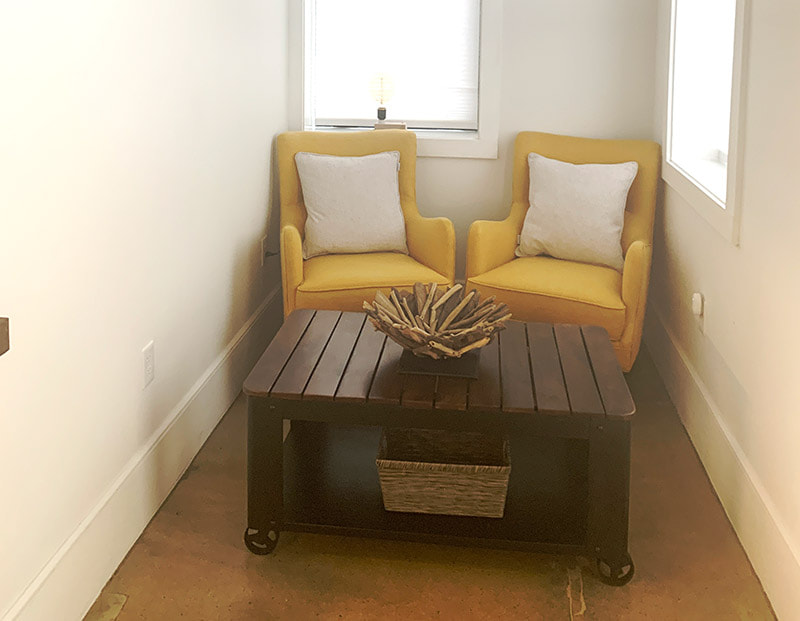 When you walk through the front door, immediately to the right, you'll see this nice sitting area with 2 comfortable chairs and this nice coffee table. This is a great spot to read or sit in the morning with a cup of coffee.
I really like how the owners made use of this space. It's not a super large area, but if there wasn't anything here, it would probably look awkward, so having this sitting area makes good use of this space and provides you with some extra seating.
Kitchen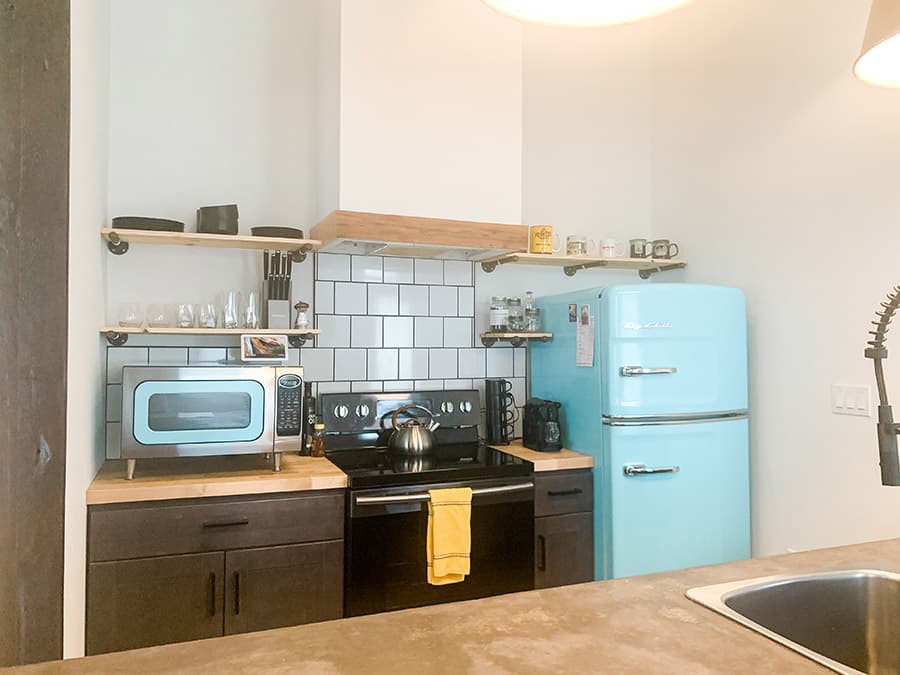 Next up, we have the kitchen. This was my favorite part of this Airbnb. It's a really modern kitchen with nice new appliances, but has a lot of fun vintage details, like this blue vintage style refrigerator. This is definitely the statement piece of this kitchen and I love how the microwave matches.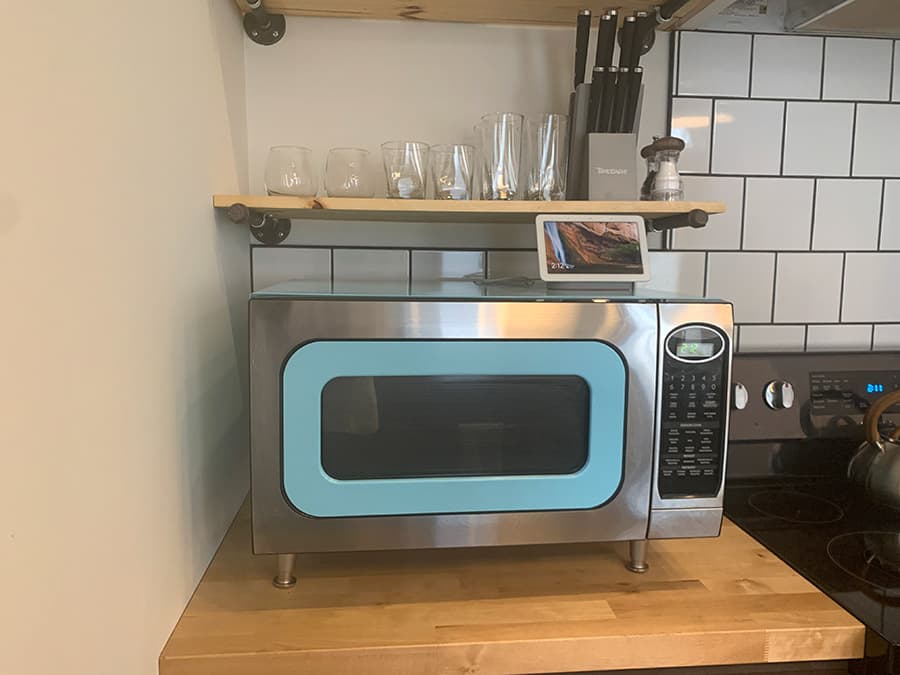 This is a fully functional kitchen. You could easily cook a nice meal here. You have a full size stove and oven, a coffee maker, plenty of dishes, and all the cooking utensils you would need. They also provide you with coffee, tea, and some bottled water and sodas, which was a nice added bonus of staying here.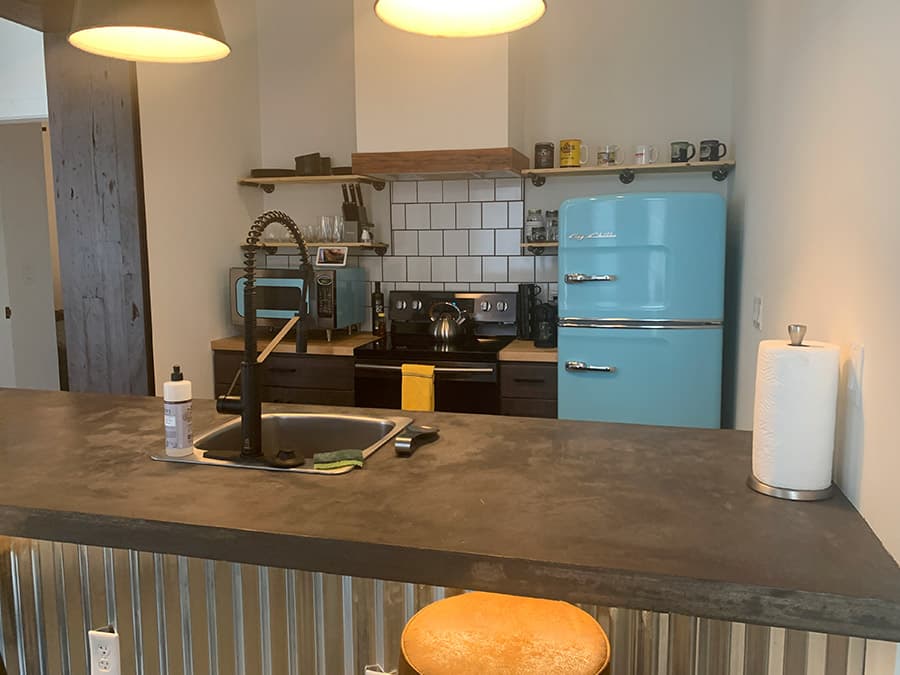 The sink and faucet in this kitchen are super sleek and modern and pairs nicely with the concrete countertops. This Airbnb does have a dishwasher so if you are cooking a lot, you can use that instead of having to hand wash dishes. Not a lot of Airbnbs have a dishwasher, so this is definitely an added advantage to staying here.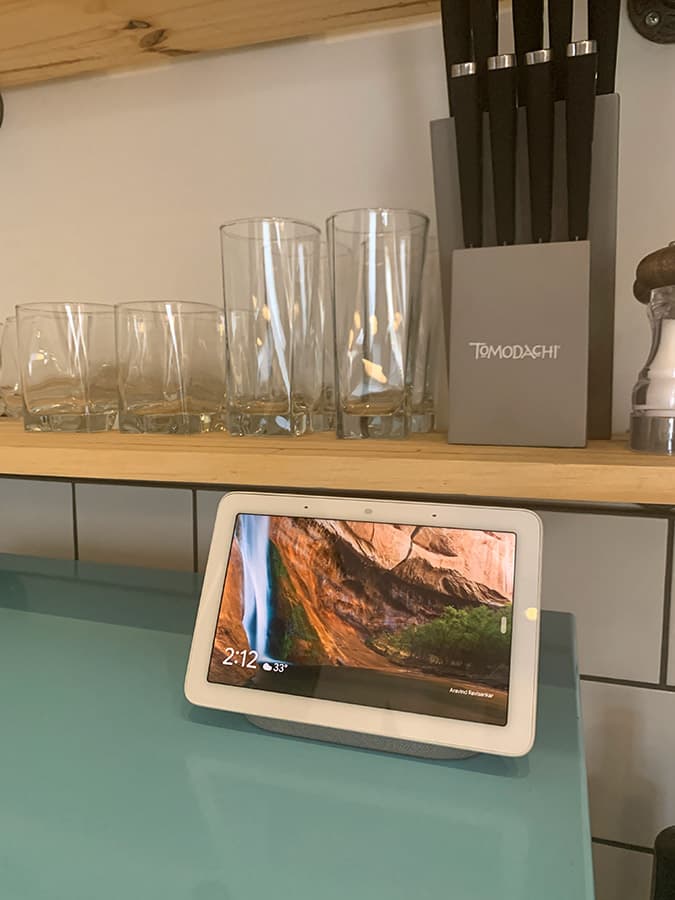 Another really cool feature about this Airbnb is that it's a smart house hooked up to Google Nest. This allowed us to control the lighting and speakers throughout the space with voice commands. They also had a Nest thermostat installed to adjust the temperature and a Nest camera installed for security purposes.
Living/Dining Area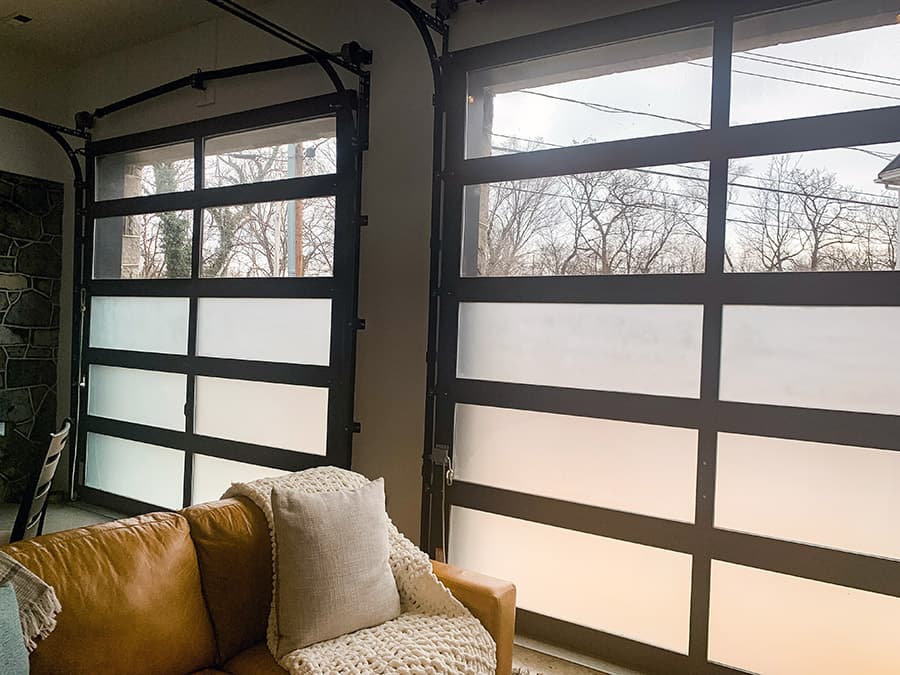 Next up, we have the living and dining area. This is a big open space that gets tons of natural light from the big garage doors. These doors are functional, so you do have the ability to open and close them, which makes this space so unique. Back when this was an auto repair shop, this area is where cars would have been worked on.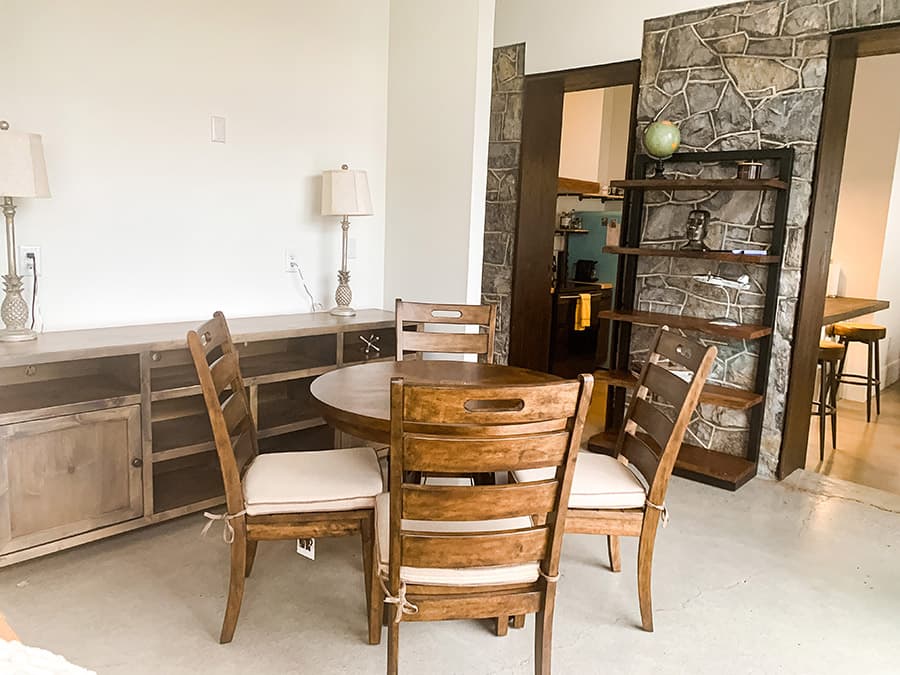 There is this really nice dining area where you can sit and have a meal. The furniture in this space is high quality and fits in with the aesthetic of the home, but is still very practical. You can tell that the owners put a lot of thought into the design of this space and they did a great job of keeping things practical and modern while still incorporating some of those vintage style elements.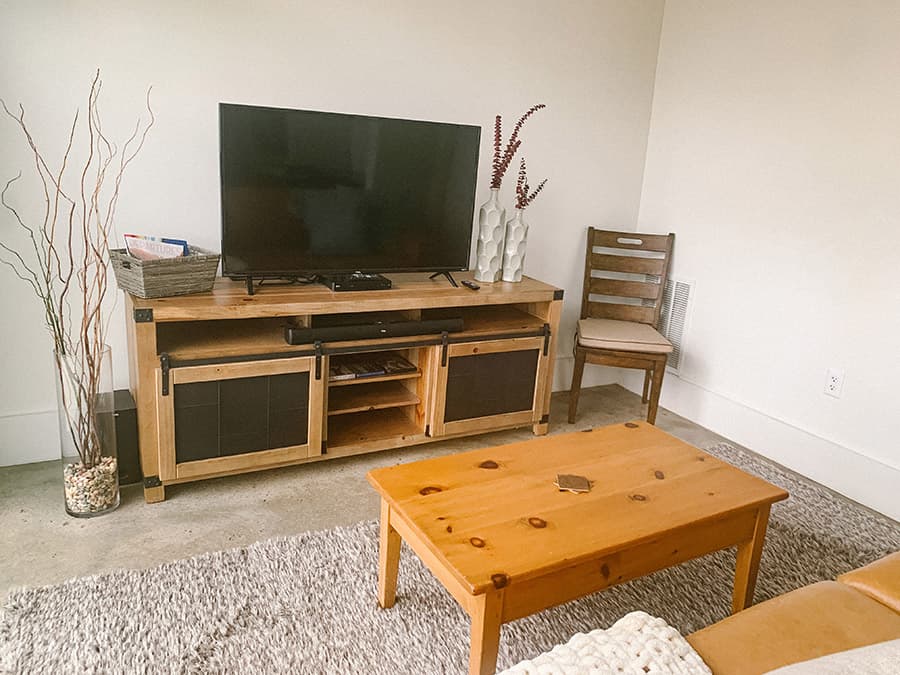 The dining room leads into the living area with this nice leather sofa that was super comfortable. There were some really nice throw blankets that helped at night when it got pretty cold outside.
There's a nice entertainment center with a flat-screen TV and DVD player if you want to watch a movie. They also have a Roku set up in the space so you can watch Netflix or Hulu. This was definitely a really comfortable space to relax in at night.
Bedroom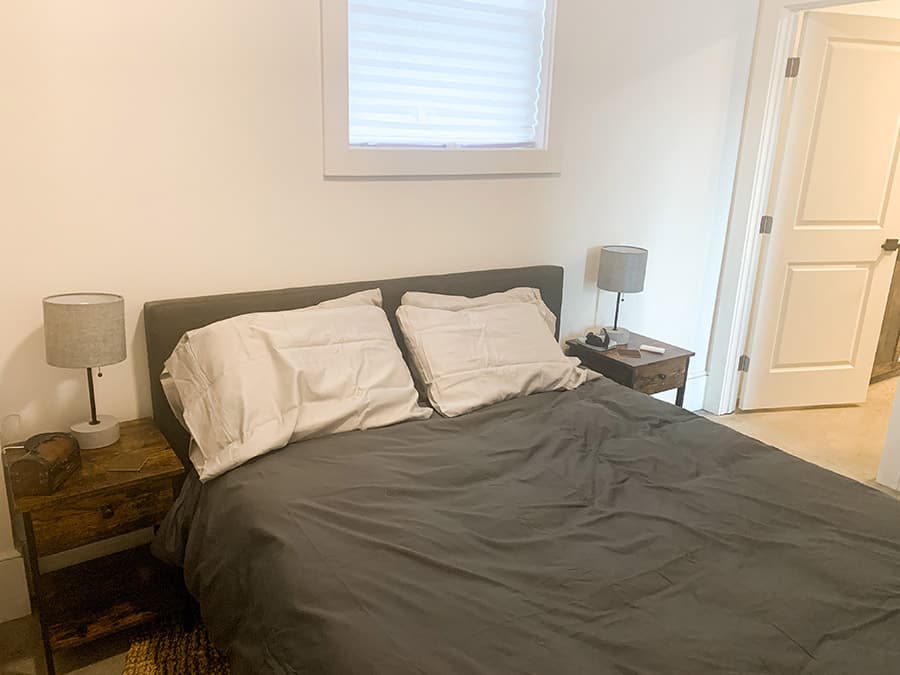 Next, we have the bedroom. This room was super cozy and comfortable. You have a comfortable queen size bed and the lights in this room are hooked up to the Google Nest, so you can use voice commands to turn them on and off. You have a pretty big closet to store all your clothes, jackets, and luggage. The light inside the closet is motion activated, so as soon as you open the doors, it turns on.
Bathroom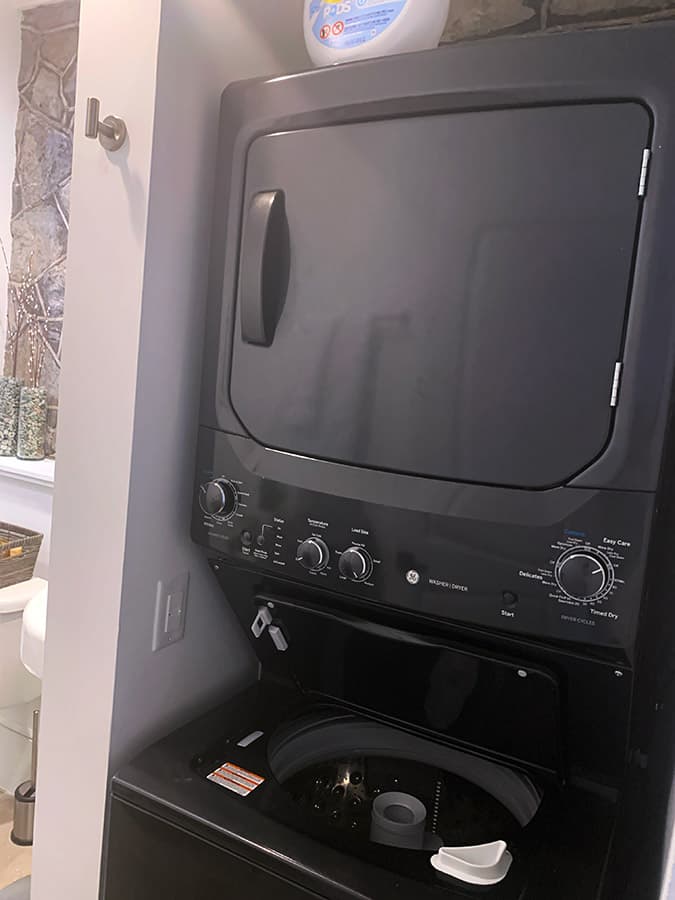 This is a pretty large bathroom compared to some of the other Airbnbs we've stayed in. They do have a washer and dryer in here if you need to do some laundry. It's always nice to have that option if you're staying for a while instead of having to take your clothes to a laundromat. They even provide you with laundry detergent if you need it.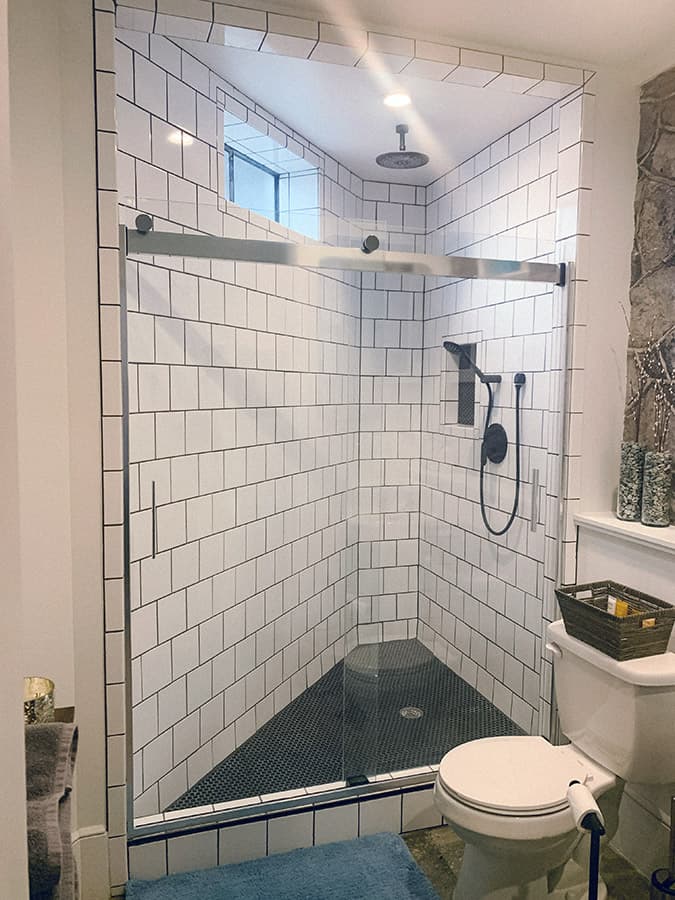 The shower is super nice and luxurious. I love the tile throughout the space and the rain shower head. The shower is a bit awkwardly shaped, but that actually is a good thing because it gives you more room. We've stayed in a lot of Airbnbs with really tiny showers where we felt like we couldn't move around too much, so this extra space really made it feel more luxurious.
They've installed these nice built-in shelves into the wall where you can store your items and there's this nice cabinet for towels and things like a hairdryer. This is definitely one of the nicest bathrooms we've ever experienced in an Airbnb.

This Airbnb was definitely one of the most unique places we have stayed in. The owners did such a great job renovating it into a comfortable, modern space. We loved all the little details of this home and really enjoyed our time staying there.
About Winchester, VA
Winchester, Virginia is an hour and a half outside of Washington D.C. Located in the Shenandoah Valley, this town is a great place to visit if you're into U.S. history. George Washington spent many years in Winchester. You can tour his office and just a few blocks away, see Fort Loudoun, which he designed and constructed during the French and Indian War.
In Old Winchester, you can visit the Shenandoah Valley Civil War Museum and walk the pedestrian mall, filled with unique shops and restaurants. Winchester is home to several breweries. Two we tried and liked were Winchester Brew Works and Escutcheon Brewing Company.