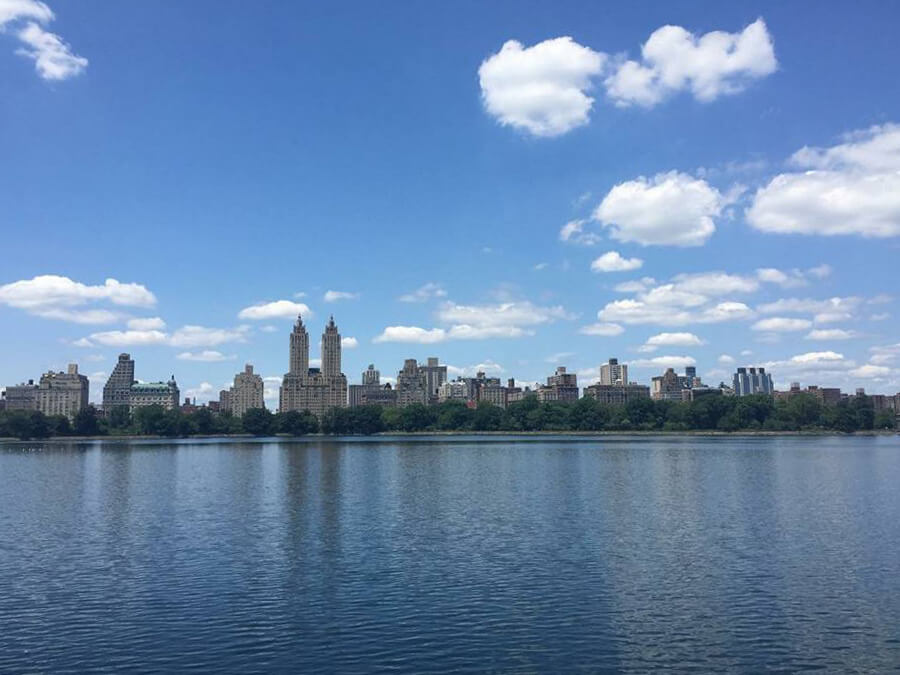 It's hard to not fall in love with New York. The sights, the sounds and the energy this city has are unlike any other place in the world. There's a reason why millions of people visit the city every year.
The one problem: it's expensive.
Like other cities we've visited, we found ways to do New York City on the cheap. Continue reading for budget travel tips to New York.
Cheap Ways to Get to New York City
I'm not including airfare on this list because I've never actually flown to NYC. Living in Philadelphia, New York is only about an hour and a half away, so I've never had the need to, but I'll assume if you're flying in from far away, the same concepts will apply for New York as they would anywhere. Book in advance, do your research and try to flexible with travel dates.
What I'm going to focus on are some of the other options you have to get into the city. These options are good for people that live in nearby cities or maybe only a few hours away.
How you get into the city really depends on your budget and how much time you want to spend traveling. Each option has their pros and cons, but will all get you there.
Driving
Driving your car is probably the most convenient option because you'll be able to explore New York without worry. When you use other options, you're at the mercy of transit schedules (which often have delays) but if you drive in, you can do whatever you want, whenever you want.
The cons are that getting to the city can be expensive. Depending on what route you take, you'll hit several toll roads on the way with pretty high fees. There's also the cost to enter the city. The George Washington Bridge, Lincoln and Holland Tunnels all cost $15 but depending on where you're coming from, it could be more or less money. Click here for a more complete list.
Another cost you'll have to factor in is parking, which can be extremely pricey depending on where you go. The best option is to park your car somewhere once you get into the city, then use other modes of transportation to get around. Lots can run you $50 or more and meters can charge up to $8 per hour. On Sundays, a lot of metered parking is free, so you could get lucky, but your best bet is to research parking lot prices here and book parking in advance.
Drive to New Jersey Public Transit Stations
Another option would be to drive to a station in New Jersey and take the public transit into the city. This will save you on the bridge or tunnel tolls and parking is generally cheaper for the day in New Jersey.
For $2,75, you can take the Path train from Newark, Hoboken or Jersey City to Midtown Manhattan or the World Trade Center. The pros are that you do save a bit of money, but the cons are that it takes longer since you'll have to wait for the train to come. On the weekends, the trains don't run nearly as frequently, so be sure to use Google to get their schedules.
While we personally haven't done this, you could also take the Ferry or NJ Transit in as well. Here is a detailed list of all the different transit options with pricing.
Amtrack
Another option for getting into New York is taking the Amtrack train. The train is really convenient, comfortable and will take you right into the heart of the city at Penn Station. It's nice because you don't have to deal with driving in the city or sitting in traffic. It can be more expensive than other options, but if you want to get into the city quickly, it may be worth spending the extra money.
Take a Bus
Depending on where you're coming from, a bus could be a good, cheap option for getting into the city. I have personally used the Mega Bus from Philly and found it really easy an efficient. It cost me $20 round trip, was wifi equipped and had outlets that let me charge my phone. It also left and arrived right on time, so for the price, it couldn't have been better. I didn't have to think about driving and the cost was significantly less than any other option.
The cons of taking the bus are that you are stuck to their schedule. If you are not on the bus at the time it leaves, they will definitely leave without you. I've also had friends tell they had less than satisfactory experiences taking a bus into the city. While that wasn't my experience at all, it's always good to read reviews of a company before purchasing a ticket.
Cheap New York City Attractions
There are several ways to experience New York City without spending a ton of money. Here are some tips.
Avoid Times Square
If it's your first time in New York, you'll likely want to see Times Square, but if you want to stay within budget, see it, take a picture and leave. Since it's a popular tourist destination, the prices in this area are a lot higher than other areas of New York. It's also packed full of people no matter when you go, so if you're not into large crowds, it might be best to avoid it altogether.
Visit Central Park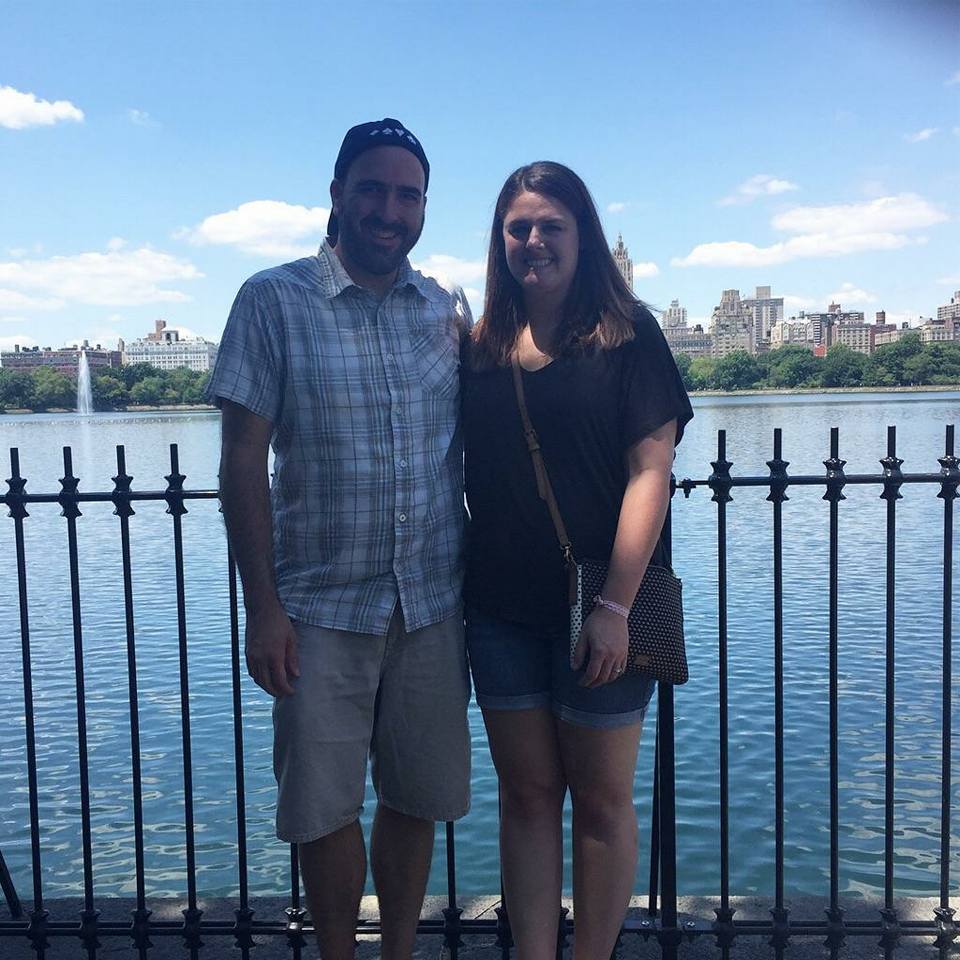 Central Park is lovely. It's full of gardens, bridges and lakes that you can explore all for free. Walking around Central Park is one of my favorite things to do when visiting the city.  If you want to cover more ground, you can rent a bike for a small fee.
Visit Museums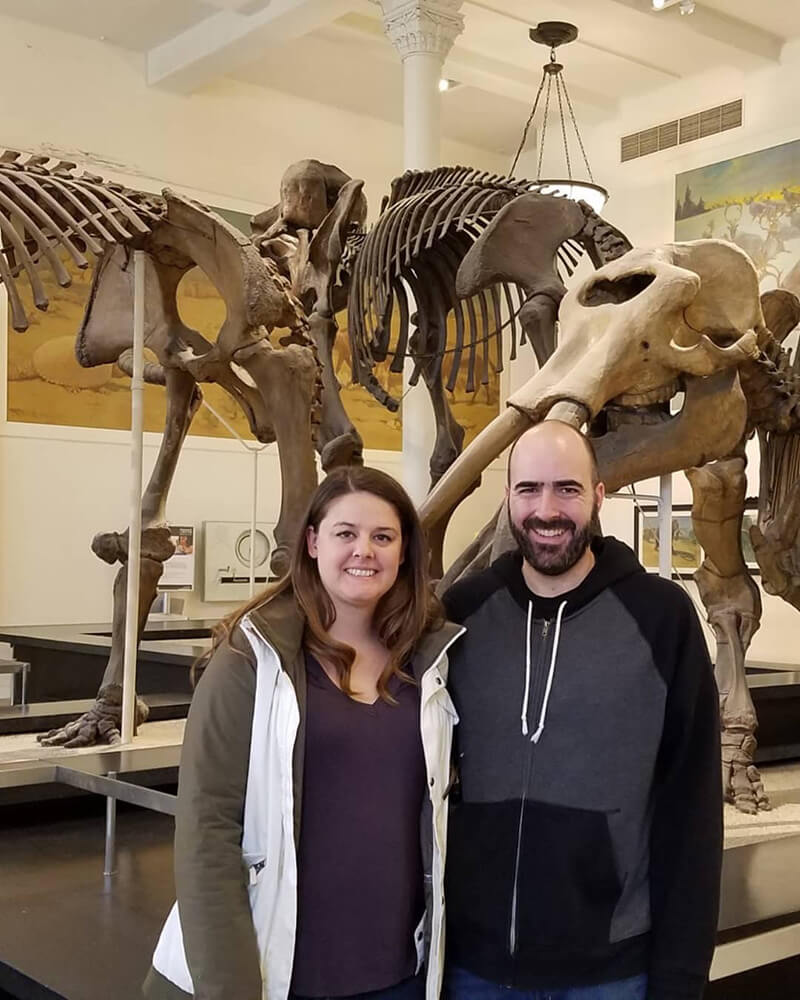 Many of the best museums in New York offer free to "pay what you wish" days, making them a great option for a tourist on a budget. Some offer this all the time, while places like the MoMA and 9/11 museum offer only on certain days and times. Here's a great list so you can do your research.
Walk the Brooklyn Bridge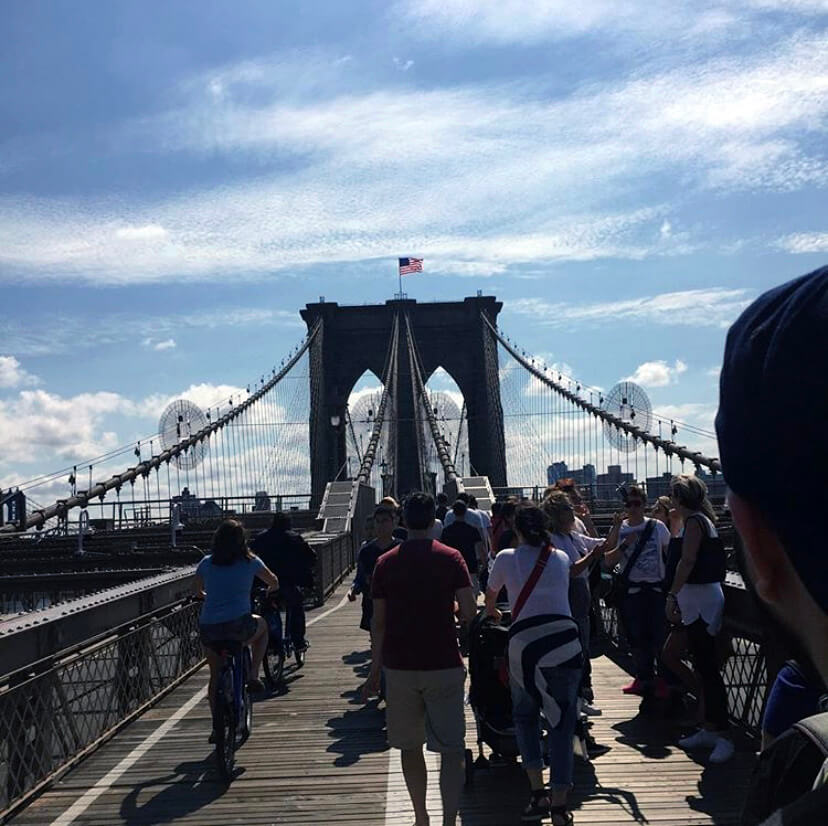 It costs nothing to walk over the Brooklyn Bridge and you'll get to see one of the city's most recognizable landmarks. The bridge offers great views of both the Manhattan Skyline and Downtown Brooklyn.
Once you cross, explore the DUMBO neighborhood, an industrial part of Brooklyn with cobblestone streets and old warehouse buildings. You've likely seen a photo of the Manhattan Bridge from Washington Street on Instagram, one of the most photographed locations in Brooklyn.
https://www.instagram.com/p/BtG-FxpHAt7/
Take the Staten Island Ferry to See the Statue of Liberty
You can get a great view of the Statue of Liberty by taking the Staten Island Ferry, which is completely free! Skip the expensive tours and do this instead.
Buy Broadway Tickets in Advance
If seeing a Broadway show is on your bucket list, you can usually score cheap tickets up to a month in advance by using an app. Two good ones are TodayTix and Broadway Box. The last time I was in New York, I was able to get tickets to Waitress (so good!) for about half the price of what they normally go for.
Walk the High Line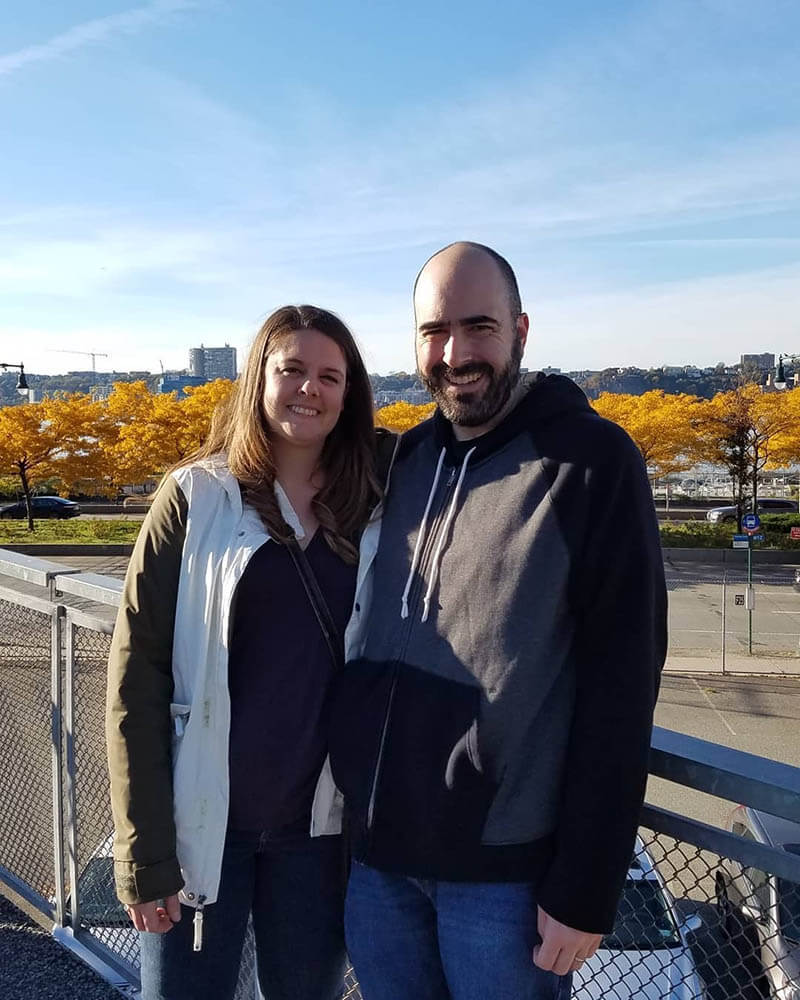 The High Line is another great way to get some awesome views of the city and is completely free. The park was built on an abandoned elevated freight rail above Manhattan and is a really unique space in the city.
Cheap Eats in New York City
New York has some of the best food in the world. If you're a foodie, you can easily spend your entire budget just on meals if you aren't careful. Stay away from Midtown Manhattan and any of the touristy areas and instead opt for small places owned by locals. You'll get better quality food and drinks at a more affordable price.
Chinatown
You can find some of the best food in the city here and the prices are right. Here's a great list of places you can eat for under $5.
Dollar Pizza
A slice of pizza for just $1? Yep, that's a thing! Several pizza places in the city offering them. This article ranks some of the most popular places in Manhattan.
Rudy's Dive Bar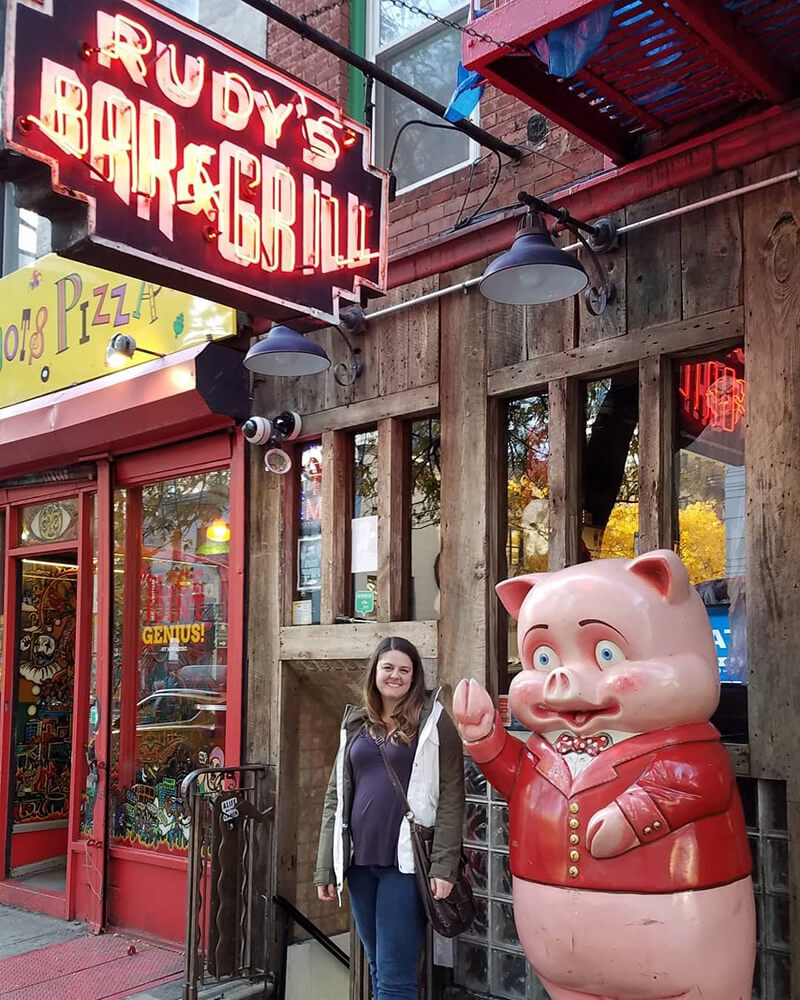 Drinks can be expensive in New York, but not at Rudy's Dive Bar. You can get a pitcher of their Blonde Lager for $8. The best part? With every beer purchased, you can get a free hot dog.
Rudy's is at 627 9th Avenue in Manhattan.
With proper planning, you can have a great time in New York City without spending a ton of money. Use this guide for New York on the cheap to plan your next trip to this fabulous city!
Save to Pinterest