Our Story
How to find your lost iPhone
How to find your lost Android phone
How Barbara Lost Her Phone in San Francisco
A few weeks ago when we were leaving San Francisco to come back home, Barbara realized she lost her cellphone as we were boarding the flight. In a panic, she rushed back into the terminal to retrace her steps to find her lost phone. After about 15 minutes with no luck finding it, she had to give up and board the plane as one of the last passengers.
So while we were still on the runway before we took off, we tried to access Find My iPhone through her icloud account on my phone. But we couldn't remember her password and then we didn't know exactly which device on the account was the correct one. It was a huge mess and I couldn't believe how unprepared we were for this situation as we both are really tech savvy. I knew we only had minutes before the plane would take off, the only thing I could think of was to deactivate her phone access through Verizon. So if someone did have access to her phone, they wouldn't be able to use our data plan on Verizon. The only problem with this "solution" was that once we did get back home we wouldn't be able to access her phone through Find My iPhone because it requires the phone to be connected to a network.
Once we got back home, I turned on the Verizon service again and she was able to access her icloud account and were able to locate the phone! It was still at the San Francisco airport. Inside the Find My iPhone settings, I was able to enable "Lost Mode". This option allows you to display a custom message on the phone so if someone does find the phone they can contact you.
The next step was for me to contact the lost and found department when they opened the next day. I couldn't believe what happened next. The police called us before the lost and found department opened and had our phone! They called the number I included in the custom message. This was a huge relief, as our biggest fear was of course someone stole the phone and tried to sell it.
The police had to verify that we were the real owners of the phone, so we had to verify the serial number of the phone. Good thing we kept the original iPhone box, which had the serial number on the outside of it. After we verified that the phone was ours, the next step was for the police to send us the phone. In this case they emailed us instructions on how to get the phone shipped to us. Since it was our fault, we had to pay to have the phone shipped to us. The instructions had us set up a FedEx account which we had to give them our credit card to future shipment cost. After we setup our FedEx account we gave them all the needed info and we had the phone shipped overnight for $100! Yes, that's expensive, but it's cheaper than buying a new phone. We didn't have to do an overnight shipment, but we needed the phone back ASAP for work purposes.
I wanted to tell our story so you could learn from our experience. Should you ever find yourself in this situation, you'll now know what to do. I believe if we were more prepared, we would have been able to find the phone the phone in that 15 minute window before the plane took off.We could have logged into Find My iPhone and played a sound so we could have located the phone instantly. We were so unprepared that it took us at least 15 minutes to just reset her password and figure out how to use the Find My iPhone app.
Below are the needed steps to find your lost phone for both iPhone & Android phones.
How to Find Your Lost iPhone
You will need to activate the Find My iPhone feature on your phone. This feature will allow you to see your lost iPhone on a map, play a sound to find your iPhone, put in lost mode, and erase data remotely.
Click Settings > [your name] > iCloud
Scroll down and click Find My iPhone
Turn on Find My iPhone & Send Last Location
Now that you have Find My iPhone enabled we highly recommend you give it a test so you know how to use the interface. Go to another device and goto the URL https://www.icloud.com/find This will be the website you use to access your lost iPhone. Once you log you will be able to see the location of your device and you're able to play a sound, enable lost most, and erase data. Click the Play Sound button so you're aware of how loud the sound is and to make sure everything is working correctly.
https://www.youtube.com/watch?v=Oebk1PRI1fE
How to Find Your Lost Android Phone
The best way to find your lost Android phone is to use your Google account to access your phone. The first thing you need to do is make sure you have a Google account and login to the account on your phone.
Click Settings
Goto Security
Click Find My Device and turn on the service
Once you have Find My Device enabled you will now be able to find your phone from anywhere! The easiest way to navigate to the URL https://android.com/find. This will be the website you use if you ever lose your phone. You will be able to find the location of the phone on a map, play a sound, secure the device, or erase the data from the phone. Give it a test and Click the Play Sound button so you're aware of how loud the sound is and to make sure everything is working correctly.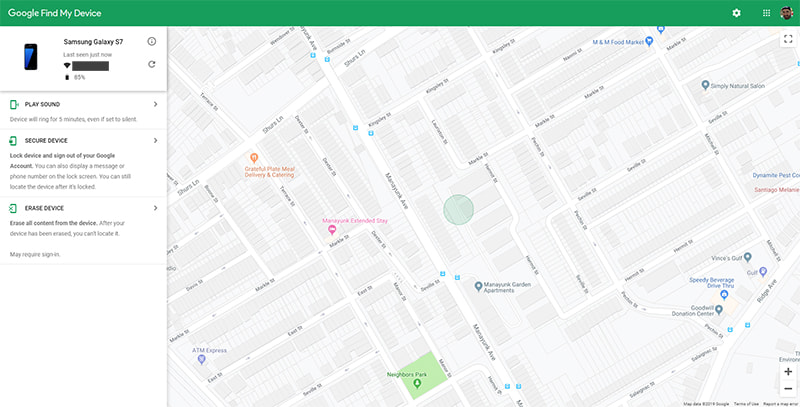 Conclusion
Don't be caught with your pants down when you lose your phone. Be prepared so you know exactly what to do if you lose your phone. What happened to us was a huge wake up call and was worse case scenario, but this can happen to anyone. Luckily, our story had a happy ending, but in some cases, our lack of preparedness could have cost us a lot of money and a ton of frustration. We are now prepared if this ever happens again. Hopefully, it won't!
Save to Pinterest