A long weekend is the perfect amount of time to spend in Lancaster, PA. We learned about the Amish, toured the Historic Rock Ford, explored the downtown area, and ate some delicious food. Lancaster is the perfect place for a fun weekend getaway.
Mark and I were really itching for a change of scenery since it had been several months since we'd gone anywhere. When we were thinking of places to go, we wanted something that wasn't too far away from our home in New Jersey, but still felt like a getaway. Lancaster, PA seemed like the perfect spot because while it's only an hour and a half drive, the scenery and vibe are much different than what we are used to seeing every day at home.
Lancaster is one of the oldest inland towns in the United States. It was the home of James Buchanan, our 15th president, and is the 8th largest city in Pennsylvania. Lancaster is best known for its Amish population, having the largest settlement of Amish in the United States. Hotels and Airbnb's are fairly inexpensive in the downtown area, making it an affordable destination for a weekend getaway.
Lancaster offers plenty of unique experiences that you wouldn't find in any other city. Here is how we spent our weekend getaway in Lancaster.
A Visit To The Amish Village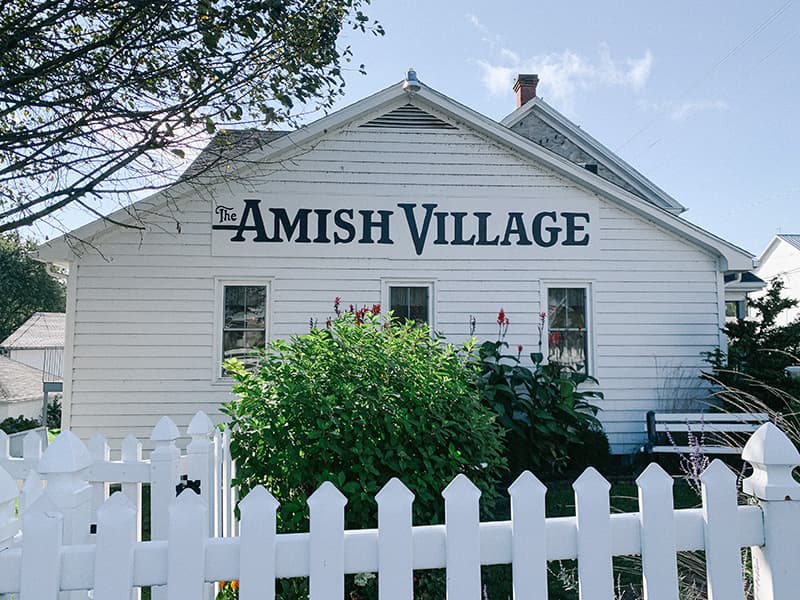 The Amish, or Pennsylvania Dutch, is a big part of the culture in Lancaster. The Amish are a religious group known for their lack of modern conveniences. They believe in a simple, non-materialistic life and do not drive cars, use electricity, and dress in plain, handmade clothes.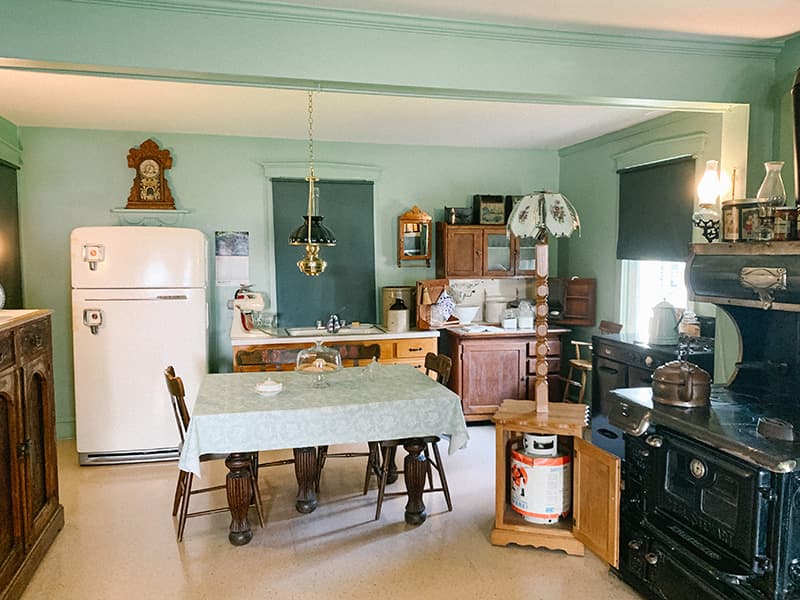 A traditional Amish kitchen. Since they do not use electricity, they rely greatly on propane.
The Amish Village taught us a lot about their history, culture, and everyday life. We toured an Amish farmhouse and learned that many Amish families fled to Pennsylvania from Germany to escape religious persecution. They picked Lancaster because it reminded them of home. Amish homes were built to be efficient and functional. Furniture is used for multiple purposes and is built to last. You also won't see family photos or decor pieces in an Amish home. The Amish believe posed photos draw too much attention to one's self, which can cause a threat to community harmony, so they are forbidden from the home. They also believe that everything in the home should have a purpose, which is why you'll never see artwork or decor items hanging on the walls.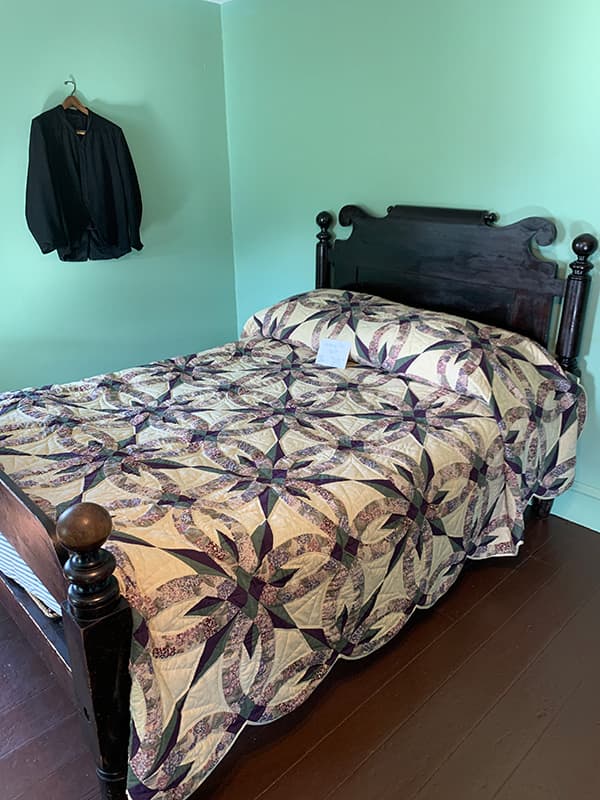 While the Amish do not wear patterned clothing, they make beautiful patterned quilts.
We also learned a lot about the Amish wardrobe. The Amish never wear patterns and typically wear only black, blue, purple, burgundy, brown, or green colors. They don't use buttons on their suits because buttons are reminiscent of the military men that persecuted them. Men and boys wear straw or black felt hats and women cover their heads with prayer caps so their heads are covered and sacred to the Lord.
Amish people do not wear wedding rings. You can tell if an Amish woman is married by the color of her dress. A married Amish woman will wear a black cape and apron to church, while a single Amish woman wears a white cape and apron. Learning about the meaning behind the Amish wardrobe was my favorite part of the tour.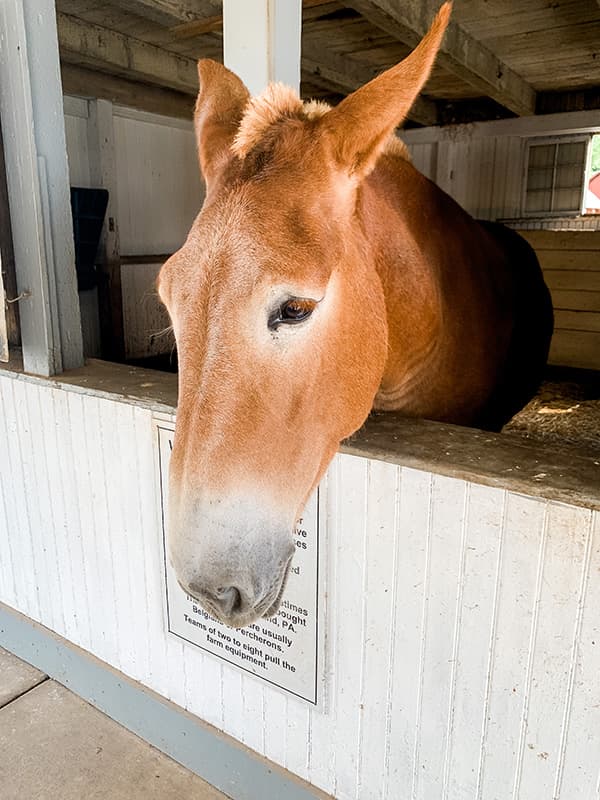 Molly is a bit of a celebrity at The Amish Village.
After we toured the farmhouse, we got to see the farm animals in the barn, walk through the garden, and tour an authentic Amish schoolhouse and workshop. The tour really gave you tons of insight into their day to day lives and the work that they do, most of it being done with the same tools that were used hundreds of years ago. We really enjoyed our tour and highly recommend visiting The Amish Village if you want to learn more about the Amish community. Our tour cost $11 per person and was well worth it.
Authentic Pennsylvania Dutch Cooking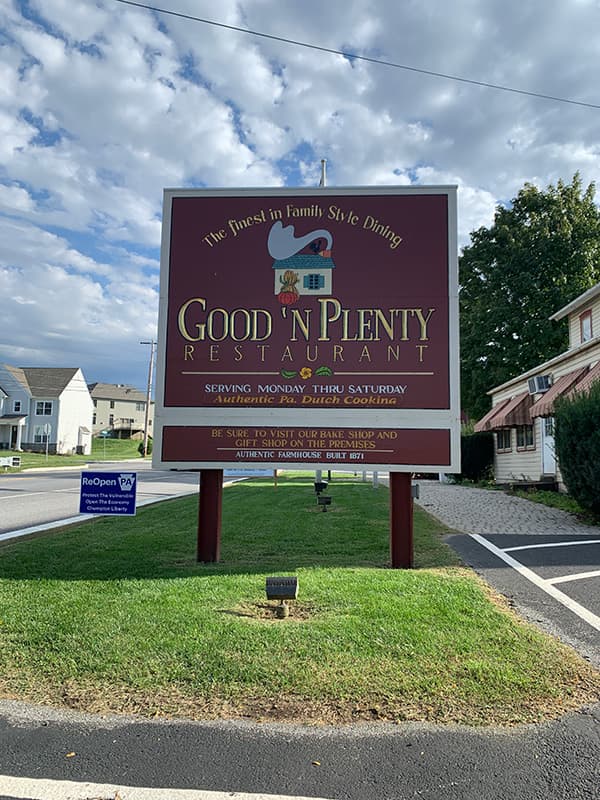 A trip to Lancaster wouldn't be complete without some Pennsylvania Dutch food. The Amish are known for their hearty, home-cooked meals. We stopped at The Good 'n Plenty restaurant, a popular restaurant in the Lancaster area known for its fried chicken and family style dining option. Family style dining offers a wide variety of foods brought to the large table in bowls and on platters to be passed around by the guests. To maintain social distancing, we chose the menu dining option, which allows you to order a meal off their menu. I got the fried chicken and Mark got the roast beef. Both were delicious and huge portions for the price. We definitely did not leave hungry. Eventually, we would like to go back and try the family style dining option since it would let us try multiple options and would be a fun family get together.
A Drink At Lancaster Brewing Company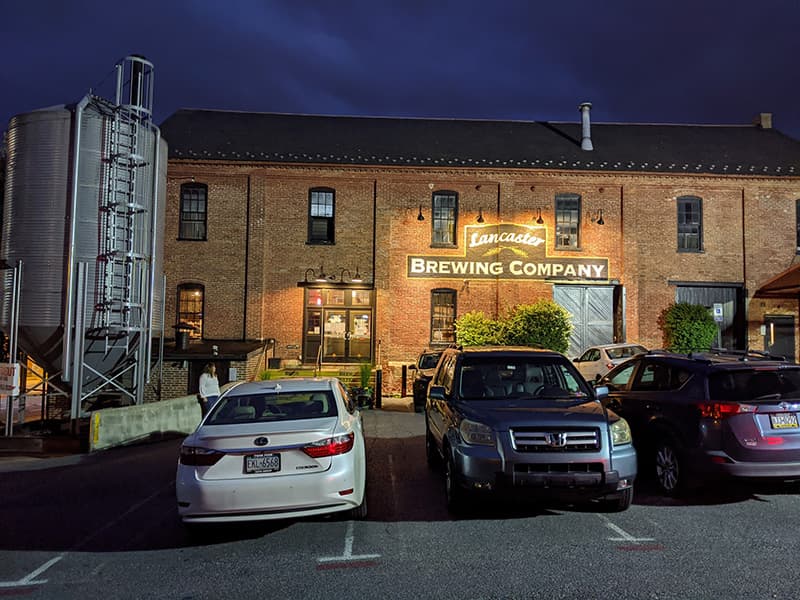 There are quite a few breweries in downtown Lancaster, but Lancaster Brewing Company is our favorite. They have a good variety of options, a great outdoor space, and really friendly staff. We had visited this brewery the last time we were in Lancaster and knew we wanted to come back to try something new. I got the Blue Trail, a lemon blueberry shandy, which honestly tasted more like lemonade than a beer. So good! Mark tried the Lancaster Lager and said it was one of his favorite lagers he's tried.
At the time of writing this (October 2020), Pennsylvania laws requires you to also purchase a meal with any alcohol purchase due to COVID restrictions. If you plan on traveling to Pennsylvania now or in the near future, keep that in mind. Luckily, Lancaster Brewing has a full kitchen, so we had a lot of options to choose from for food.
A Visit to Central Market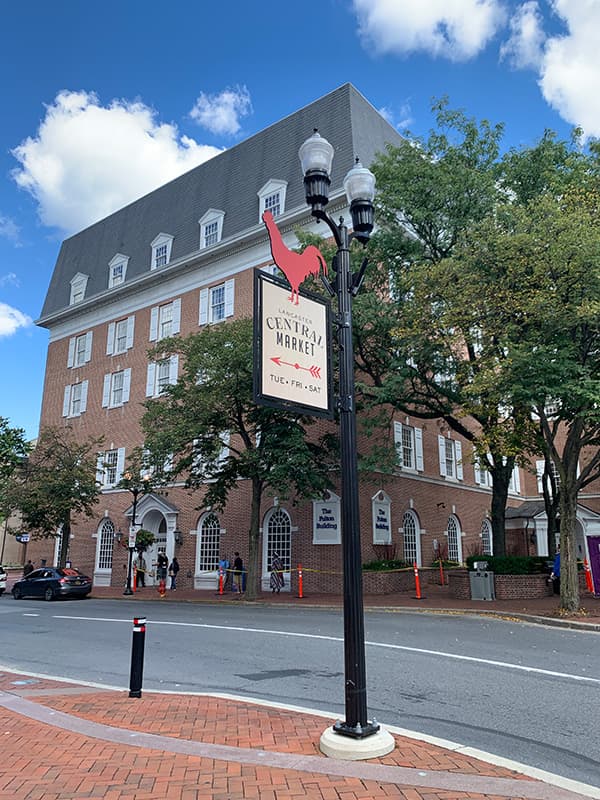 Lancaster Central Market was established in 1730, making it the oldest, continuously running farmer's market in the country. They are open every Tuesday, Friday, and Saturday from 6 am to 3 pm and 60+ vendors inside. You'll find tons of different options for food. Everything from soups and salads to Indian to Amish. There is something for everyone inside this market. We recommend getting a few small items from different booths, so you can try out a variety of different foods.
Outside the market, they had distanced benches where we could sit and eat, complete with hand sanitizing stations. To help with crowding, they blocked off most entrances to the market, leaving only one entrance and one exit. I really appreciated their effort to help with distancing.
A Tour of The Rock Ford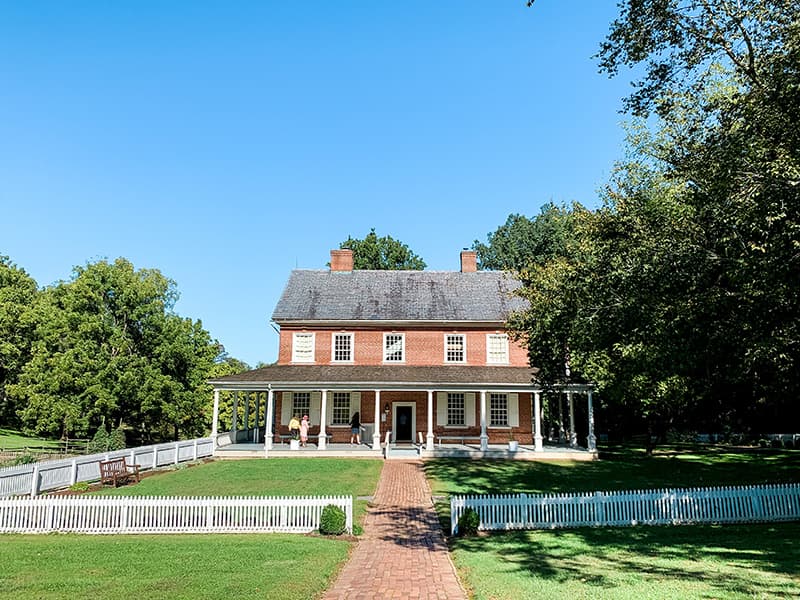 Historic Rock Ford was the home of Edward Hand and his family as well as enslaved and free servants and laborers. Edward Hand was an adjutant general to George Washington in the American Revolutionary War. The home is the most intact building predating 1800 in Lancaster County.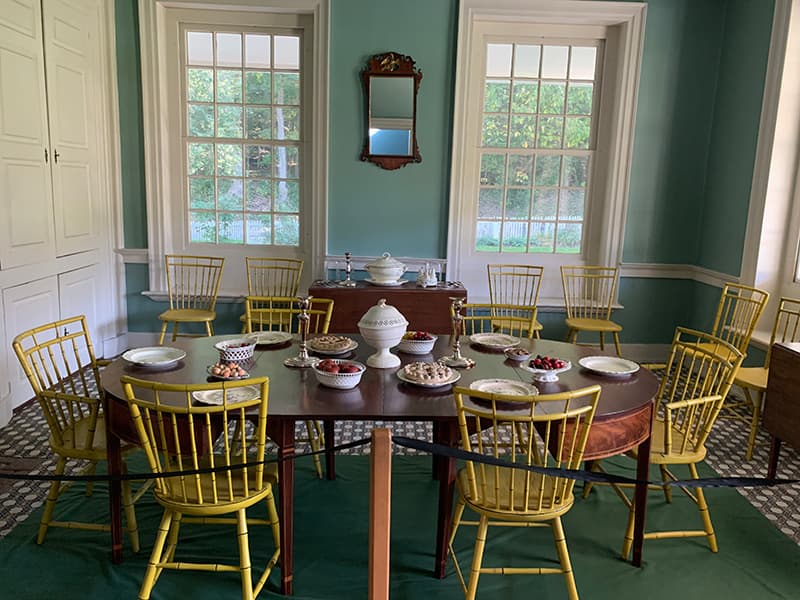 Where the family ate dinner each night. The table could expand and chairs were added to accommodate guests.
The home is 4 stories and is laid out and furnished as it was back when it was built – a large center hall for gatherings with 4 corner rooms. Extensive research was done on the home regarding furnishings and interiors to convey the family's lifestyle. The interior paint colors were also researched extensively in order to match them to how they looked back when the home was built in the 1700s. One of the rooms features a gown that likely belonged to Katherine Hand, Edward Hand's wife. It had been passed down through generations of family members and eventually made it to Rock Ford where it permanently lives today after an extensive restoration process.
Our tour lasted about an hour and was very thorough. Our tour guide, Hannah, did a fantastic job of explaining the items in each room and answered all of our questions. Tours are limited, so you'll want to book in advance online. Tour hours are Tuesday through Sunday with tours at 10 am, 12 pm and 2 pm and costs $10 per person.
A Weekend Getaway to Lancaster is a Good Idea
Our weekend getaway to Lancaster was exactly what we needed. I felt so nice to have a change of scenery after so many months of being at home. While it wasn't a full on vacation, it felt good to get away for a few days. Lancaster treated us well and we look forward to visiting again soon.