In general, both Mark and I hate checking bags on flights, but we especially did not want to check any bags for our trip to Tokyo. There were a few reasons for this:
After a 14 hour flight, the last thing we wanted to do was have to wait for checked baggage.
We knew we would be taking public transportation. Hauling big suitcases on trains didn't sound appealing.
After hearing several horror stories of airlines losing luggage, we didn't want to take the risk of being stranded without clothing in a country that doesn't exactly accommodate people our size (Mark is 6'1", I'm 5'9").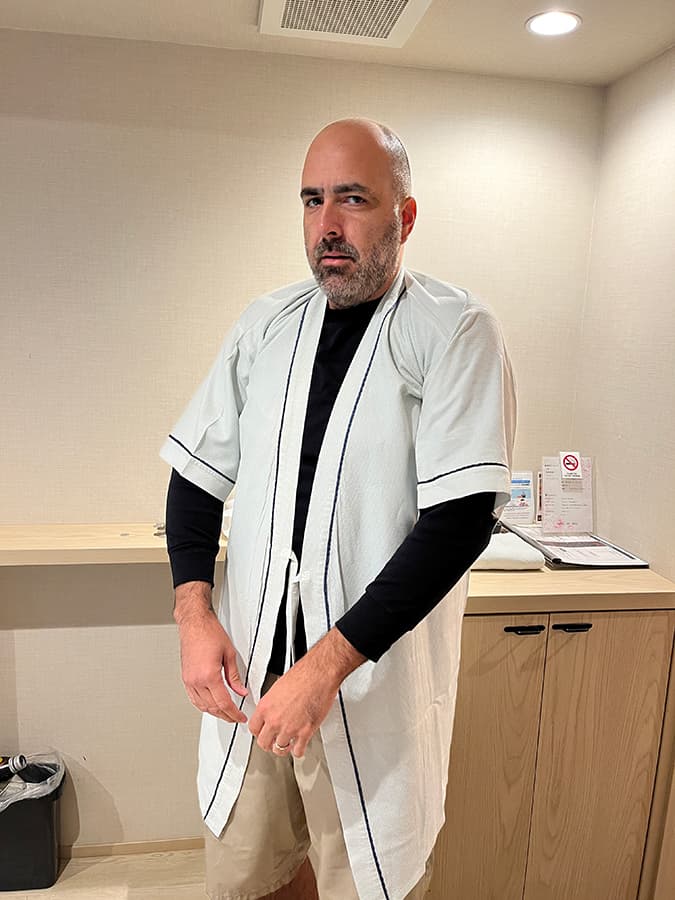 As you can see, Tokyo doesn't exactly accommodate Mark's height! 😂 
The Gear
The plan was to each take one carry on suitcase and one backpack.
Our carry on bags are from Monos. We purchased these bags last year during a Black Friday special. For years, we rolled around sad luggage that was on its last leg, so these bags were a big upgrade. After using them for a year, here's my list of pros and cons.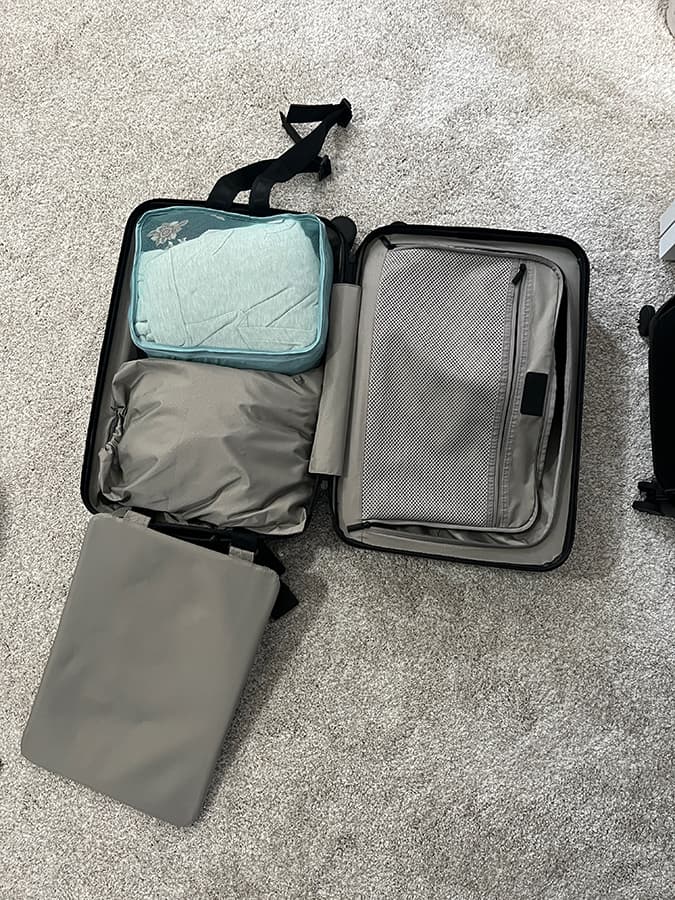 Will it all fit? That's the question…
Pros
Tons of compartments. I feel like I can fit just the same amount in here that I could fit in my old checked bag.
Sturdy. Not that I plan on doing this, but this suitcase can take a beating. Monos has a lifetime warranty on all their suitcases, so if anything does happen, I can get a replacement.
Laptop storage. As much as we would love to leave our laptops at home, we run a business that requires them in case of emergency. The front pocket fits my laptop perfectly and gives me easy access to it.
Easy to clean
Cons
When you really pack a lot in the bag, the laptop compartment doesn't really work. After packing all my clothing, I couldn't really open or close it without fear that I'd bend it. I've used this feature before and had no problem, but I had far less in the bag, so just keep that in mind if you're thinking about purchasing this suitcase.
Another problem I ran into was that the handle didn't fully extend if I had too much stuff inside the suitcase because there was too much pressure on the mechanism that made it extend. Before you leave a comment, I was able to close and zip my bag with no problem (no sitting or squishing required!). In my mind, if the bag is able to close, the handle should fully extend. I had to rearrange things a few times in order to get this to work correctly.
It gets scruff marks easily. It's not a huge deal, since anything I've noticed did come off easily with a magic eraser (Monos even gives you one with purchase) but it is a little annoying.
Our backpacks are from Adidas. These bags also have lots of compartments, including one for a laptop. I opted to put my laptop in this bag instead, since as I mentioned above, the Monos laptop compartment is pretty much useless when you put a lot of stuff in the bag. Overall, I have nothing bad to say about this backpack. It's lightweight, easy to clean, comfortable to carry, and holds a lot.
My Number One Rule
There are a ton of lists, videos, and blogs that will teach you how to pack your carry on, but most of them neglect to mention this one important rule and the thing I always remember before packing for any trip:
Most of the stuff you want to bring can be left at home. You don't need all your stuff.
Back in the day, I was definitely guilty of overpacking. I'd pack outfits, shoes, and extras that would end up just staying in my bag the entire trip. As I've gotten older and more experienced, I've realized:
I don't need to pack a pair of heels if I don't plan on going somewhere fancy.
I don't need to pack all the makeup I own and will be fine wearing the same colors for a few days.
There are stores where I'm going. If I really need something, I can buy it.
Once I got that through my head, packing became a lot easier. While it's nice to have "options", I realized I could get by with the basics just fine. If you really want to be able to travel carry on only, you need to accept this. Even though I've gotten a lot better, I still overpacked for this trip and ended up taking home clothes that didn't get worn.
What To Pack
Of course, what you pack really depends on a few things:
Where you're going
The time of year you're traveling
What you plan on doing
We went to Tokyo in October. The average temperature that time of year is a high of 71 and a low of 58. Nice fall weather. We'd need to bring pants and layers, but there was no need for a bulky coat, gloves, hats, or scarves.
We didn't have plans for any fancy dinners or events. We're not "fancy" people and typically opt for activities that are more casual. That meant there was no need to bring any upscale attire.
Clothing
When choosing what clothing to pack, we took this into consideration:
Comfort. Obviously.
How the item folded. This might sound silly, but it's important. A big chunky sweater takes up a lot of space in your suitcase. Jeans take up more space than leggings. If we were going to get 10 days in a carry on, we needed to pack things that didn't take up a ton of space in our suitcases.
Items that were wrinkle resistant. We aren't huge fans of ironing (is anyone?) so we tried to pack items that wouldn't be a wrinkled mess after we unpacked our suitcase.
Color coordinated. I like to pack neutral colored items because this makes putting together outfits much easier.
Toiletries / Cosmetics
In my opinion, this is the worst part of packing. I hate having to place everything in tiny bottles, but those are the rules.
Over the years of traveling, one thing I've learned is that it's best to always have a toiletry bag packed and ready to go. I pack travel sized options for all the things I need and keep them stored in the bathroom. If something runs out during my trip, I'll replace it once I'm home. It's one less thing to worry about before a trip when I have 100 other things to prepare for. All I have to do is put it in my bag. I highly recommend doing this if you're a frequent traveler (or even if you aren't!)
As far as makeup goes, I pair down my cosmetics with just a few essentials. I'm not someone who wears a ton of makeup to begin with, but I do have some big eyeshadow palettes and a lot of lipstick colors. For travel, I'll take a small eyeshadow and one shade of lipstick to wear the entire trip, along with my other everyday items. This way, I can still look nice without having to bring my entire makeup collection.
Since my hair dryer takes up a lot of space, I opted to leave it at home this trip. The hotel we stayed in provided a hair dryer, so I didn't need to worry about it.
Shoes
It might sound extreme, but I decided to only bring one pair of shoes on this trip. We didn't plan on going anywhere that needed fancy shoes, so I really didn't see a reason to pack more than one pair. They would just get in the way and take up space.
For this trip, I opted for a pair of slip on Vans. I chose these because:
They are comfortable to walk around in all day
They slip on and off, which makes it easy in the airport. Also, Japan it's a big part of Japanese culture to take off your shoes when you enter a place. Having slip on shoes made this easier.
They don't look like tennis shoes. They are basic black shoes that looked fine with all of my outfits.
How to Pack
The way you pack your carry on bag will help determine just how much you'll be able to fit into it. I start by making a list of everything I'll need for the duration of our trip. Mark has kept a list on his phone for years so we make sure not to skip anything important, like medicines.
Then I take my clothes and place them on my bed. This helps me figure out what goes with what and how many outfits I can make.
Folding
Then I get to folding. A lot of people are huge fans of rolling their clothes, but I prefer to fold items the way Marie Kondo does it. It takes up less space and keeps my clothes more organized and less wrinkled. I use this method at home, so it makes sense to do the same for packing.
You can watch this video from Marie's YouTube channel that explains exactly how she does it.
Packing Cubes – Yes or No?
I've been on the fence about whether using packing cubes is worth it. After getting a good deal on a set, I decided to try it for this trip. I have to say, I'm a pretty big fan! They helped keep my stuff organized the whole trip and I was actually able to fit an extra pair of pants and 2 shirts in my suitcase by using the cubes. I may not use them for every trip in the future, but it was definitely helpful when packing for 10 days.
Arranging Items
Arranging items is always a bit of a Tetris game. Using the packing cubes definitely helped with this. One thing I like to do is put my heaviest items at the bottom and the lightest ones at the top. It helps to keep things in place when you stand your suitcase up.
For my backpack, I put extra clothes at the bottom of the larger zipper compartment with my toiletries and hairbrush at the top. This way, I'd have quick access to it so I could brush my teeth and freshen up a bit in the bathroom once we arrived in Tokyo.
In the front zipper compartment, I put the things I'd want to access on the plane, like my headphones, eye mask, and charging cables. The smaller compartments in this backpack make it easy to store these things.
Plane Attire
When deciding what to pack, I also take into consideration what I'm going to wear on the flight. Our flight was 14 hours (!!) so being comfortable was a priority, but I'm also not one of those people who thinks it's okay to board a plane wearing pajamas and slippers (What are you doing, people?). I always try to wear bulkier items on the plane rather than pack them so I can save space. Instead of packing jewelry, I like to wear it on the plane, to again, save space.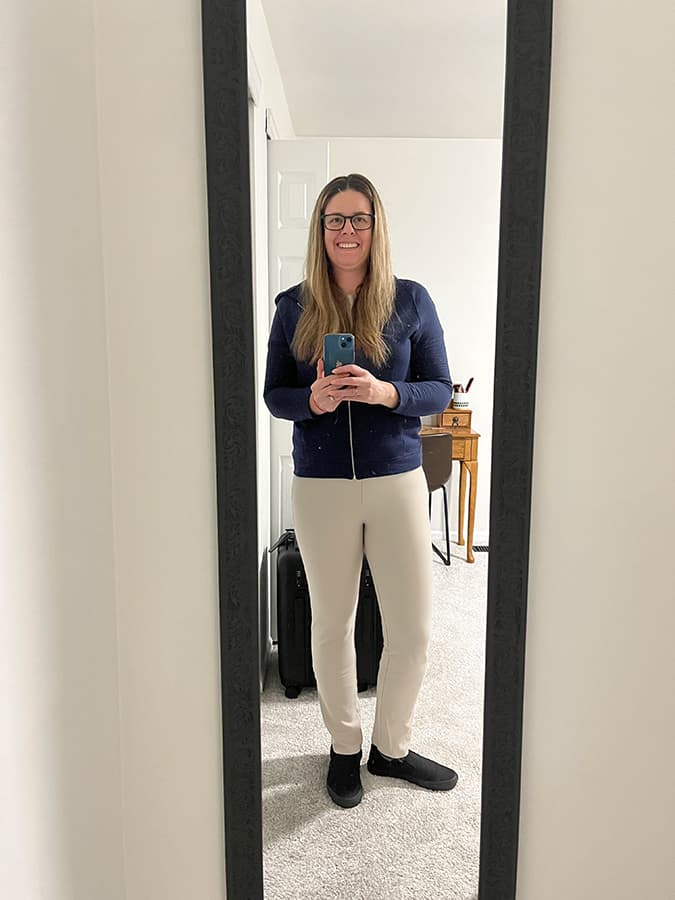 This my what I wore on the plane. Top from Uniqlo. Pants and hoodie from Quince. Shoes from Vans.
It's Totally Possible to Travel for 10 Days Carry On Only
Despite many people, including Mark, not believing I would be able to pack for our Tokyo trip in only carry on bags, I did it! With the right gear and planning, it's actually pretty easy.
But despite all of my hard work, United Airlines made us check our bags at the gate before we boarded the plane, saying they didn't have enough overhead space. 😡  This was a complete lie because when we boarded, we saw several completely empty overhead bins. United sucks, but that's a story for another day.