We just got back from spending 10 amazing days in Tokyo. Visiting Japan has always been a dream and Tokyo lived up to our expectations 100%. The bright lights, futuristic buildings, incredible food, and exceptional fashion…it was everything we imagined and more.
That said, there were a few things that surprised us about Tokyo.
It's very orderly
Tokyo is the biggest city in the world and is home to nearly 14 million people. Despite this, the city is incredibly organized and orderly. People don't bump into each other when walking the streets. You wait in line to enter the subway or get on an escalator instead of just rushing to it. You'll see a lot of rules throughout the city and people definitely follow them. There is an order to the chaos.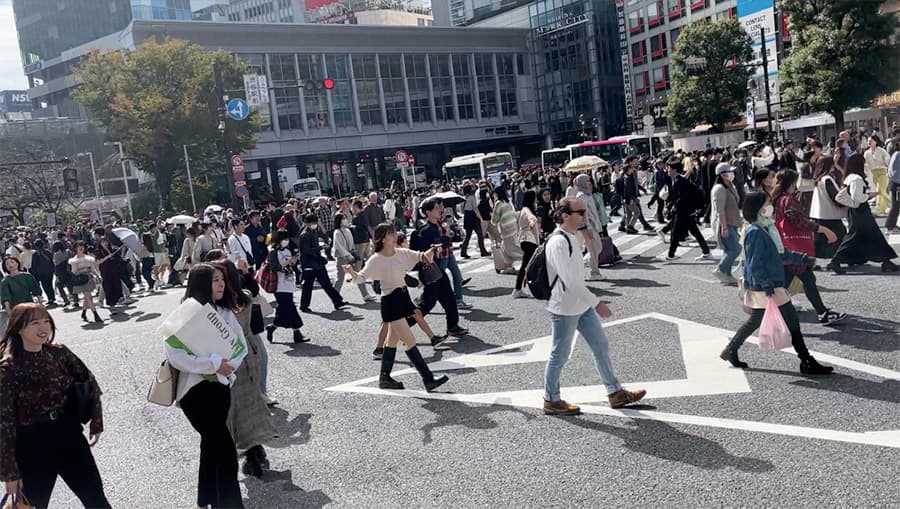 Shibuya Crossing, the busiest intersection in the world.
It's extremely efficient
Things just worked better in Tokyo than back home in Philadelphia. It took us less than 10 minutes to get through customs and airport security at Narita airport. The trains are never late and the longest we ever had to wait for one was 3 minutes. Food is served to you extremely fast and when you're ready to leave, you walk to the cash register to pay instead of waiting for a server to give you the bill. If a place is scheduled to open at 10 a.m., it opens at exactly 10 and not a minute before or after. We would love to take some of the efficiency of Tokyo and bring it to Philadelphia.
It's nearly impossible to find a trash can
It's really hard to find trash cans on the city streets. If you have trash, you take it with you. You will usually find recycling bins by the vending machines that are all over the city, but trash cans are hard to come by.
This is likely because it's frowned upon to eat on the streets in the city. If you do, it's usually standing outside of a convenience store. Even at the Tsukiji Fish Market, where you're buying street food, you don't walk and eat. The vendors ask you to eat your food by their store and when you're finished, they'll take your trash for you.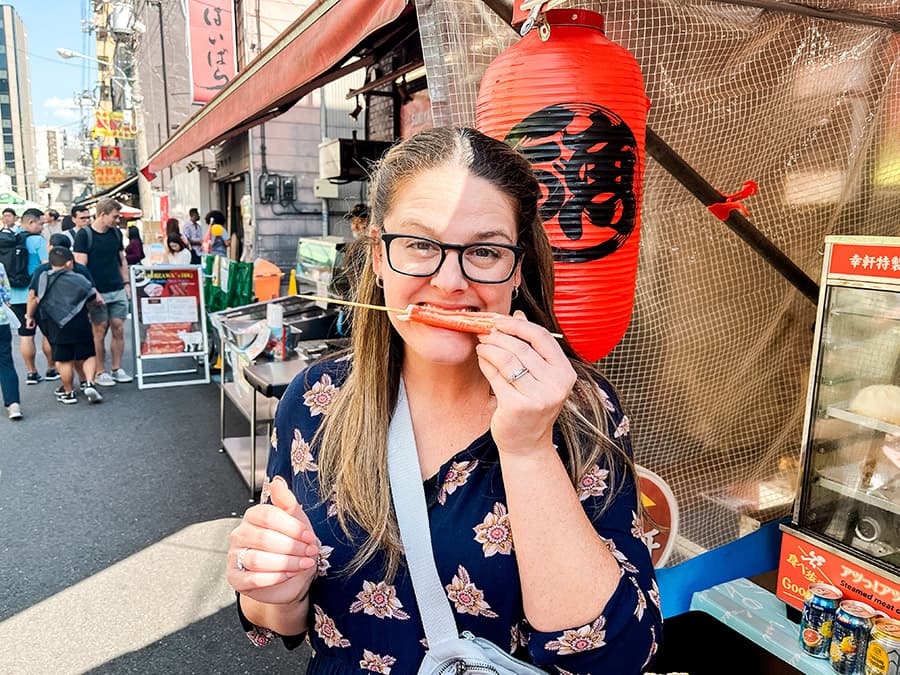 The street food is delicious.
Despite the lack of trash cans, the city is unbelievably clean
We couldn't believe how clean Tokyo was! As much as we love Philadelphia, the city is dirty and has a horrible trash problem. It was the complete opposite in Tokyo. No trash on the streets, stores were immaculate, and we actually saw people cleaning the subway stations. People really seemed to care about how the city looked. What a concept!
Public bathrooms were also really easy to find throughout the city. All of them were clean and had those futuristic Toto toilets. Good luck trying to find a public bathroom in Philadelphia that isn't disgusting.
One thing I personally noticed in the public bathrooms was that there often weren't paper towels or hand dryers by the sinks. I thought that was odd because who wants wet hands after using the sink? One day I was waiting in line to use the restroom and noticed that every woman carried a small towel with them to dry their hands after washing them. So that's how they do it!
Cash is still king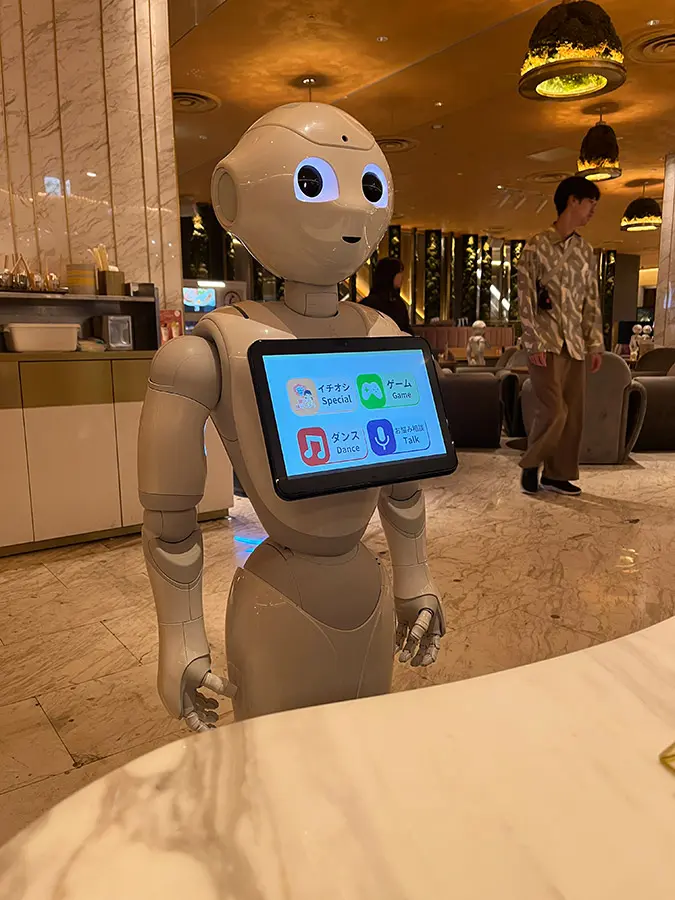 We ate lunch at Pepper Parlor, a robot restaurant.
Despite Tokyo being an incredibly futuristic city where robots can serve you food, it's still a cash based society. A lot of places we went to were cash only and most places really prefer it. You'll need to have cash when you come here. Getting it is easy though; just head to a 7-11 ATM, which are all over the place, and you'll be set.
Speaking of 7-11, they are awesome in Tokyo
If we were to rank convenience stores in America, 7-11 would be at the bottom of the list. They are usually dirty, have gross, overpriced food, and often have strange people inside them. It was the complete opposite in Tokyo. These stores are everywhere and are super nice. You can get decent meals for cheap (they even had sushi) as well as essentials like shampoo or razors. We found ourselves in a 7-11 pretty much every day.
Kids are much more independent in Tokyo
Young children don't seem to rely on their parents as much in Tokyo as they do back home. We saw kids under 10 years old walking home from school and taking the subway by themselves. They knew exactly where to go, what to do, and no one was shocked or bothered by the fact that they were by themselves.
It's a very safe city
It makes sense that kids walk around by themselves as Tokyo is a very safe city. The Japanese culture values social harmony observes rules and hierarchies, and avoids conflicts, which leads to a safe place to live. Despite all the people, there wasn't one time when we felt unsafe here.
Of course, no place is 100% safe, so just like anywhere else, you'll still want to practice normal "safety" rules when you come here, but you should feel very safe in Tokyo.
It was cheaper than we thought it would be
All of the research we did before coming to Tokyo told us the city was very expensive. We were expecting to pay prices equivalent to New York or London when we came here. To our surprise, we didn't find things to be that expensive. We actually found the prices of food and attractions to be much cheaper than in America.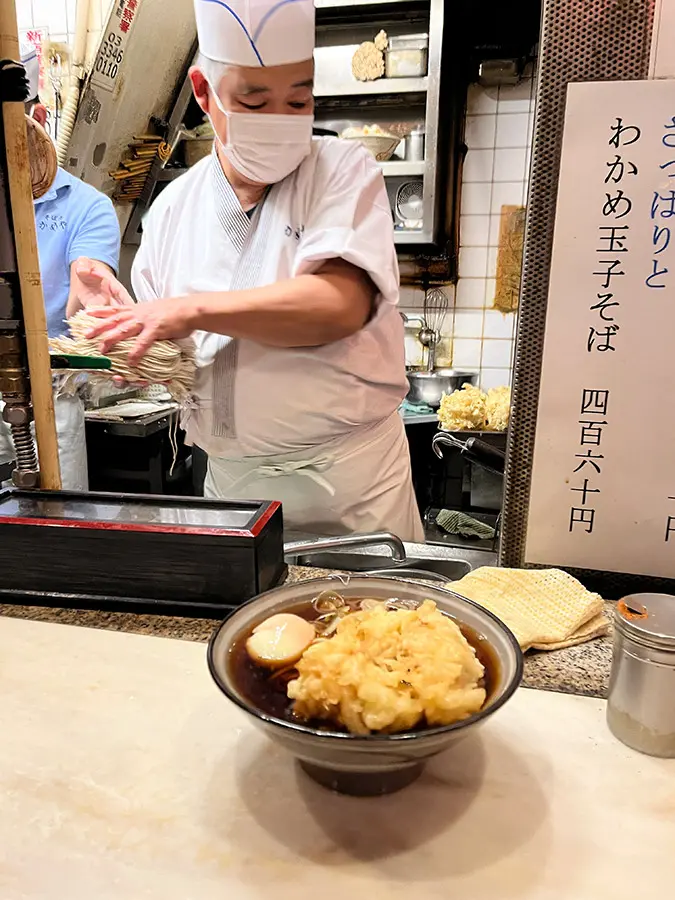 This was delicious and about $3 USD.
We know Japan falls on the more expensive side compared to other Asian countries but as Americans, we were pleasantly surprised by the prices. On average, where we live, a meal at a restaurant will cost you no less than $20 a person. In Tokyo, we had plenty of nice meals for less than $10 a person. If you're really on a budget, you can skip the restaurants and eat street food. Drinks were a lot cheaper as well. It was easy to find a beer that was equivalent to $3 US. Back home, it's hard to find one under $5.
Attractions were less expensive as well. We did all the "touristy" things like Tokyo Skytree and Tokyo Tower. Although the tickets were on the pricier side, they were significantly cheaper than what we would pay for something equivalent back home.
Inflation has gotten out of control in the US and it seems like we've gotten used to it. Everything has gone up so much in price here that coming to an "expensive" city like Tokyo actually felt cheap. Don't let the worry of Tokyo being an expensive city stop you from going.