Are you looking for the top affordable restaurants in Philadelphia? Here's our list of our top restaurants in Philadelphia. We have lived in Philadelphia for the past 5 years and have tried tons of different restaurants throughout the city. These are restaurants that we visit often and can highly recommend.
This is not your typical fancy restaurant list that will cost you and arm and leg. Most of these places will require no reservations, even on a busy night.
You won't find any celebrity chef restaurants on this list. We rarely go to the upscale restaurants because we don't see the value in them. We try to support local small business owners as much as possible.
We will also list our top 3 items for each restaurant that you must try!
Note: We haven't been paid to list any of these restaurants. We want to share our personal favorite restaurants with you!
Interactive Google Map
Use the interactive map below to see the exact locations for each restaurant. Use the full screen button to open the map in a new window. This is helpful while on a mobile device.
Top 20 Affordable Restaurants in Philadelphia (this list is not in any particular order):
#1 Marathon On the Square
1839 Spruce St | Menu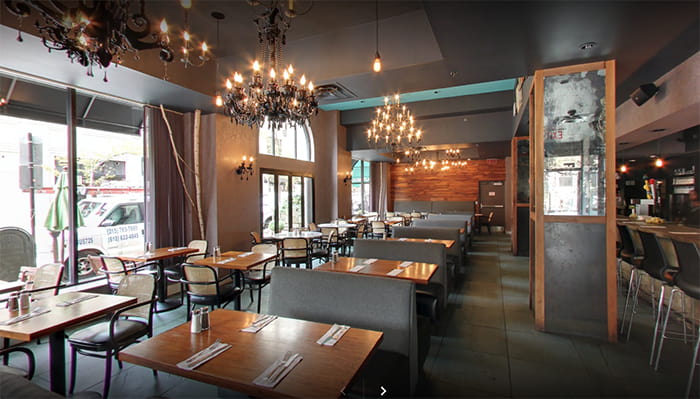 Photo Credit: Google Indoor Maps
Marathon On the Square is our #1 "hidden gem" restaurant in all of Philly. The reason? Because it's often not too busy for being so close to Rittenhouse. We used to live a few blocks from here and would visit this restaurant very often. The longest we have waited was maybe 15 minutes. This place is normally filled with people from the neighborhood. You might see the occasional tourist in here once in a while.
Top 3 items:
Marathon Burger
Grilled Chicken Cobb Salad
Tomato Soup (Specials Menu)
#2 Han Dynasty
123 Chestnut St | Menu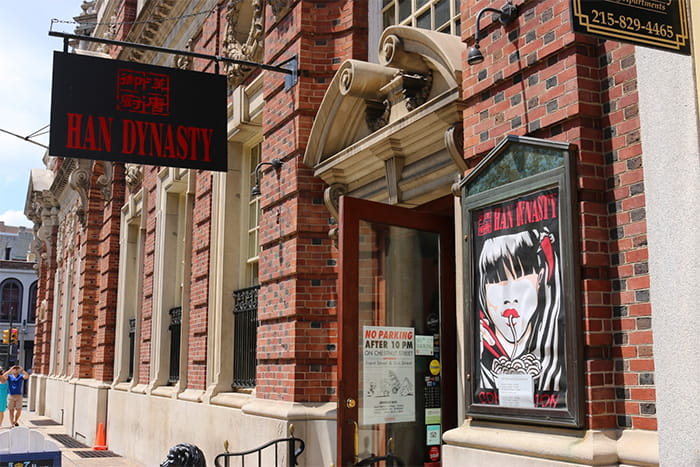 Photo Credit: Belly of the Pig
Han Dynasty is one of our go-to restaurants in Old City. This Chinese restaurant is ran by owner Han Chiang. We are lucky enough to live walking distance to the Manayunk location, but the Old City location is our favorite location because of the interior and atmosphere. They currently have 9 locations throughout PA, NJ & NY.
Top 3 items:
Dumplings in Chili Oil
Dan Dan Noodle
Hot Sauce Style Entree
#3 Dim Sum Garden
1020 Race St | Menu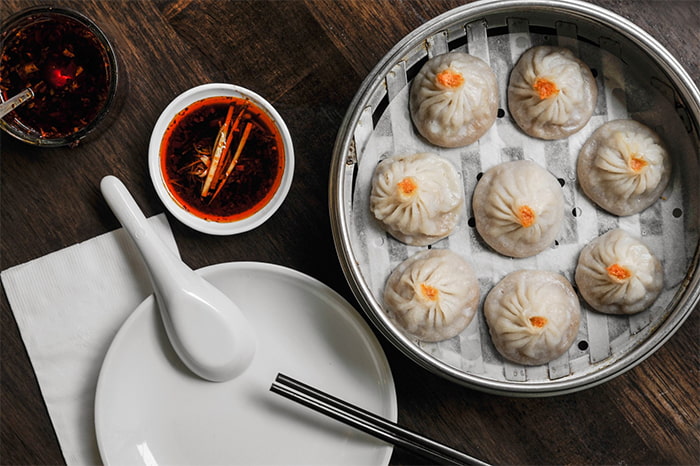 Photo Credit: Dim Sum Garden
Barbara's cousin took us to Dim Sum a few years and we fell in love instantly! We continue to visit here when in Chinatown. The menu is huge, but we recommend just ordering off the "small bites" menu. Its got a huge selection of food at a very good price.
There's almost always a line to get into this place, but don't worry, it moves very fast. Even on a busy night, we haven't had to wait more than 15 minutes.
Note: They won't seat your group unless everyone is present, they are very strict on this rule.
Top 3 items:
Scallion Pan Cakes
Spicy Pork Soup Dumplings
Shanghai Fried Rice Cakes
#4 Revolution House
200 Market St | Menu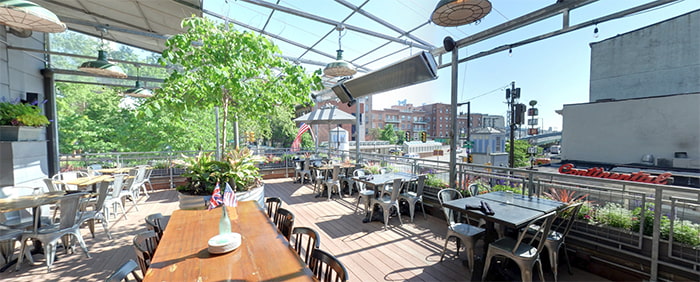 Photo Credit: Google Indoor Maps
The Revolution House in Old City is in a great location and has one of the best open roof decks in the area. This restaurant is also packed with history! It still has the original 1798 brick of the former Quaker Friends Meetinghouse. Another important factor of this restaurant is the affordable pricing, this part of Old City is filled with overpriced restaurants.
Top 3 items:
Buffalo Chicken Dip
The American Burger
Chicken Bombs
#5 Monk's Cafe
264 S. 16th St | Menu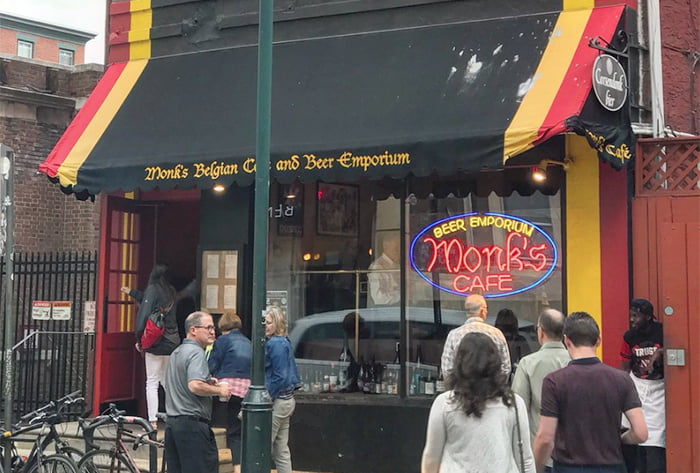 Photo Credit: Trip Advisor
Monk's Cafe is one of our favorite pubs anywhere. They are known for their huge selection of international beers. They have been serving world-class beers for over 20 years, but they also have some really good food to go along with your beer. If you love mussels, look no further.
Note: This place does get packed almost every night. The good news is they don't take reservations, so you have a chance to get a seat on a busy night. They require your whole group to be present before they seat your group.
Top 3 items:
Any of the flavored mussels
Seitan Cheese Steak (Vegetarian Dish)
Pulled Pork Sandwich
#6 The Black Sheep Pub & Restaurant
247 S. 17th St | Menu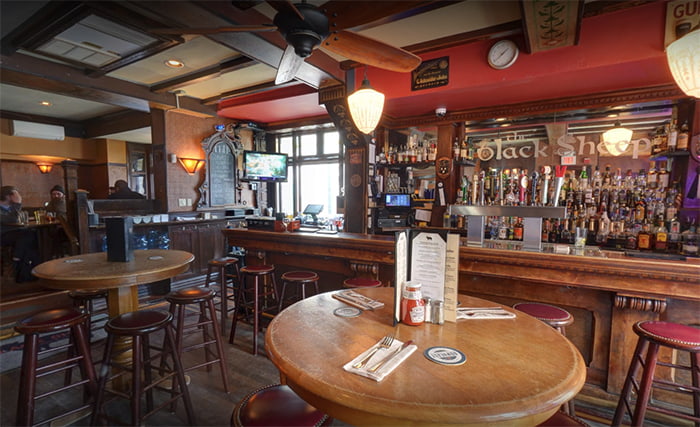 Photo Credit: Google Indoor Maps
The Black Sheep is a great local pub that we visit often. They have my favorite beer on tap (Smithwicks). We try to visit Black Sheep during their happy hour Monday-Friday 4-7 p.m. They offer drink and food specials. It's a great way to try some of their food and save some money.
Top 3 items:
Sauteed Brussel Sprouts
Cheese Steak Spring Rolls
County Cork Chicken Sandwich
#7 Brauhaus Schmitz
718 South St | Menu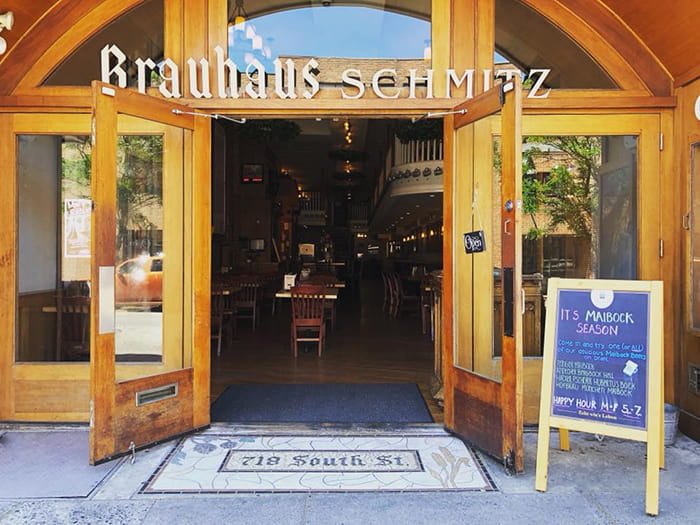 Photo Credit: Facebook
Brauhaus Schmitz has some amazing German food and beers on tap. They have the largest German beer list in the country. They also have a large selection of different sausages and sides.
Top 3 items:
Wurstplatte (sausage sampler)
Kartoffelpuffer (potato pancake)
OMAS KÄSESPÄTZLE (German Style Pasta Dumplings)
#8 Miles Table
1620 South St | Menu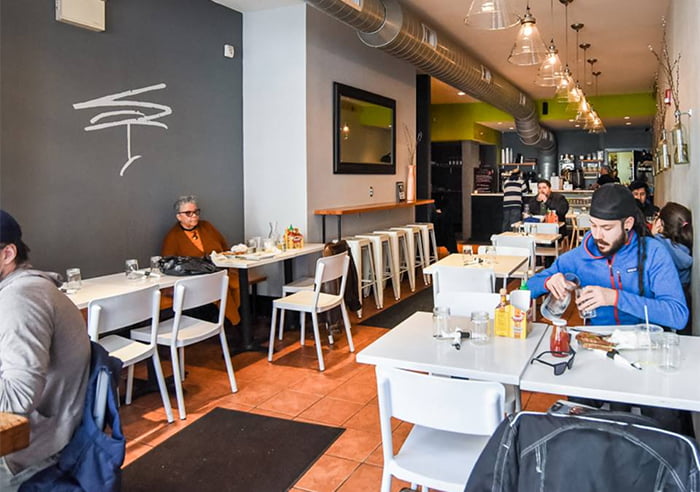 Photo Credit: Facebook
Miles Table is a great little restaurant. Barb's cousin is good friends with the owner. We have meet them several times and they are the nicest people! They often cater to local businesses and news stations. We used to live very close to Miles Table and visit often. I'm going on record that Miles Table has my favorite burger of all time!
Top 3 items:
Miles Burger
Thai Chicken Sandwich
Miles Salad
#9 Lazaro's Pizza
1743 South St | Menu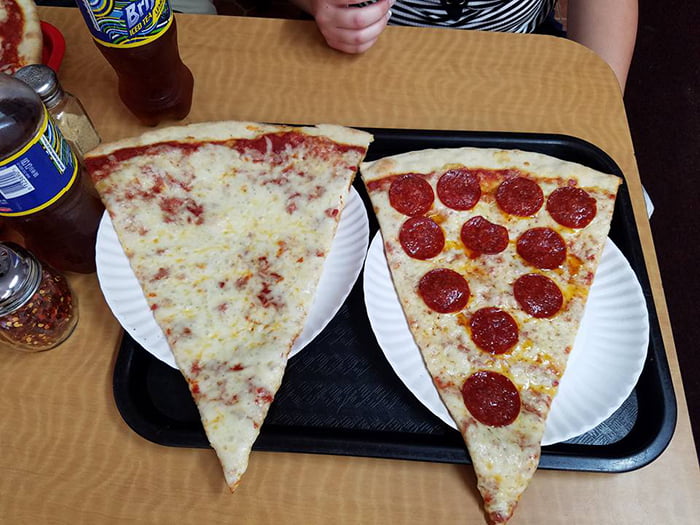 Lazaro's Pizza has the best pizza! Period! We have tried tons of pizza places throughout the country and Lazaro's still wins! I know this will upset people in NYC, but we have yet to have a slice as good as this in NYC. We have taken several of our friends from out of town here and everyone of them agrees that Lazaro's is their new favorite slice. So don't just take our word! Lazaro's also has other food such as salads and subs. But we have only had their pizza slices so far.
Top 3 items:
Cheese Pizza
White Neapolitan Pizza
BBQ Grilled Chicken Pizza
#10 Honey's Sit 'N Eat
2101 South St | Menu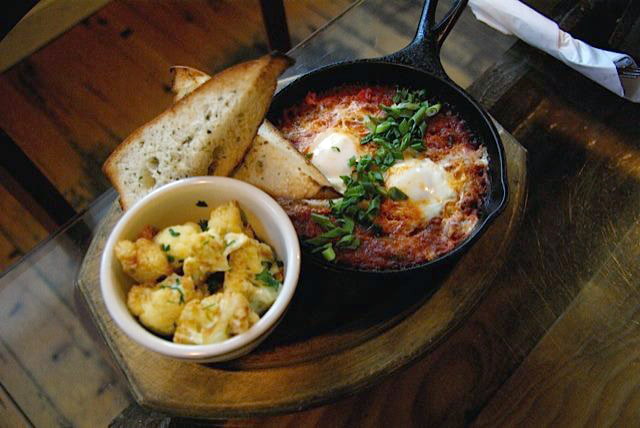 Photo Credit: Facebook
Honey's on South Street is a great local breakfast restaurant. It can get crowded on the weekends, so try to arrive a little early if you don't want to wait. They also serve lunch, but we mainly visit Honey's for the breakfast.
Note: They are BYOB, cash only and don't take reservations.
Top 3 items:
Biscuits and Sausage and Gravy
Honey's Platter
Eggs Benedict
#11 Woodrow's Sandwich Shop
630 South St | Menu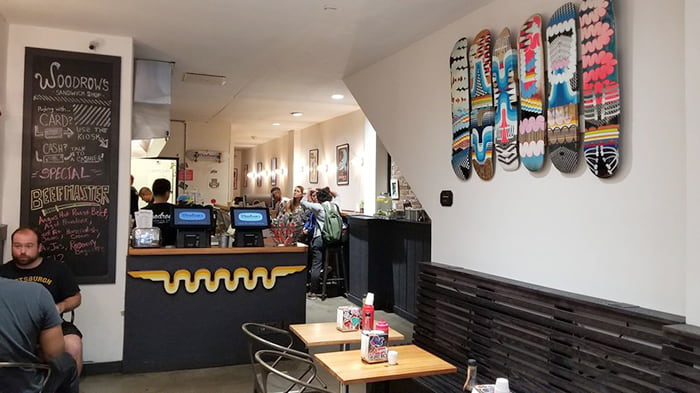 Photo Credit: Yelp
Woodrow's is a newer sandwich restaurant on South Street. Their goal was to make almost everything they can from scratch. You really do taste the quality in every bite. They have one of my favorite cheesestakes in Philly. They use truffle whiz and caramelized onions on their cheesestakes, do I even need to say anymore!? They have fans like Meek Mill and the Philadelphia Eagles.
Top 3 items:
Woodrow's Whiz Wit
Meatball Sub
Woodrow's Pork
#12 Ristorante Pesto
1915 South Broad St | Menu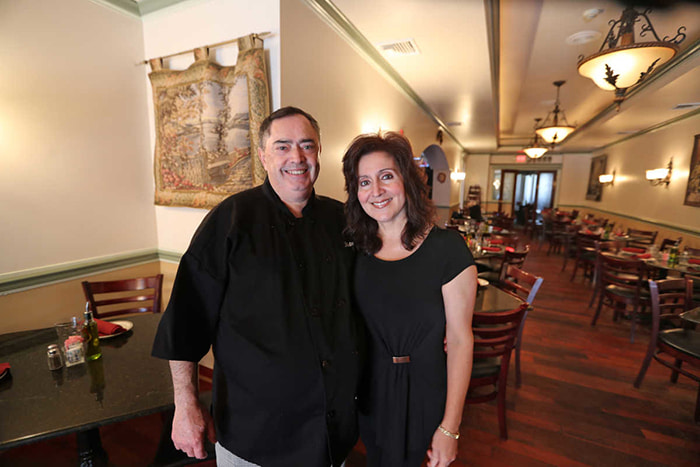 Photo Credit: Pesto
Pesto's in South Philadelphia is one of our favorite Italian Restaurants. They offer a large menu of unique veal, pasta and seafood dishes. Every time we have visited this restaurant we have had a great experience. The owners will often visit the tables for a quick chat and check on things. This type of service goes a long way!
They even won the Pasta Showdown contest on the Rachael Ray show in 2015.
Top 3 items: 
Pollo Parmigiana
Gnocchi al Pesto
Spaghetti alle Vongole
#13 Cantina Los Caballitos
1651 E Passyunk Ave | Menu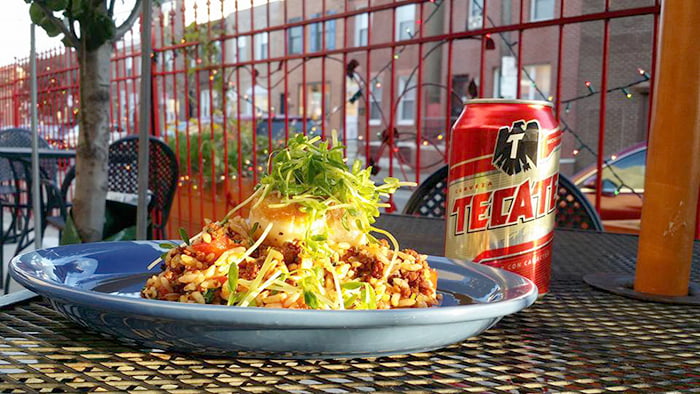 Photo Credit: Facebook
Cantina Los Caballitos is a fun Mexican restaurant in South Philly. We love to sit outside on a warm summer day and enjoy some good Mexican food and frozen margaritas. We like to visit this restaurant before going over to the roof deck at Bok Bar.
Top 3 items:
Steak Tacos
Enchiladas De Pollo
Nachos
#14 Craft Manayunk
4141 Main St | Menu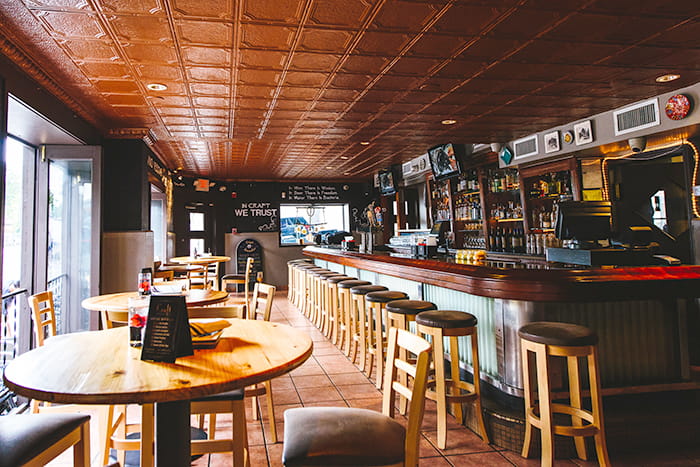 Photo Credit: Craft Manayunk 
Craft is a fun restaurant to visit if you're in Manayunk. It's one of our favorite restaurants on Main Street. Craft Manayunk is a beer bar focused on serving craft beer, and crafty food. The reason we recommend this place is because you can normally get a table without much of a wait. They also have a great happy hour!
Top 3 items: 
Grilled Chicken Sandwich
Craft Burger
Roast Pork Dip
#15 Hilltown Tavern
326 Roxborough Ave | Menu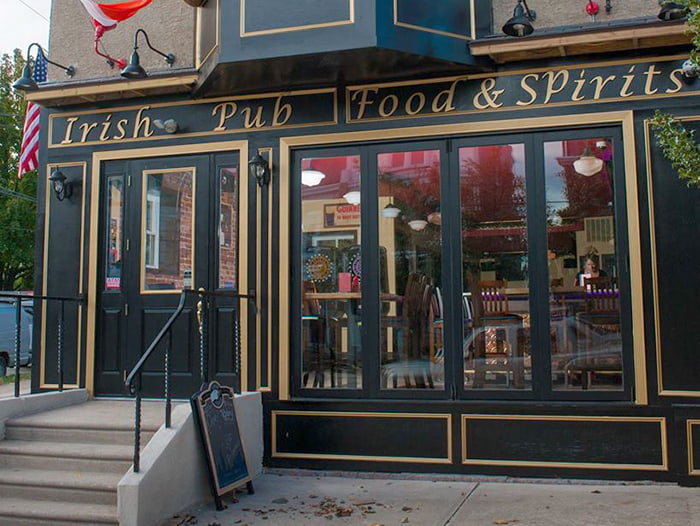 Photo Credit: Facebook
Hilltown Tavern is our neighborhood restaurant. We walk to Hilltown often and have always had a great experience. Since we live so close and work from home, we are able to visit during their happy hour 4-6pm Monday-Friday for $.75 wings. We both agree that they might some of our favorite wings. They also have plenty of outdoor seating. We love to come here during the warmer months and sit outside.
Top 3 items:
Garlic Wings
Crispy Southern Fried Chicken Sandwich
Hilltown Mac & Cheese
#16 Ekta Indian
250 E Girard Ave | Menu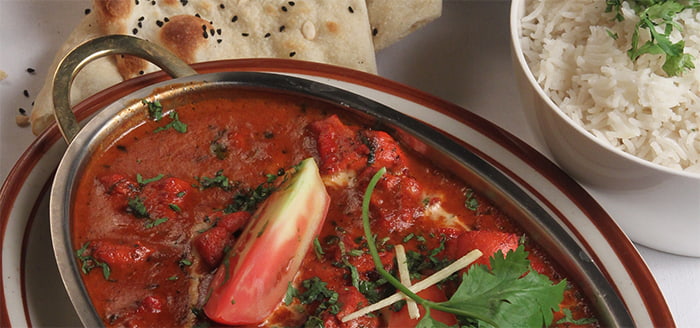 Photo Credit: Ekta
Ekta in Fishtown is our favorite Indian restaurant in Philly. They have 3 locations throughout the city, but we have only visited their Fishtown location. The service and quality of the food has always been top notch at Ekta. We don't spend a lot of time in Fishtown, but when we want a fun date night out, we will visit Ekta for dinner and then head over to Barcade a few blocks away.
Top 3 items:
Garlic Naan
Chicken Tikka Masala
Kadai Paneer
#17 Kanella Grill
1001 Spruce St | Menu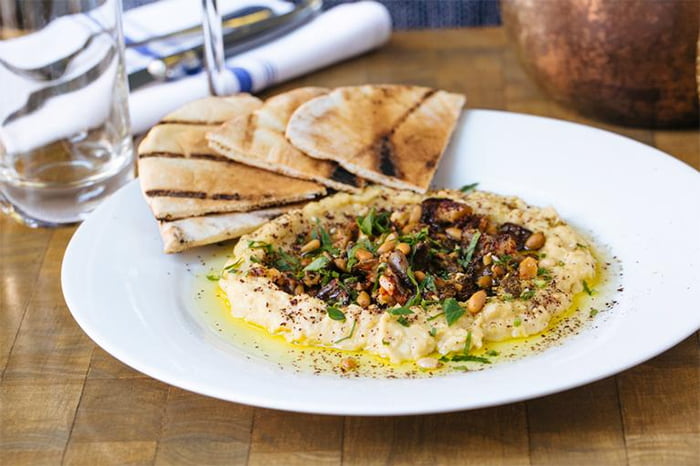 Photo Credit: Kanella Grill
We first heard about this restaurant while watching The Layover with Anthony Bourdain. He highly recommended this place on the show, so the next day we checked it out and it's now our favorite Mediterranean restaurant in Philadelphia! Barbara wanted Kanella Grill for her birthday meal while her parents were town. Everybody really enjoyed their meals and wanted to come back when they visit again.
Top 3 items:
Hummus with Pita
Kebab Platter
Baklava
#18 Famous 4th Street Delicatessen
700 S 4th St | Menu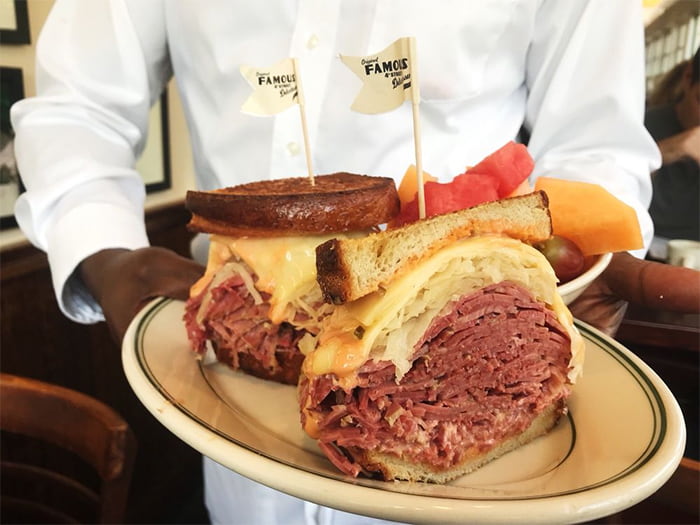 Photo Credit: Yelp
We finally stopped into their main restaurant in Queen Village for the first time this year and have been back several times. We have always enjoyed their cookies in Reading Terminal Market and always wanted to try their food. This restaurant has the largest portions on our list. Often times we will split a sandwich and get a dessert. Tons of famous people have stopped by this restaurant, it's fun to walk around and look at all the pictures of famous people that have eaten here.
Tip: They give you free cookies when you get the check! I'm a customer for life!
Top 3 items:
Hot Corned Beef Sandwich
Hot Pastrami Sandwich
Chocolate Chip Cookies
#19 Tattooed Mom
530 South St | Menu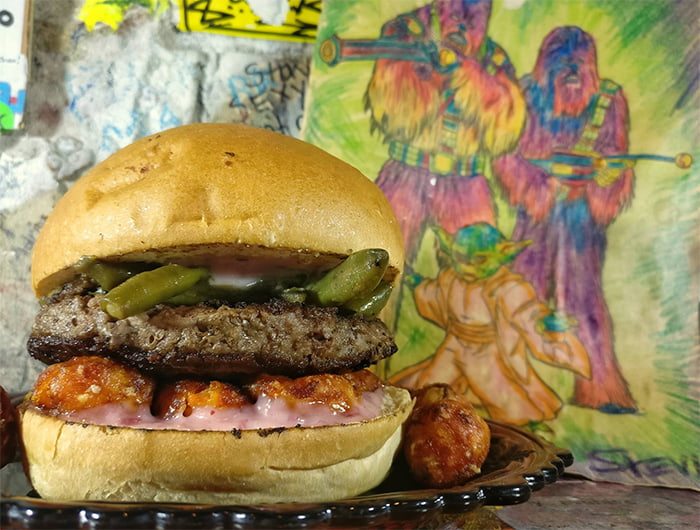 Photo Credit: Facebook
This is Philly's punk rock bar/restaurant. I visited this place on my first trip to Philly and I instantly knew I wanted to move here! This is everything I love about a bar/restaurant. It has punk, horror and pop culture artwork throughout. Upstairs is one of the coolest bars I've seen. They have over 20 years of street art displayed on every surface. The best part, you can sit in bumper cars while enjoying a drink while listening to some good music. They also have fun cocktails and a great selection of food.
Tip: They have a large selection of veggie & vegan items on the menu.
Top 3 items:
Pierogies
Honey Sriracha Fried Chicken Wrap
Turkey Corn Dog on a Stick
#20 Nam Phuong
1100 Washington Ave | Menu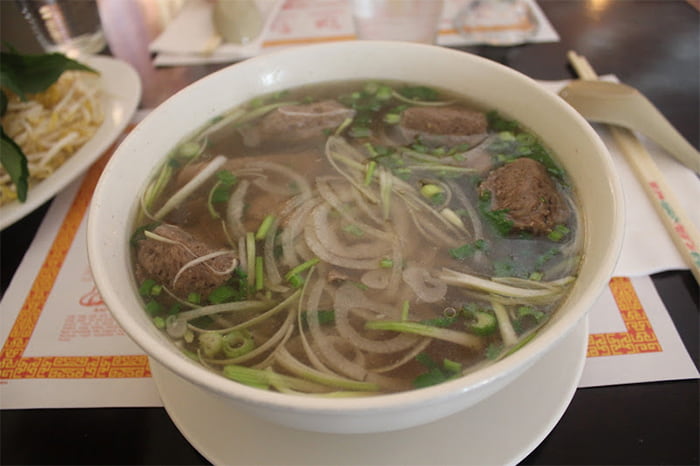 Photo Credit: Nam Phuong
Nam Phuong is our favorite Vietnamese restaurant in Philadelphia. We love to come here in the colder months and enjoy their Pho. This place has great service and has always been consistent with their quality. Barbara almost always orders the Pho. I like to mix it up and try different dishes when I come here.
Tip: Pho 75 is located in the same shopping center. This is another great place to get Pho for less money.
Top 3 items:
Pho
House Special Rice Vermicelli
Summer Rolls