Beer lovers rejoice! The Washington D.C. area is filled with great craft breweries. Here are 6 great breweries to check out if you're in the area.
Ocelot Brewing Co.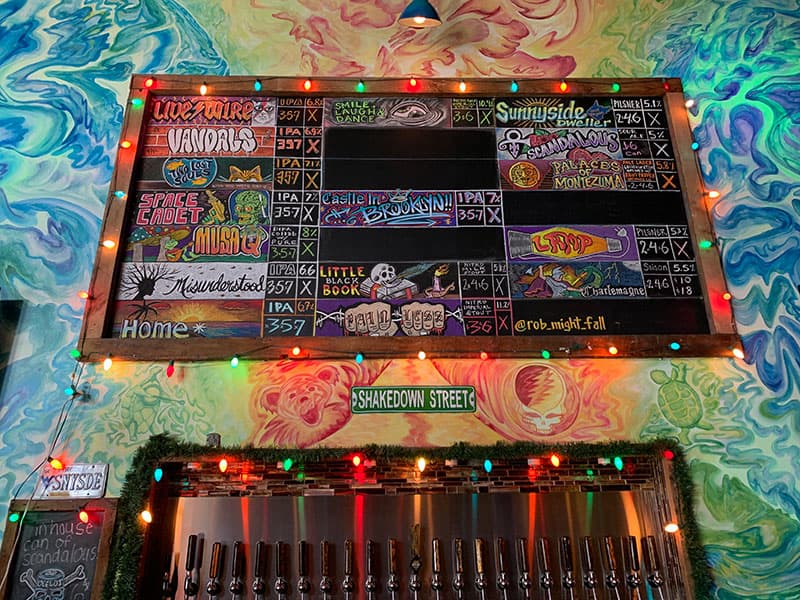 Ocelot Brewing Co. is located in Loudoun County, Virginia. They have a rotating selection of IPAs, lagers, and barrel-aged beers, creatively named after some of their favorite song lyrics or bands. They offer tasters of everything, so we tried a few different lagers and stouts (we aren't big IPA fans) and really liked them.
The inside of Ocelot is really unique. They have beautiful colorful murals all over the walls and their chalkboard menu is a work of art. They have a backroom with several pinball and arcade machines, something we've never seen inside of a brewery before. Ocelot is also dog-friendly; there were several people with dogs there.
Ocelot Brewing Co. is located at 23600 Overland Drive #180 Dulles, VA 20166 and is open from 1 pm – 10 pm Monday – Friday, Saturday 11 am – 10 pm and Sunday 12 pm – 7 pm.
Bluejacket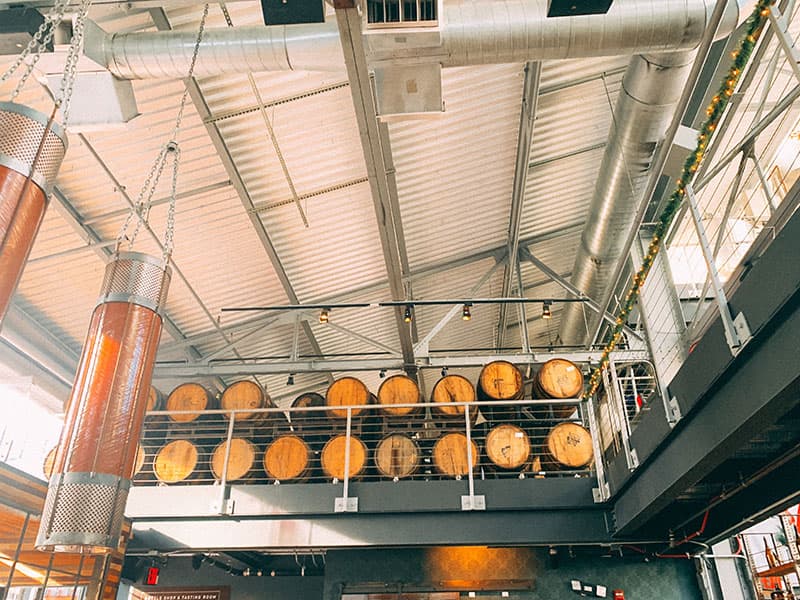 Bluejacket is located in The Navy Yard area of D.C. They offer a rotating selection of beers and cask ales, many of which are only available at their location. Every beer on their menu is available as a 4oz taster, so we tried several. I liked the Mexican Radio and Blue Highway and Mark was a fan of Love Cats.
Often, the food at breweries isn't that great, but this isn't the case at Bluejacket. The kitchen is run by chef Marcelle Afram and has a diverse menu with tons of delicious options. I got their hot pastrami sandwich and Mark got a great burger.
Bluejacket is located at 300 Tingey Street SE, Washington D.C. 20003 and is open Sunday – Thursday from 11 am – 1 am and Friday and Saturday from 11 am – 2 am.
Supreme Core Cider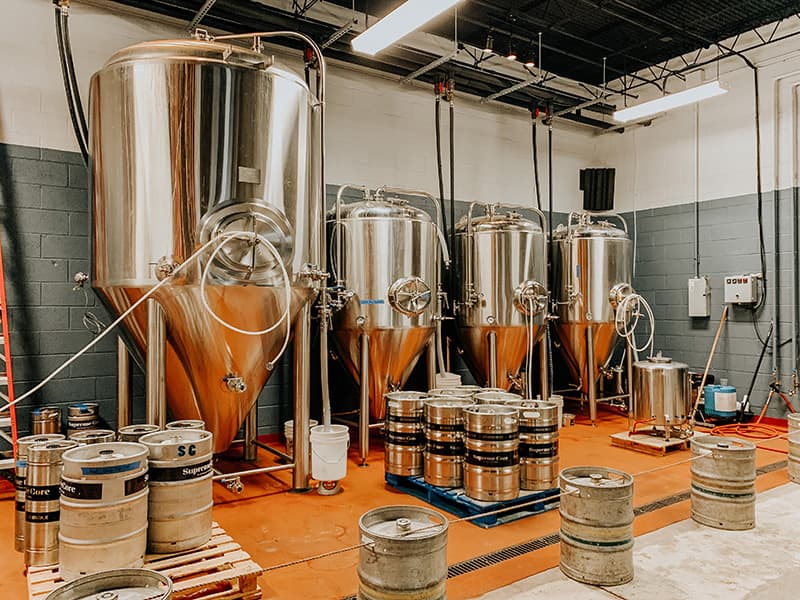 If you aren't a super fan of beer, Supreme Core Cider may be more up your alley. Supreme Core Cider is a family-owned and operated business with a taproom right next to the entrance of the National Arboretum in D.C.
We really liked that their ciders weren't overly sweet. In fact, they only offered one cider on the menu that was on the sweeter side. While we were there, we got a few different tasters. I really liked the Strawberry Bloom and Mark liked the Ivy City Goldrush.
Supreme Core Cider is located at 2400 T St NE, Washington, DC 20002. Their tasting room is open Saturday from 1:30 pm – 9:30 pm and Sunday from 12 pm – 6 pm.
Chesepiooc Real Ale Brewery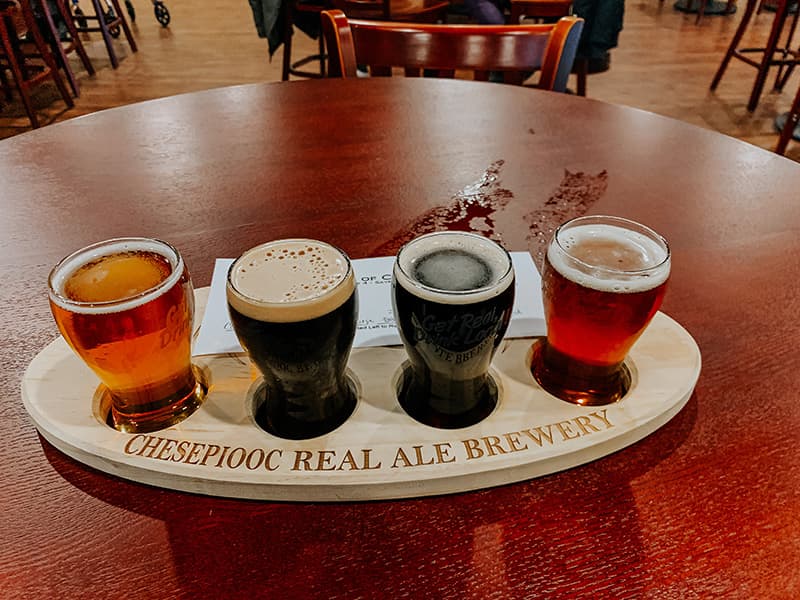 Chesepiooc (pronounced Chess-uh-pe-auck) specializes in small batches of really unique brews. They really like to push the boundaries with their recipes and try new flavors. If you try something that you really like, it might be worth taking some home because they will likely not have it the next time you go back. They only do small batches, meaning once it's gone, it's gone for good.
They offer flights where you can try 4 different beers and the bartender was really friendly and welcomed any questions we had. We really liked their Red Ale and Lager. The taproom hosts a lot of events including trivia and bingo nights and is both dog and kid-friendly.
Chesepiooc Real Ale Brewery is located at 2408 Crofton Blvd Crofton, MD 21114

Hours are: 
Monday, Wednesday and Thursday: 4:30 pm–10 pm
Friday: 3 pm –10 pm
Saturday 12 pm –10 pm
Sunday 12 pm–6 pm
Atlas Brew Works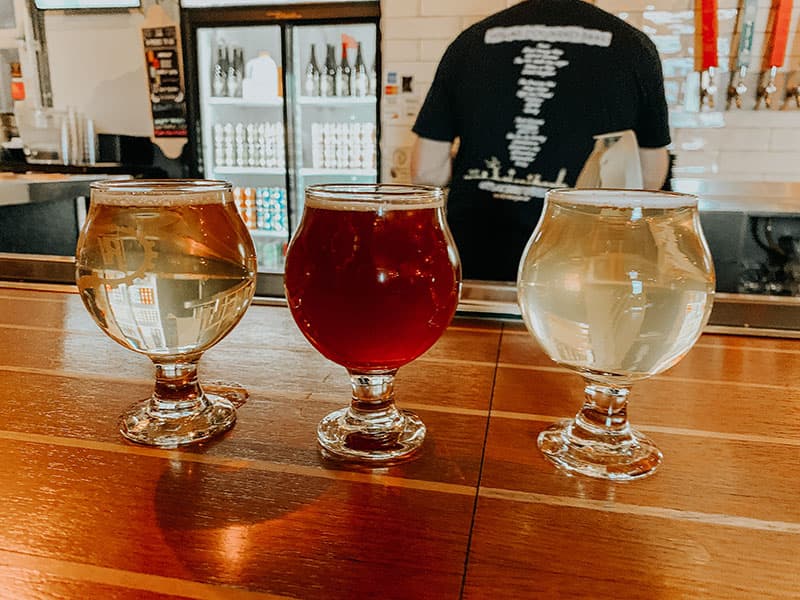 Atlas Brew Works is located in the Ivy City area of D.C . They offer 5 flagship brews as well as a number of different seasonal selections. I really liked the Sour Grapes and Mark was a fan of District Common.  One really cool thing about Atlas is that they are completely solar-powered. In 2019, they were awarded a District Sustainability Award.
Atlas occasionally has special events and is both kid and dog-friendly. You are welcome to bring your own food or order food to be delivered, but they generally have a food truck or stand most days. They had pizza while we were there.
Atlas Brew Works is located at 2052 West Virginia Ave NE, Washington, DC 20002 and is open 4 pm – 10 pm Monday – Thursday, 4 pm – 11 pm Friday, 11 am – 11 pm Saturday 11 am – 11 pm & Sunday 11 am – 10 pm.
Denizens Brewing Co.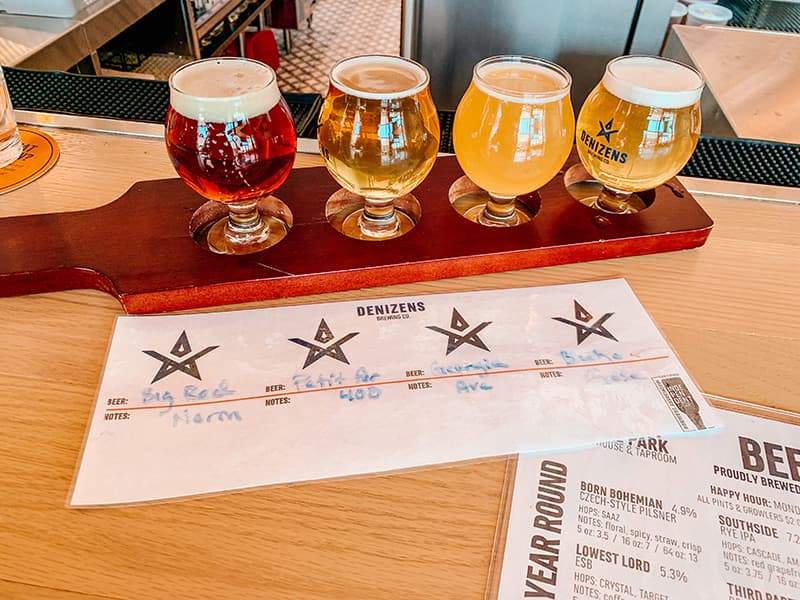 Denizens Brewing Co. offers 4 flagships beers and a large rotating selection of seasonal brews. Since 2014, they've brewed over beers and distribute to bars and restaurants in Maryland and Virginia. In addition to beer, they also serve local wine, cider, and liquor and have a full kitchen. We didn't order any food but saw people order burgers that looked delicious.
A cool thing about Denizens is their specialty flights. If you know you're into certain types of beers, you can try one of those or create your own. Mark really likes lagers, so he got a lager flight. I created my own with a bunch of different sours. My favorite was the Georgia Ave and Mark liked the Buena Onda. The staff was very friendly and even took us inside the back room to show us where they brewed the beer.
Denizens Brewing Co. is located at  4550 Van Buren St, Riverdale, MD 20737 and is open Monday – Thursday from 11 am – 10 pm, Friday and Saturday from 11 am – 11 pm, and Sundays from 11 am – 9 pm.
The craft beer scene is alive and well in the Washington D.C. Area.
Before visiting the area, we didn't realize there were so many craft breweries in the Washington D.C. area, but we were pleasantly surprised. This is a really great place to be if you are a beer lover.
Save to Pinterest