Asheville, North Carolina was high on our list for places we wanted to visit as digital nomads. We heard so many good things about the city- the craft beer scene, the arts district, the beautiful mountain views. We really couldn't wait to visit!
Asheville lived up to our expectations. The people are so friendly and for a small city, there is a ton to do here. Here are 8 things we recommend checking out during your first visit to Asheville.
1. The Biltmore Estate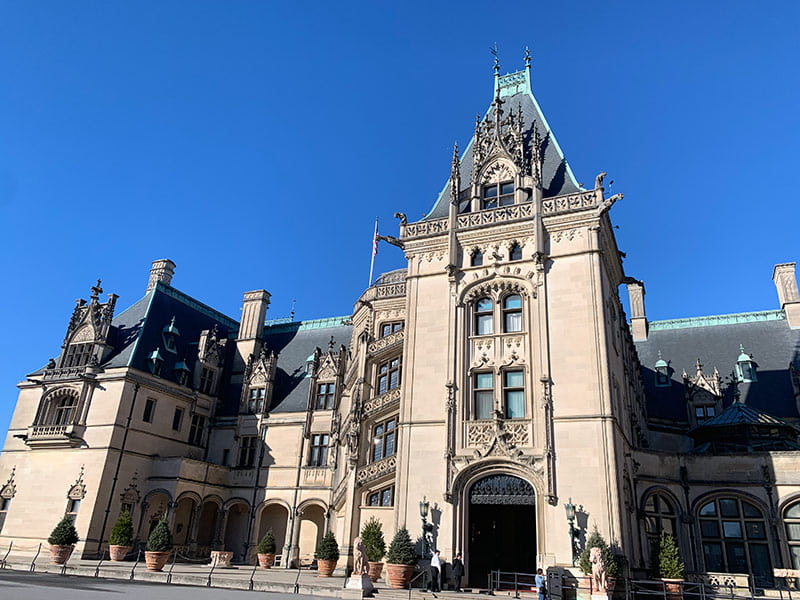 You really can't visit Asheville without going to The Biltmore. It's one of the biggest destinations here for a reason – this place is unbelievable! There is so much to see here and the employees are so welcoming. It's impossible to have a bad time here.
The Biltmore Estate was the home of George Washington Vanderbilt and his family and is the largest privately-owned home in the United States. The mansion has 250 rooms! Also on the grounds, you'll find a beautiful garden, hotel, a winery, and a village, filled with shops, restaurants and a petting zoo for kids.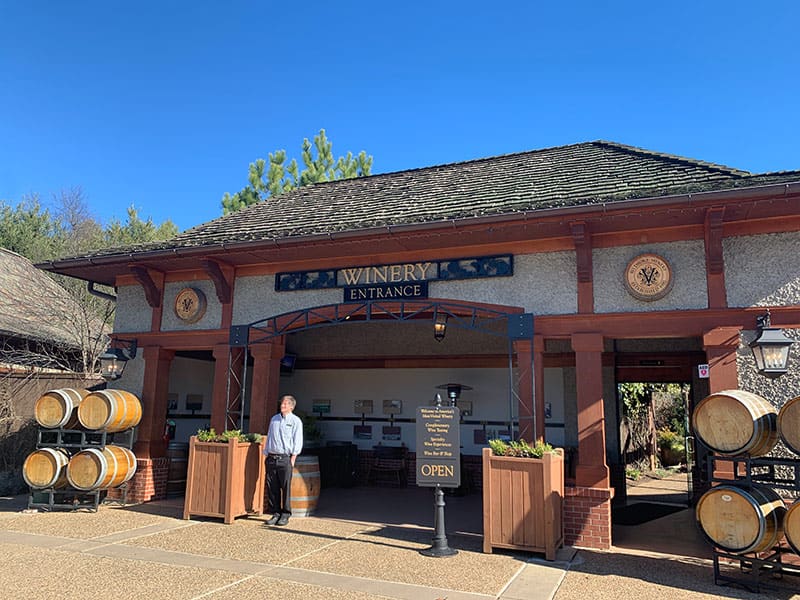 While we normally talk about budget travel, admission to The Biltmore Estate is a bit pricy at around $60 per person, but it's definitely worth the price. You can spend all day here. You'll have to pay extra for food and drinks, but the price of our ticket included a free wine tasting. The food was a little overpriced, which was to be expected, but the bottles of wine were actually very reasonable. The most expensive bottle we saw on the menu was $30. Much cheaper than some of the other wineries we've been to and with much better ambiance!
2. See Views of Downtown at a Rooftop Bar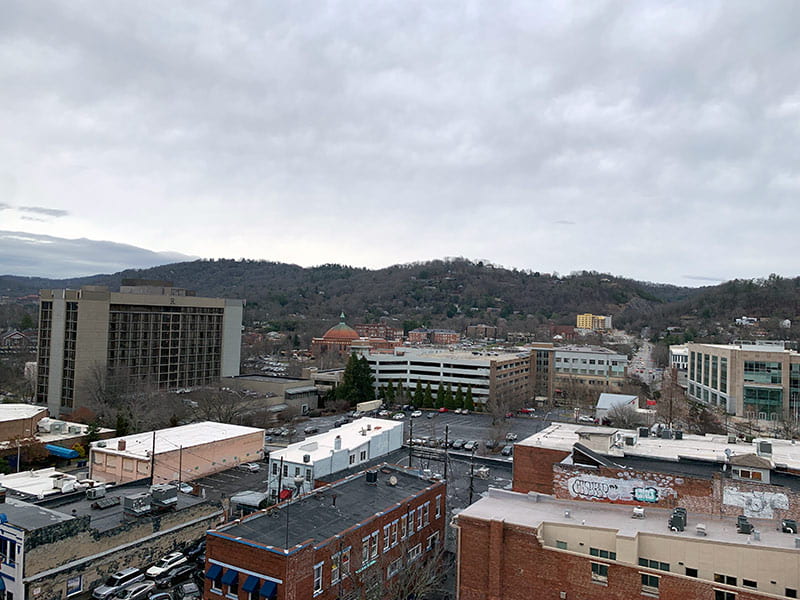 Rooftop bars are a pretty popular thing in Downtown Asheville. Likely because the views you get of the city are stunning! We went to Capella on 9, which is part of the AC Hotel. What's cool about this space is that it's both indoor and outdoor. Glass windows surround the place, so if the weather is bad, you can stay inside and still get great views of the city.
3. Drink Local at one (or a few) of Asheville's Craft Breweries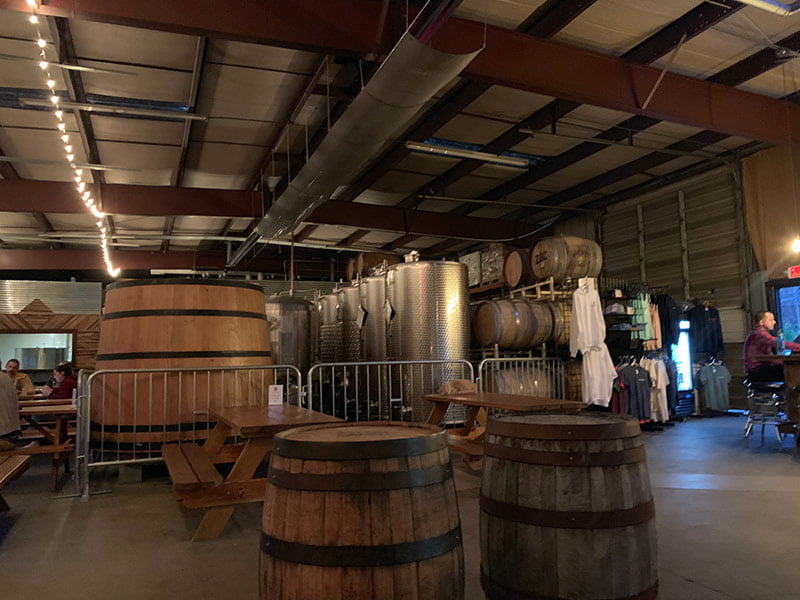 Asheville is a paradise for a beer lover. There are so many craft breweries in this city, all with their own unique flavors. We checked out Zillicoach Beer Company and Asheville Brewing Co. Zillicoach had great flavors and was right on the water, making it a nice hangout spot, especially in the spring and summer months. Asheville Brewing has a few locations. We visited the one in North Asheville which had an arcade and movie theater attached.
4. Go Hiking Where They Filmed The Hunger Games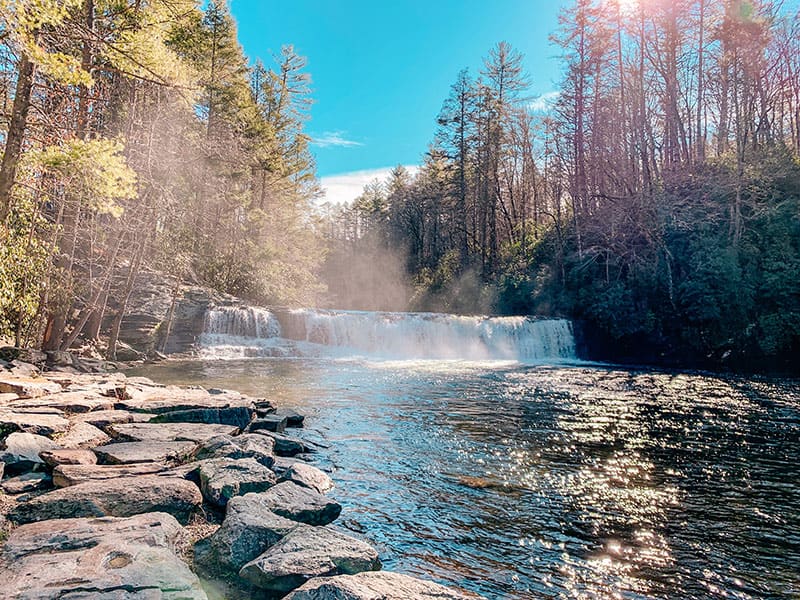 Just outside of Asheville is DuPont State Forest, where they filmed several scenes from the movie The Hunger Games. DuPont has 86 miles of trails in total, but it's an easy 3 miles roundtrip to see Hooker, Triple and High Falls. The park is open every day, admission is free, and the falls are stunning. Get here early to avoid the crowds. We noticed several more cars in the parking lot when we left.
5. Eat at Rocky's Hot Chicken Shack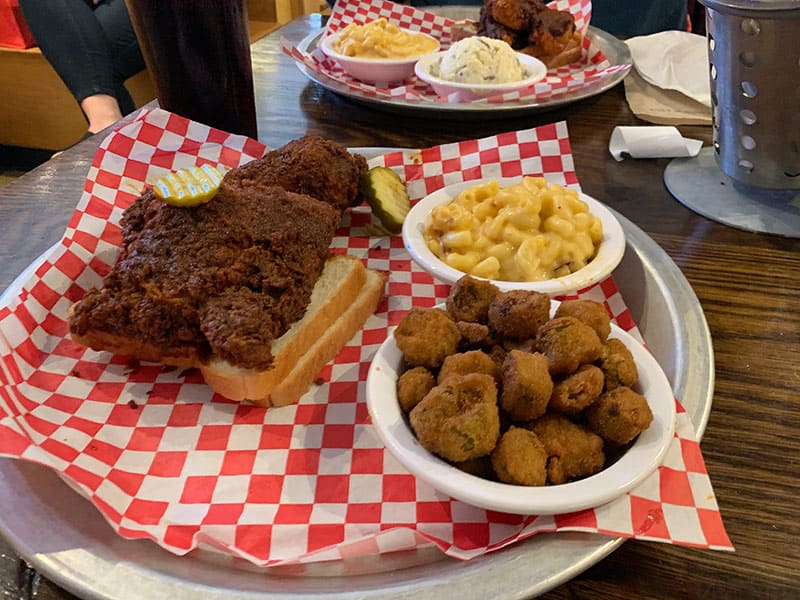 If you love fried chicken, you'll love Rocky's Hot Chicken Shack. This was hands down the best meal we had in Asheville and the closest thing to Nashville Hot Chicken that we've experienced outside of Nashville. The chicken was juicy and the breading had a great flavor. The sides were also really good (we really liked their mac and cheese). They make everything to order, so you might have to wait a while, but trust us, it's worth it!
You can choose your spice level here, from no spice at all to extra hot. I got the hot flavor, which was plenty spicy for me. Mark was brave and got the Rocky Hot, which really kicked it up a notch. I couldn't imagine how spicy the hottest flavor would have been!
6. Check Out Sierra Nevada Brewing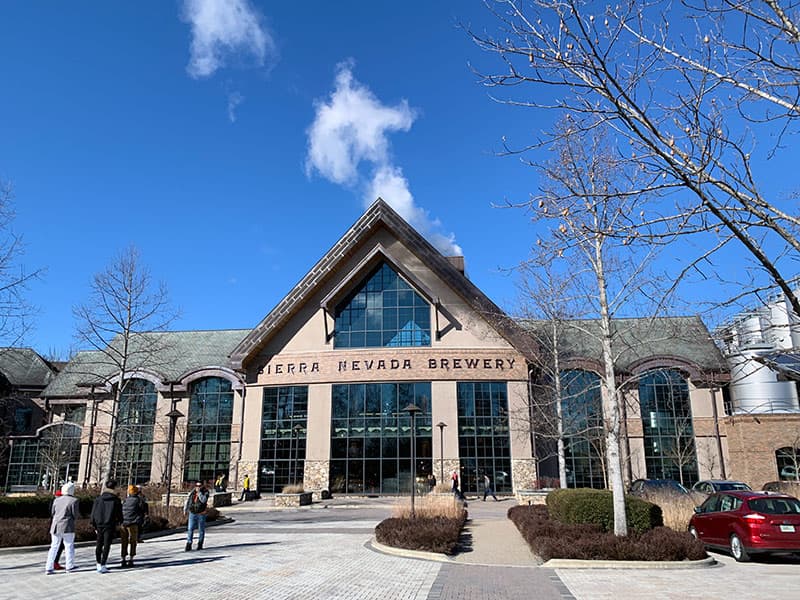 I've already mentioned breweries, but Sierra Nevada is a whole new level. This place is more of a destination than a brewery, with its huge restaurant, taproom, and back porch area nestled in the forest. Sierra Nevada offers brewery tours, but they fill up fast, so you'll want to schedule ahead of time. Upstairs, you'll find a large bar area with a stage for live entertainment.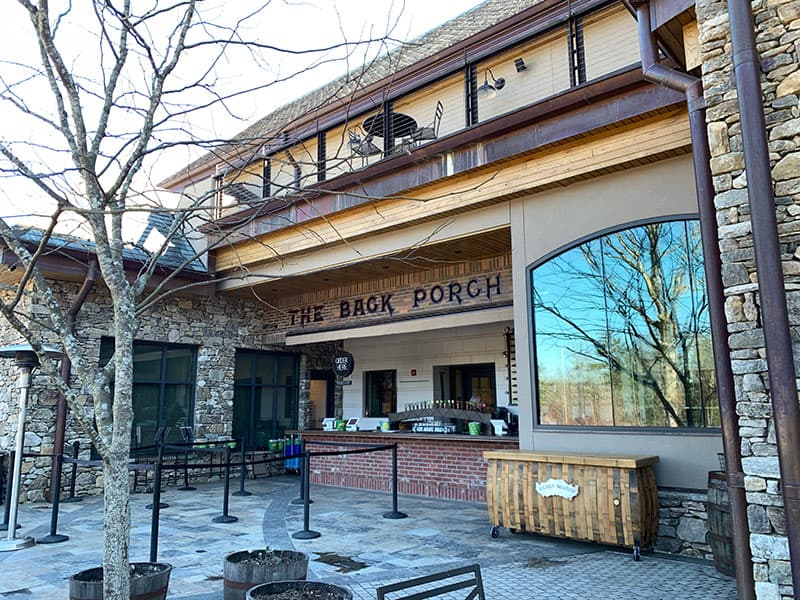 The Back Porch was empty!
This is a place you can spend several hours, but I highly recommend going on a weekday if you can. We went on a Sunday afternoon and it was packed. There were so many people on the first floor that you could barely walk inside. The wait for the restaurant was super long and there was actually a Disney style line to get a beer. We headed to the back porch area, which was luckily pretty empty, probably due to the fact that it was cold outside the day we went. After we got our beers, we headed upstairs, where there was much more seating and a lot fewer people.
7. Get Your Art Fix at the River Arts District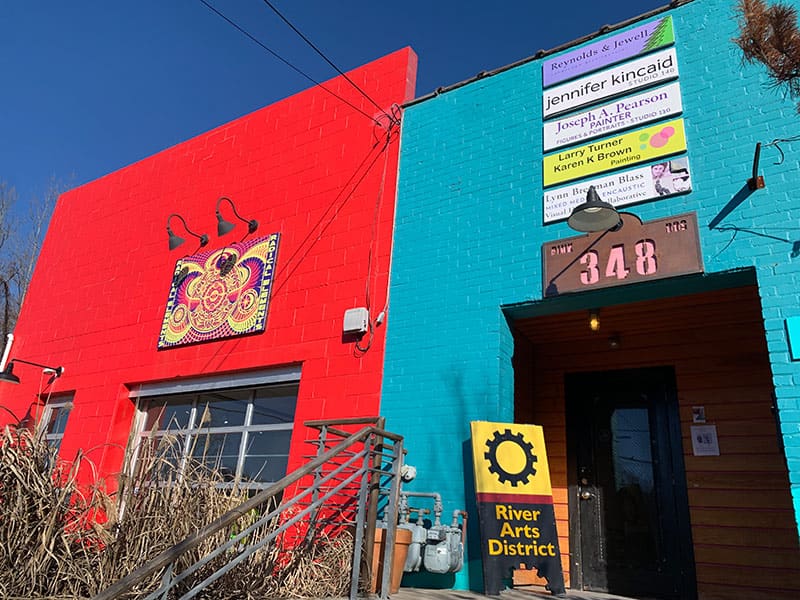 We love that they embrace the arts in Asheville. In the River Arts District, you can browse the work of hundreds of artists in their studio spaces that are open to the public. You'll find everything from painting, jewelry, photography, even glass blowing, in these old industrial buildings. We really loved how colorful the buildings were and the murals that were painted all around this area. This area is definitely part of what makes Asheville so unique.
8. Treat Yourself to Chocolate at French Broad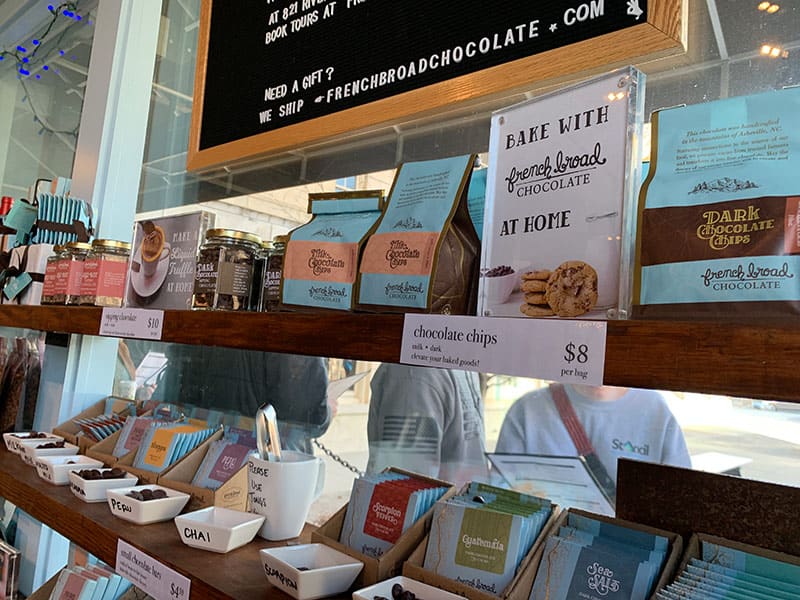 French Broad Chocolate is located in the heart of Downtown Asheville, right next to the Art Museum. They have tons of delicious desserts, including truffles, ice cream, and cookies, all made in house. We went for the liquid truffle hot drinking chocolate, which basically tasted like a melted candy bar. So delicious! This is a great place for a treat if you're vegan or gluten-free, as they offer a lot of options for those dietary restrictions.
Save to Pinterest