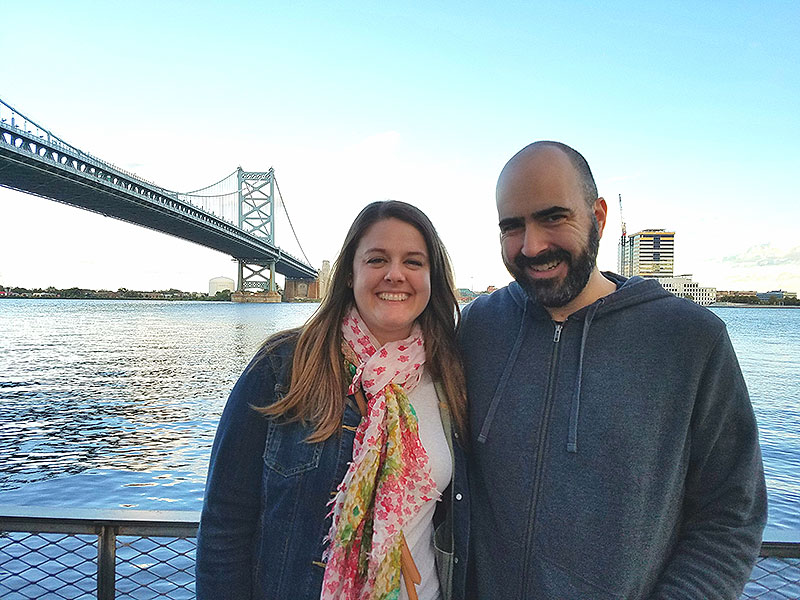 In case you missed it, last week we announced that we've decided to become full time digital nomads. It's a big step for us and we are grateful for all the support we've received.
With the support came a lot of questions, so we figured we'd do a Q&A post to answer some questions you guys had about this big change. If we missed your question, you can add to the conversation in the comments down below.
What prompted this sudden life change?
It actually wasn't all that sudden. We had been talking about this for several months, but decided to keep it private until we had some things figured out. We let a few family members and friends know, all of whom were super supportive.
As you could probably tell from the title of this blog, we both love traveling. I have always wanted to see the country and one of my bucket list items is to see every state. When I mentioned the idea of traveling full time to Mark, he was in.
The main reason we decided to do this was honestly, because we could. We run an online business so we can work from anywhere. We don't have any pets and aren't planning on having children, so that makes things a lot easier. While we love Philadelphia and the friends and family we have here, there isn't a real reason why we have to live here. It seemed like the perfect time to take the leap and we thought if we didn't try it now, we probably never would.
Are you doing RV or van life?
Traveling in an RV or van was something we considered, but ultimately decided it wasn't right for us. We are both kind of clueless when it comes to repairs, so the thought of having to fix a van or RV added an extra level of stress. It might be something we decide to do in the future though, so we aren't ruling it out completely.
For accommodations, we plan on staying in AirBnb's or extended stay hotels. We've also applied for Trusted Housesitters, which is a service that allows you to stay in people's homes in exchange for watching their pets.
Won't this be expensive?
We've done a ton of research and from what we've found, this way of life will cost us around the same or less than what it would cost to live in Philadelphia. We aren't going to be living a "vacation life" where we go out to eat for every meal or go on tons of fancy excursions all the time. Our day to day will be pretty much the same as what it is now. We'll be working, cooking on our own meals,  and exploring on the nights and weekends.
We'll be taking advantage of travel hacking opportunities as well, which in some cases, will allow us to stay in locations for no cost. We'll also be living completely debt free, so the only bills we will need to worry about our accommodations and the cost to run our business.
Do you think you can handle living out of a suitcase?
Only time will tell, but I honestly don't think it will be that difficult for us. When we first moved to Philadelphia from Tampa, we went from a 5 bedroom house (completely unnecessary for us, by the way) to a 575 sq ft apartment. We got rid of nearly everything we owned during that move, then got rid of some more stuff as it physically wouldn't fit into our new space. We learned quickly that we don't need much and didn't miss any of our old stuff.
We are both minimalists and are actually looking forward to a life with less. Of course, there will be challenges, but I think it will be good for us both.
Where will you be traveling?
Our plan is to stay in the US. Since winter is on the way, we plan to go south first to try and avoid snow and the cold. My parents are having a house built in Nevada, so our plan is to meet them out there in the spring.
We haven't ruled out traveling international entirely. It depends on what happens and what the costs involved will be. A year from now, we might be living overseas. We are open to anything!
How long do you plan on doing this?
We aren't entirely sure, to be honest, but decided we would try for 6 months and reassess. In 6 months time, we're hoping to be in Nevada, where will stay with my parents for a couple weeks. It will be nice to see family and will give us an opportunity to plan on next move.
We may decide we are done with full time traveling and want to settle down somewhere. Or, we might decide we love it and want to keep going. We are trying to not plan every single detail (which is extremely difficult for us!) and just go with the flow. We don't know what the future holds, but that is also what makes it so exciting.
Will you move back to Philadelphia?
Again, we aren't sure. We haven't found a city that we like as much as Philadelphia yet. This city is unique and great in so many different ways and I know we are going to miss living here a lot.
But there are also a lot of places we haven't seen, so there is a good possibility we will fall in love with somewhere else. As much as we love Philly, we are open to the possibility of living in another city. Mark really likes the west coast, so maybe we will end up there. We aren't ruling out anything.
Read more of our Philadelphia articles here.
What about your house?
We decided to sell it. This was a really hard decision for me because I truly love our little Philadelphia row home. It was the first house I have ever owned and I took a lot of pride in turning it into our little home. I will miss it a lot  but ultimately, selling it was the right call. We considered renting it out, but didn't want to deal with the stress of being a landlord.
What are you doing with all of your stuff?
We sold most of it. We seriously considered getting rid of everything, but getting a small storage space wasn't expensive, so we decided to keep the things we really loved, like our bed, sofa, and a few furniture pieces we collected over the years. This way, when we are done traveling, we won't have to start over completely. It made us feel more comfortable.
How do you handle mail without a physical address?
Since we run a business, this was definitely one of our bigger concerns. We reached out to the digital nomad community, who recommended we use a virtual post office service. It was incredibly easy to set up and they even helped us register our business with the new address. So convenient!
Anything important gets sent to that address. They scan any documents and send us an email to let us know we received something. They can also forward anything mail or packages to us if needed.
What about work?
We will continue to run our branding and web design business from wherever we are located. We will definitely miss the people we've met and worked with in Philadelphia, but the great thing about the internet is that we will still be able to keep in touch. 90% of what we do is done online, so for the most part, things won't change much.
We also plan on putting a lot more focus into this blog. We'll have a lot more content to add here since we'll be on the road full time. Expect more blog posts and videos about digital nomad life and traveling on a budget. Be sure to subscribe and follow us on social media. We're on Facebook, Twitter, YouTube and Instagram.
I think that covers all of the questions you guys have asked. If not, feel free to add yours in the comments. We are incredibly excited for our new adventure and hope you follow along!