Chattanooga, Tennessee is an awesome place to spend a weekend. They have plenty of outdoor activities, lots of great restaurants and a happening downtown area. Call us impressed.
I had been to Chattanooga once several years ago. I was only there for a day, so I didn't get to see too much, but what I did see I really liked. Mark had never been and since we had a few days between Asheville and our housesit in Atlanta, I suggested we go there for the weekend as it was a good in between place. Even though we did a ton in a weekend, I feel like we only scratched the surface. That just means we will have to go back!
Here is how we spent our weekend in Chattanooga, TN.
Saturday:
Rock City Gardens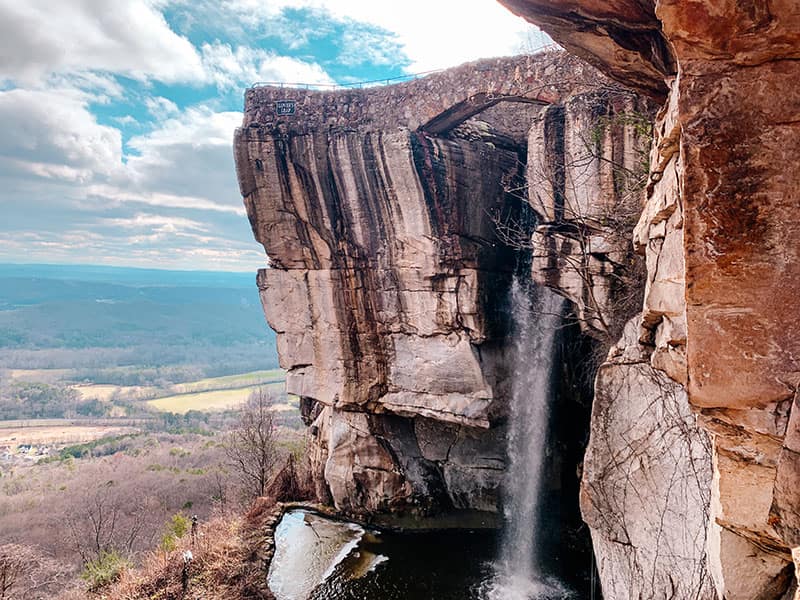 We woke up early on Saturday and headed to Rock City Gardens. Rock City is located at the top of Lookout Mountain and is technically in Georgia, but just a few miles from Downtown Chattanooga.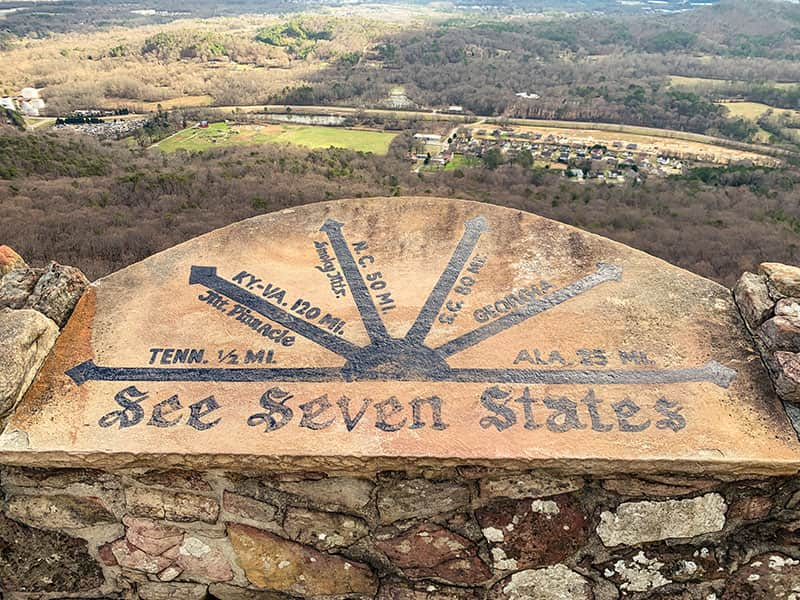 We hiked through the rock formations on what is called The Enchanted Trail, which led to an awesome view of the High Falls on Lookout Mountain. We continued to the top of the mountain to the view of "seven states" called Lover's Leap. In the early days of Rock City, people claimed if you stood at this point, you could see seven states at once (Tennessee, Kentucky, Virginia, North Carolina, South Carolina, Georgia, and Alabama). Although we don't think it's possible to see that anymore, the view from here was breathtaking.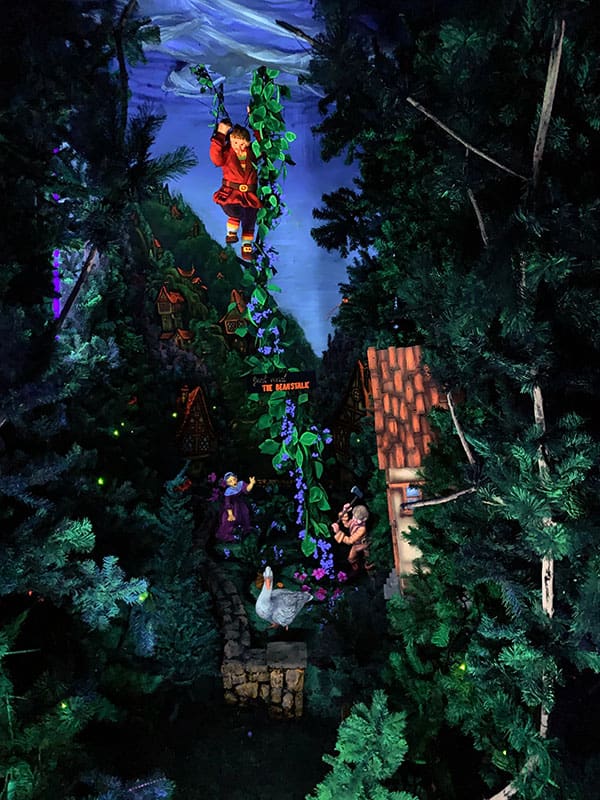 We then continued on the trail to the Fairyland Caverns. One of the founders of Rocky City, Frieda Utermoehlen Carter, loved European fairytales. Her husband, and fellow Rock City founder, Garnet Carter, hired a sculptor from Atlanta named Jessie Sanders to create scenes from her favorite fairytales, which are now displayed throughout the park in Fairytale Caverns. The displays were so colorful and detailed.
Ruby Falls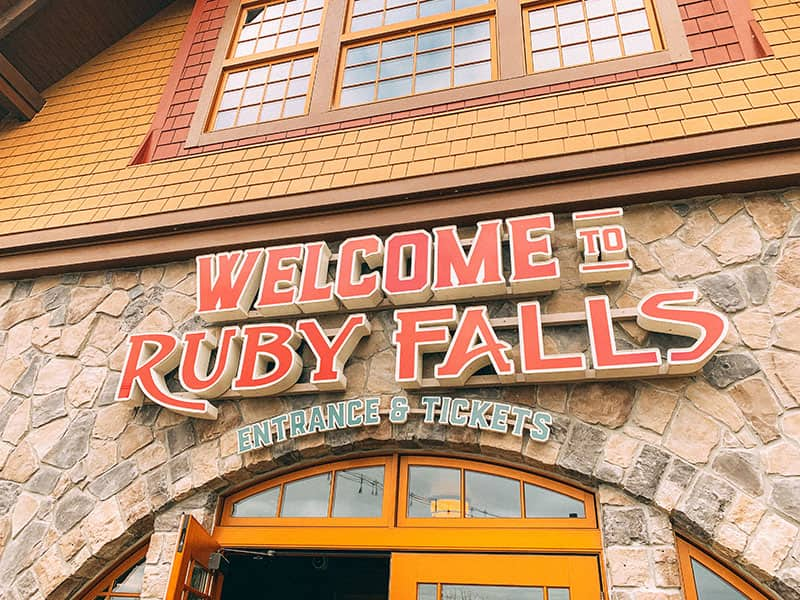 After our visit to Rock City Gardens, we took the short drive to Ruby Falls. Ruby Falls is an underground waterfall also on Lookout Mountain (the Tennessee side) and was just a few minutes from Rock City.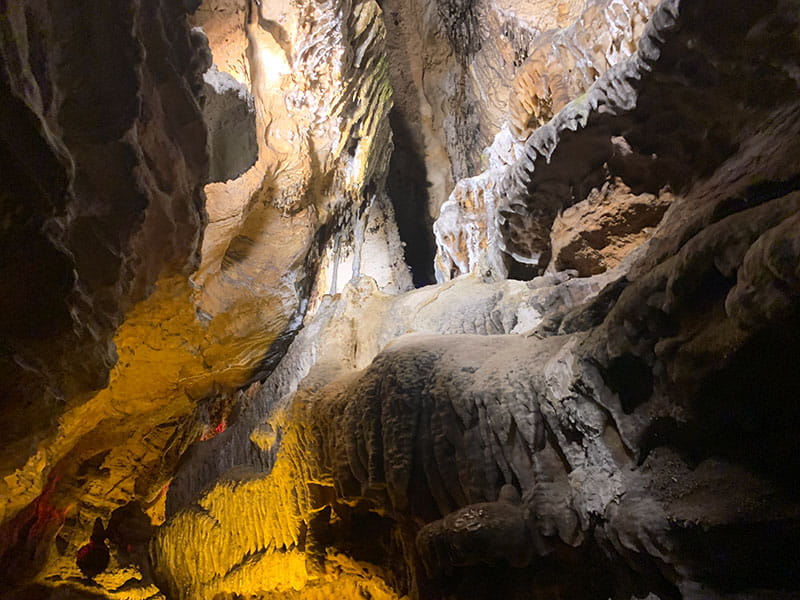 Since both places are popular attractions in the area, Rock City Gardens offers a combo ticket where you can see both places for one price. Ruby Falls tours are guided, but with our ticket, we were able to go online and schedule a time, so we didn't have to wait once we got there. It was very convenient and highly recommended if you plan to visit both places.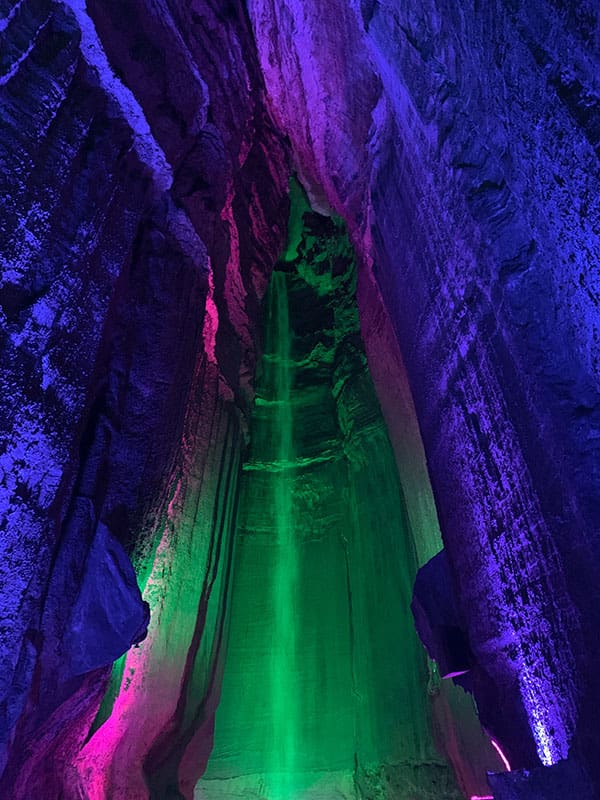 A lot of people say that Ruby Falls is too touristy and not worth it, but we had a great experience. It was really interesting walking through the caves and learning about this history of the place. When we saw the waterfall, we thought about the massive amount of work it took to get there and how rewarding it must have been to see that for the first time. Our tour guide was great and made the entire experience really fun. Yes, it's a tourist destination, but one we thought was really worth seeing, especially if it is your first time in Chattanooga.
Ate At Feed Table & Tavern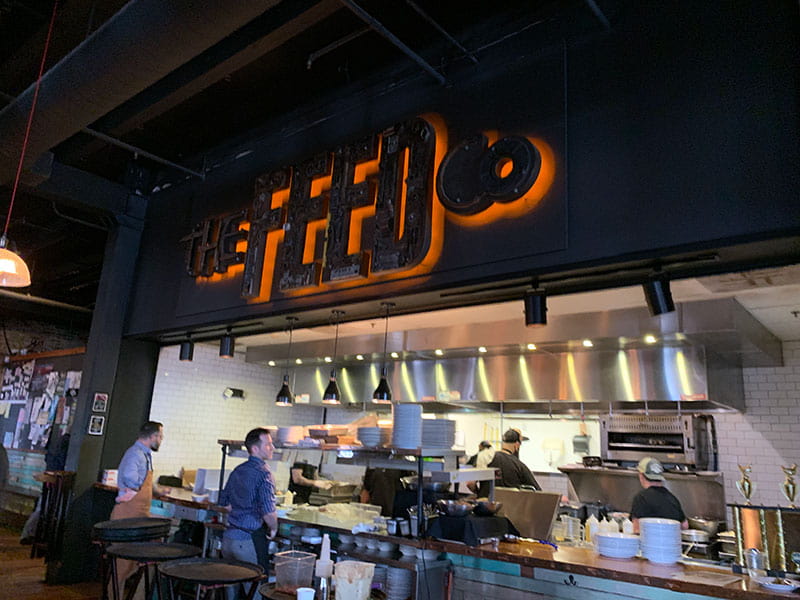 We were pretty hungry after Ruby Falls, so we decided to go to Downtown Chattanooga for lunch. Mark looked up places in the area and came across Feed Table & Tavern. It has great reviews and a menu with options that were right up our alley.  The food here was fantastic! Our server told us that the chef was on the show Beat Bobby Flay and won against him with his eggs benedict recipe. We are both fans of eggs benedict, so we had to try it. I'm so glad we did because it was amazing. I can definitely see why the chef won.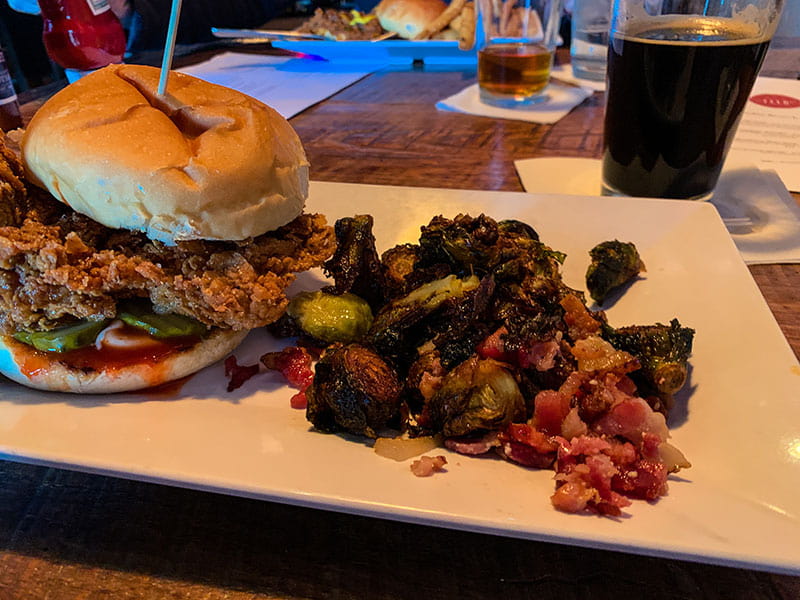 I got the Motherclucker chicken sandwich and Mark got sloppy joe's. The sandwich included one side, so I got their maple and bacon brussels sprouts, which rivaled some of my favorites back home in Philly. We also tried some beers from local Chattanooga breweries. Mark tried a lager from OddStory and I tried a Heaven & Ale stout.
Had Dessert at The Hot Chocolatier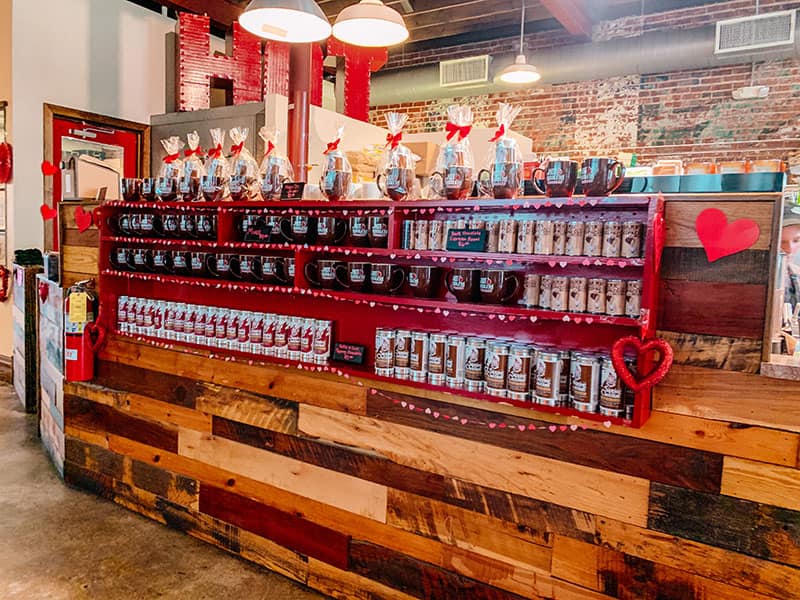 After our fantastic lunch at Feed & Table Tavern, we walked around Downtown Chattanooga for a bit, where we came across The Hot Chocolatier. They create handmade chocolates, pastries, and drinks in this charming little shop. We both got hot chocolates – I opted for a spicy hot chocolate and Mark got a smores flavor, both very tasty. I loved how the shop was decorated inside and all the displays they created for Valentine's Day. It was such a cute place.
Sunday:
Signal Point and Julia Falls Overlook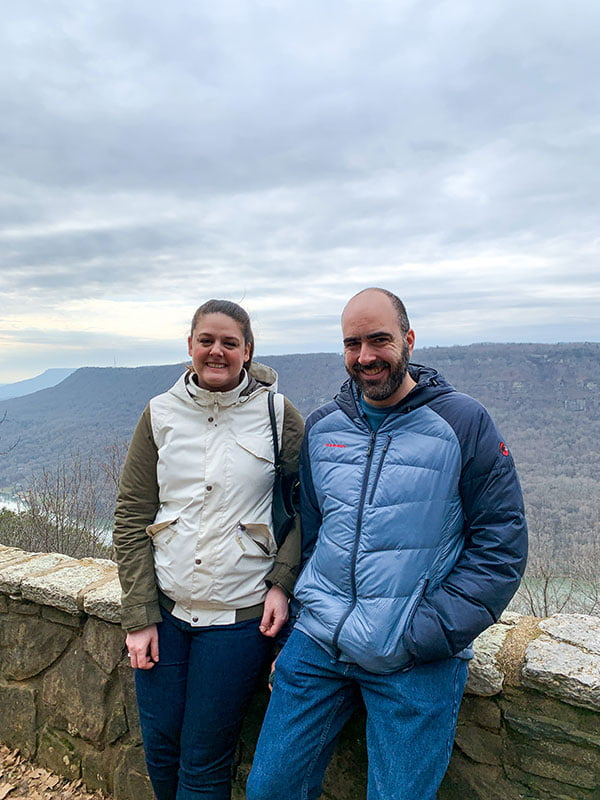 We started our Sunday off by heading to Signal Point, which overlooks the Tennessee River between the Signal and Raccoon Mountains. We saw that the hike to Julia Falls Overlook was less than a mile, so we decided to make the trip. It was a difficult mile, but the view was absolutely worth it.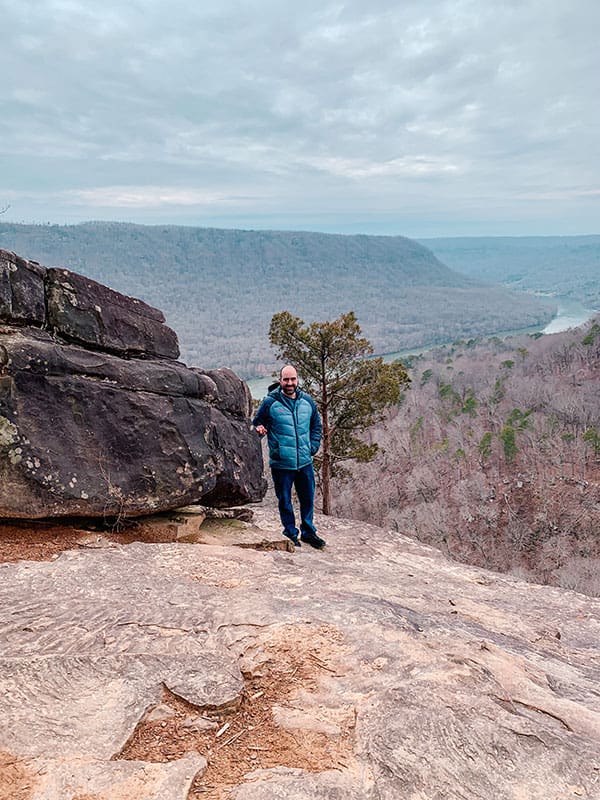 You will likely find this path challenging unless you are an experienced hiker, so our advice is to be careful! On our way back, we saw a woman take a bad fall. She was hiking alone, and luckily she wasn't hurt badly and we were around to help her up.
Walnut Street Bridge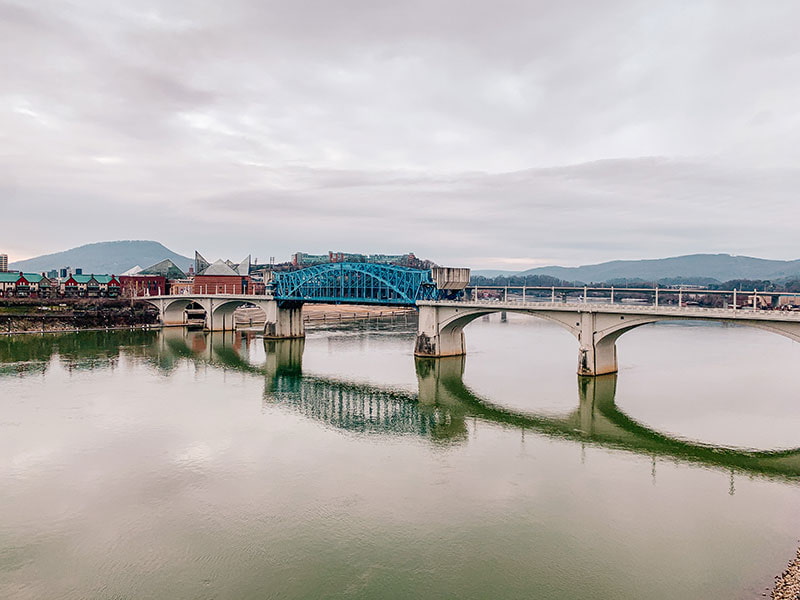 The Walnut Street Bridge is one of the largest pedestrian bridges in the world. Built in 1891, it connects the North Chattanooga with Downtown, giving you beautiful views of the Tennessee River and the city. They have benches along the way, giving you a great opportunity to sit down and enjoy the view. We kept saying if we lived in Chattanooga, we would walk the bridge all the time, especially if we had a dog.
Lunch at Leapin' Leprechaun
Mark loves an Irish Pub, so after we walked over the Walnut Street Bridge to Downtown, we headed to Leapin' Leprechaun. This was a fun place, with the traditional Irish favorites as well as a good selection of craft beers. The service here was fantastic. Only one person was working at the bar and shortly after we arrived, a large group of people came in. The server was very friendly and handled everything with ease.
Moon Pie General Store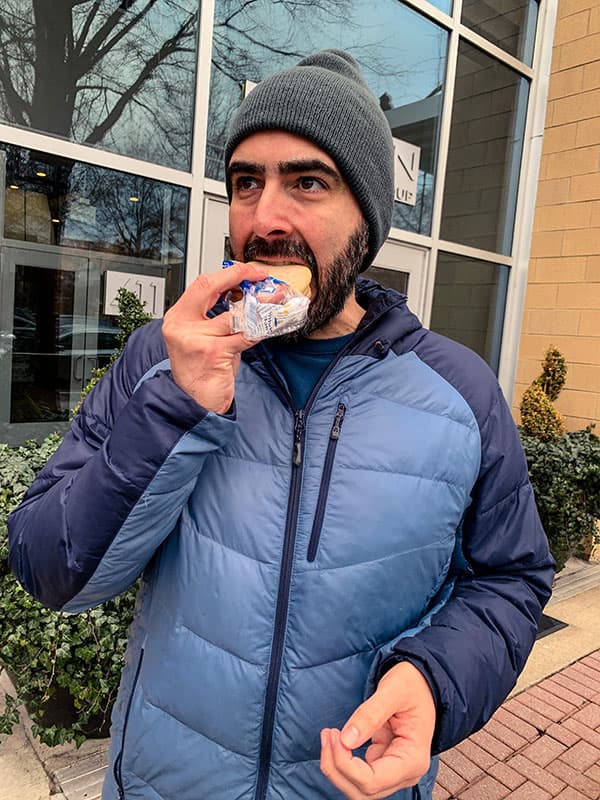 Did you know that the birthplace of the Moon Pie was in Chattanooga? It's true, so we knew we had to get one while we were in Chattanooga. The original Moon Pie has been around since 1917 and is a dessert that contains marshmallow, graham crackers, and chocolate. They have since come up with some new flavors, but I like the original best. The General Store sells snacks, memorabilia, and of course, Moon Pies. Even though you can get Moon Pies in most stores, the General Store in Chattanooga is still a fun place to stop into.
Sculpture Fields at Montague Park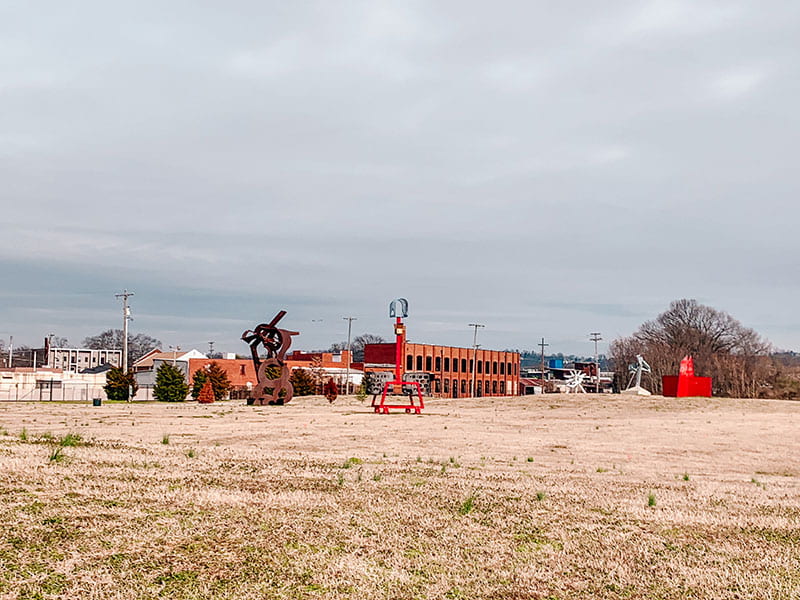 Sculpture Field is an interesting outdoor art museum in Chattanooga that features sculptures from all over the world. The park is 33 acres, free to the public, and both kid and dog-friendly. The park features over 40 large scale sculptures and hosts special events throughout the year. We didn't expect to see something like this in Chattanooga, but we love how the city embraces the arts.
We Loved Our Weekend in Chattanooga
We absolutely loved Chattanooga and look forward to going back to spend some more time here. It's a unique town with plenty of outdoor activities, a lively Downtown area, great food, and interesting art. We could see ourselves living here.
Save to Pinterest