* This post contains affiliate links, which means we receive a commission if you sign up for Trusted House Sitters. This post is not sponsored by Trusted House Sitters and all opinions are our own. 
Want to save money on travel accommodations? Consider being a house sitter! Trusted House Sitters gives you a place to stay in exchange for watching someone's pets.
We stumbled upon Trusted House Sitters accidentally last year. While doing research for our upcoming digital nomad road trip, we came across the service. It honestly sounded too good to be true. Stay in a house for free in exchange for watching pets. Was this legit? After reaching out to the travel community on social media, we found out that, yes, this service was, in fact, legitimate and a lot of people were using it.
We've now done four house sits and have another one scheduled for April. Here's an honest review of the service as well as tips on how to get started house sitting.
Use our link to receive 25% off a Trusted House Sitters membership.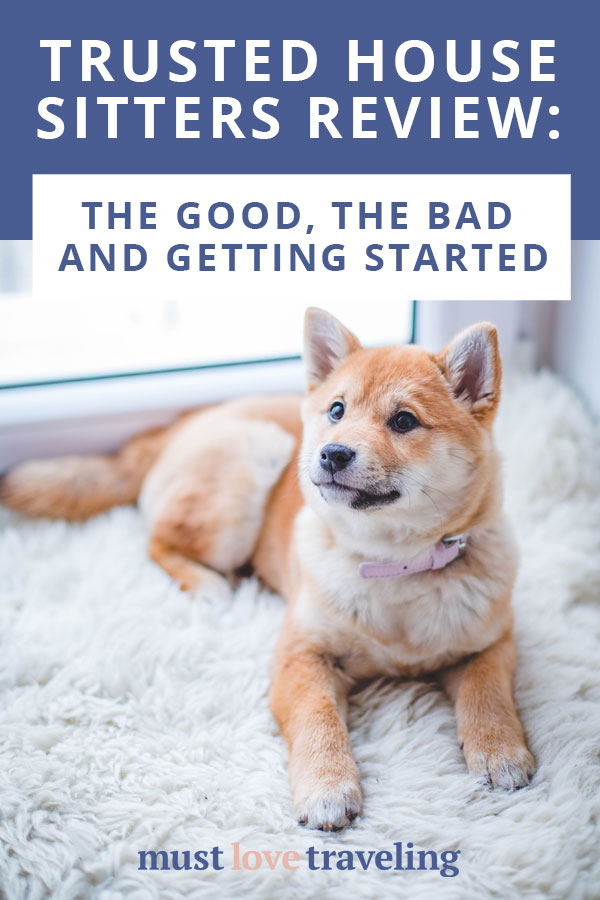 What Is Trusted House Sitters?
As stated on their website, Trusted House Sitters is "Pet and home care in exchange for a comfortable place to stay. It's that simple." If you need someone to watch your pet, you sign up as a someone looking for sitters. If you're traveling, you sign up as someone looking for house sits. Both house sitters and people looking for sitters pay an annual fee to use the service.
Pet Owners
Pet owners create a profile detailing who they are, where they are located and what responsibilities the house sitter will have. They have the ability to add pictures of their pets and their house. They select the dates on a calendar when they are needing a sitter. When a sitter applies, the pet owner gets a notification through the website or mobile app. Pet owners then start the process of interviewing sitters that have applied and eventually choose someone that is the best fit.
House Sitters
Like pet owners, house sitters also create a profile detailing who they are and where they are from. Sitters have the ability to add a bio, pictures, and videos to their profiles. There is also a section for references; from both external (personal) and previous house sits.
After a house sit, both pet owners and house sitters have the ability to leave reviews for each other. These reviews are public and give profiles a grade, which greatly helps to match pet owners with the right sitters.
What We Like About Trusted House Sitters
The best thing about Trusted House Sitters is that it's easy to use. There were a few other house sitting websites we looked at, and we though Trusted House Sitters was the easiest to use by far. Once you have a profile created, you can easily search the website or mobile app for house sits. There are a bunch of different filters available that really help narrow down your search. They have sits listed in a grid as well as on a map. We really like the map option because it lets us focus on the areas we will be traveling to.
The process of applying for house sits is simple and the mobile app notifies you whenever there is any activity on your profile. The internal messaging system is great. It lets you view conversations with pet owners for house sits that you've applied to. Whenever you apply for a house sit, a tab is created for the conversation you start with the pet owner. This makes things easy to keep track of.
Once you've been accepted for a house sit, you can request a Welcome Packet from the pet owner. This document outlines your responsibilities for the pets and house and outlines important information you'll need for your stay. The Welcome Packet keeps everything you'll need for your house sit in one easy to find place.
Another thing we really like about Trusted House Sitters is the review system. There is a lot of trust involved in house sitting, so it's important to make sure reviews are read on both sides. Trusted House Sitters makes it really easy to leave reviews and respond to reviews that you have received. We can easily read reviews of pet owners from previous house sitters which gives us peace of mind before applying for a sit.
A great feature of Trusted House Sitters is that it shows approximately how many people have applied for a house sit. We really like this feature because it shows us how much competition there is for a particular sit. If 10 people have applied for a sit already, we might not apply because getting that house sit will be a lot less likely. If the sit says 0-3 applicants, we generally go for those because there is less competition.
Use our link to receive 25% off a Trusted House Sitters membership.
What We Don't Like About Trusted House Sitters
We honestly don't have many complaints about Trusted House Sitters. The service has been really good for us and has greatly helped us with our digital nomad journey. There are a few things, however, that we feel like could be improved. Here are a few things we don't like.
Welcome Packets are not Required
Both pet owners and house sitters have responsibilities. Pet owners are responsible for providing information regarding their house and what is required for their pets. House sitters are responsible for following those instructions.
We really like the Welcome Packet feature that pet owners can send house sitters, however, doing this is not required. In our 4 house sits, we have only received the Welcome Packet once. All of the people we have house sit for we're great about giving us the details we needed for sitting, but they did so via email or a book that they left in the house. We think the service could be greatly improved if Trusted Housesitters made pet owners send this information via their website. This way, there would be a record that important information was sent, which helps hold both parties accountable.
Poor Image Galleries on Desktop
When you are trying to get details on a house sit, images are important. The image galleries on the desktop version of the website are poorly designed. The pictures get cropped badly so you often can't see details. The mobile app version is much better. Improving the galleries on desktop would provide a better overall user experience.
Lots of Competition
This isn't really the fault of the platform, but one dislike is that there is a lot of competition on the platform, so it can often be hard to find a house sit. This is especially true if you are just starting out on the platform, as pet owners generally want someone with experience and reviews (more tips on this later) and if you have no experience, you'll get passed up for someone who does.
How to Get Started With Trusted House Sitters
Now that you've read about Trusted House Sitters and our likes and dislikes about the platform, you might be wondering, "How do I get started?" After booking several house sits, we've learned a few things about what you can do to stand out and make sure you have a great house sitting experience.
Don't Skimp On Your Profile
Spend a good amount of time working on your profile. Remember, people are inviting you into their homes to watch their pets, so they are going to want more than just a few sentences. Create a detailed bio that highlights who you are and shares a bit of your story. For our bio, we shared that we are digital nomads and have a work from anywhere business that allows us to travel the country. We also said that while we love animals, a life on the road isn't the greatest for them, which is why we wanted to try house sitting.
Upload high quality images, preferably of you with animals. If you can, create an upload a short video introducing yourself. We used professional pictures we had taken as well as some photos of us with family members pets that we've previously watched.
Get References Quickly
References establish credibility, so it's important to have a few on your profile when you're first starting out. We asked our family members and friends to write references for us. Many of them have pets that we've watched in the past, so they didn't mind writing a reference. We quickly got 3 references, which helped give our profile all of the verifications we needed.
If you have no experience house sitting, we suggest doing a few house sits for friends or family members when they go out of town before setting up a profile on Trusted House Sitters. This will give you some experience and help you get references.
Start Locally
Our first house sit was for a woman that had been using the service for several years. When we met with her, she mentioned that a few of her sitters had been people that actually lived in her area and were trying to build up their profile for when they did travel. They messaged her saying they were local to the area, but would be happy to take care of her dogs for a few days because they wanted to try out the service.
We thought this was a great idea! We didn't know about Trusted House Sitters until right before we decided to travel full time, but this is definitely something we would have tried if we did. Doing a few local sits would have gotten us familiarized with how the service works without having the added pressure of being in an unfamiliar place. We would have also received more references, which helps get future sits. Great idea!
Offer to FaceTime or Skype With Pet Owners
Pet owners interview potential sitters, so anything you can do to make things easier for them, the better. Whenever we apply for a house sit, we always offer to set up a FaceTime or Skype call to virtually meet the owners. A phone call is okay, but it's nice to be able to see who you are talking to. This makes the interview process more personal.
Don't Be Afraid to Ask Questions
When you are interviewing with pet owners for a potential sit, don't be afraid to ask questions. This shows that you are genuinely interested and serious about the responsibility you are taking on. Here are some of the questions we ask pet owners:
What is your pet's schedule? Do they eat/go on walks at specific times during the day?
Does your pet require any medication?
Do you have any rules for your pet? For example, are they allowed on the furniture or not allowed in certain rooms?
Do you have a high speed wifi connection? We need this in order to work.
Do you have a place where we can set up our laptops? Since we will be working out of their house most of the day, we need a space to set up during our stay.
Where can we park our car? Is there a driveway? A garage? Do you have street parking?
Offer to Arrive the Day Before they Leave
Whenever we interview for a sit, we offer to arrive the day before the pet owners leave for vacation so we get an opportunity to meet face to face. This gives them the opportunity to show us around their house and the neighborhood, as well as meet the pet we will be watching. We generally have dinner while we chat and get to know each other.
We've found that all of the people we've house sit for prefer doing this over just leaving us the keys to their house. Doing this requires more flexibility with dates though. For us, that usually isn't a big deal since we are traveling by car. If you are flying, you may want to plan to arrive in town the day before.
Write Reviews and Ask For Them
Since this a service based on trust, reviews are really key. You'll want to read them before applying for a house sit and give one after you're done. In our reviews, we give details about the home, the pets we watched, and the area we stayed in. Our hosts have always responded by giving us a review in return, which has helped us build a profile for future house sits. If you don't get a response, you do have the option within Trusted House Sitters to request a review.
Trusted House Sitters Helps Us Travel
Overall, we are very happy with our Trusted House Sitters experience so far. Despite a few minor details that could make it better, the platform is easy to use and has been a great tool for our digital nomad journey. Even after we are done traveling full time, we plan to use it. Whether you are looking for a more affordable way to travel, or need someone to watch your pets while you are away, we recommend signing up and trying the service. The fees associated with a membership end up paying for themselves. We are so glad we found this service.
Use our link to receive 25% off a Trusted House Sitters membership.
Save to Pinterest