Both Mark and I had been wanting to visit New Orleans for years. It seemed like such a fun city with a rich history and lots of soul. After spending a few days there, we agreed that there really is no other place like it. The musicians are incredible, the people are friendly, the drinks come in a to-go cup, and the food is out of this world. 
Coming from Philadelphia, a world-class eating destination (don't try to argue with us on this one) we're pretty picky about what we consider good food. A lot of cities try but don't really make the cut. New Orleans does. Everywhere we ate was fantastic, from the small bars to the higher-end, sit down restaurants. This city knows food. Don't come here if you're on a diet.
Here's what we ate in New Orleans and what we think you'll want to try when you visit.

We got a Crescent City Sampler at Pierre Maspero's, located in the French Quarter, which allowed us to sample some famous cajun style dishes. The sampling included Cajun Jambalaya, Crawfish Etouffée, and Chicken & Andouille Gumbo.
Gumbo
One of Louisiana's signature dishes, gumbo is a roux usually loaded with either chicken, sausage or seafood that is seasoned with a lot of spices. You can find gumbo in many places throughout New Orleans and it seems like everyone has an opinion on who makes the best. One interesting thing we found out was that there are two different versions of gumbo – a cajun and creole version. The creole version uses tomatoes, while the cajun version does not.
Jambalaya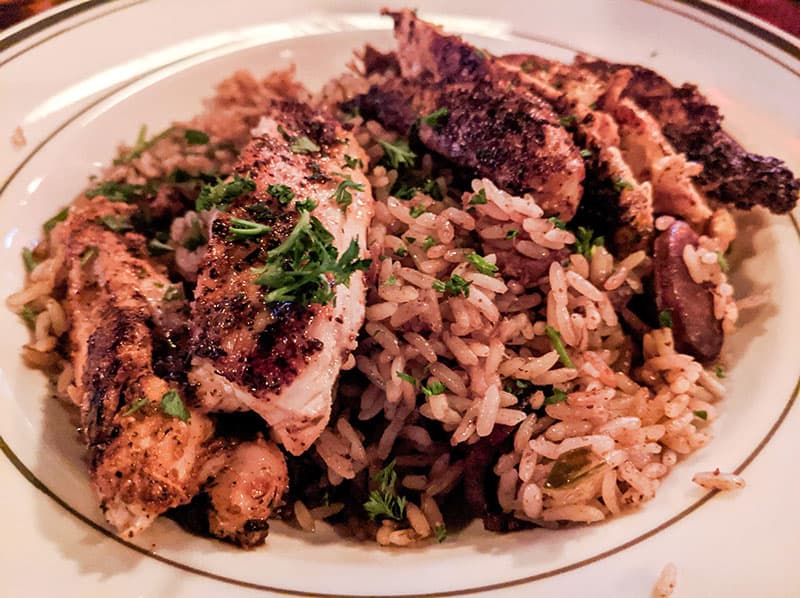 Mark got the blackened chicken jambalaya at Pierre Maspero's and loved it.
Jambalaya is a mixture of rice and pork cooked with onions, celery and lots of herbs and spices. Just like gumbo, this is a dish you can get a cajun or creole version of; the creole version is cooked with tomatoes. You can get in many restaurants throughout New Orleans, where chefs will put their own spin on it. You may see it versions including seafood or wild game.
Crawfish Etouffée
Crawfish is one of the major ingredients in cajun cuisine. The word Etouffée means smothered. Crawfish Etouffée is crawfish smothered in a roux with butter, peppers, onions, celery, and spices. This mixture turns into almost a gravy like substance which goes great over rice. This was my favorite dish in New Orleans.
Po Boys
The Po Boy is the signature sandwich of New Orleans. A Po Boy can be filled with pretty much anything from seafood to pork and is served with lettuce, tomatoes, and mayonnaise on French bread. I tried a catfish Po Boy and Mark tried a shrimp one. They are generally pretty inexpensive and very filling, which makes them a great option if you're on a budget.
Beignets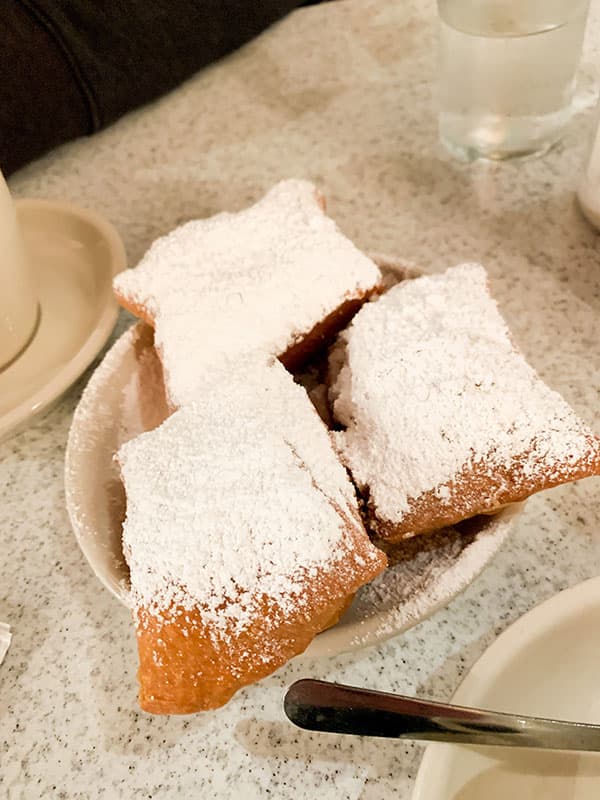 The word beignet means "fritter" in French. Beignets are squares of fried dough covered in powdered sugar. While you can get them in a lot of different places in New Orleans, the best place for a beignet is Café du Monde. They started selling them in 1862 and have been ever since. Café du Monde is open 24 hours, so you can get this delicious treat any time! Pair it with a café au lait!
King Cake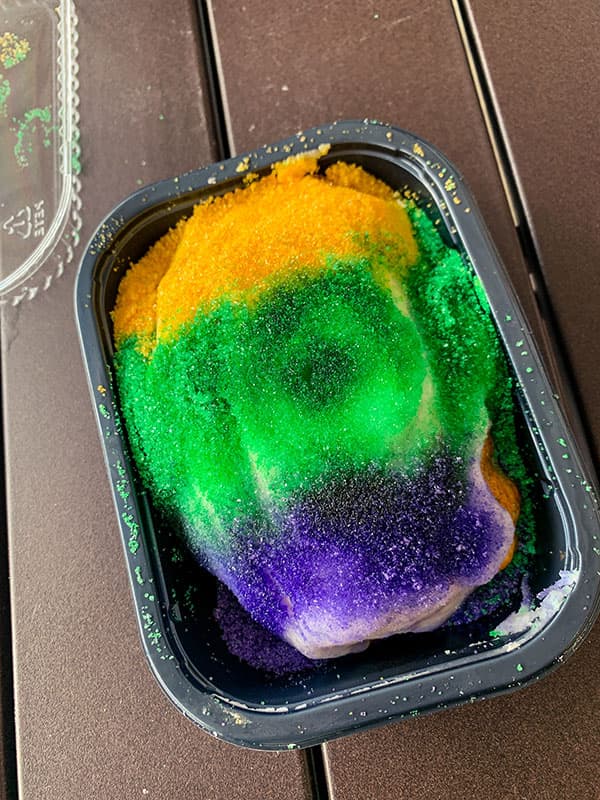 King Cakes date back to the middle ages, where they were used as a centerpiece for Epiphany, a Catholic celebration that takes place on January 6th and celebrates the revelation of God incarnate as Jesus Christ. In New Orleans, King Cakes and Mardi Gras go hand in hand. You can buy them in shops and bakeries between January and Ash Wednesday.
King Cakes are circular pastries with colorful sugar on top. Every King Cake is baked with a plastic baby inside of it. The person that gets the slice with the baby is said to be "king for the day" and has to host the celebration for next year.
Hurricane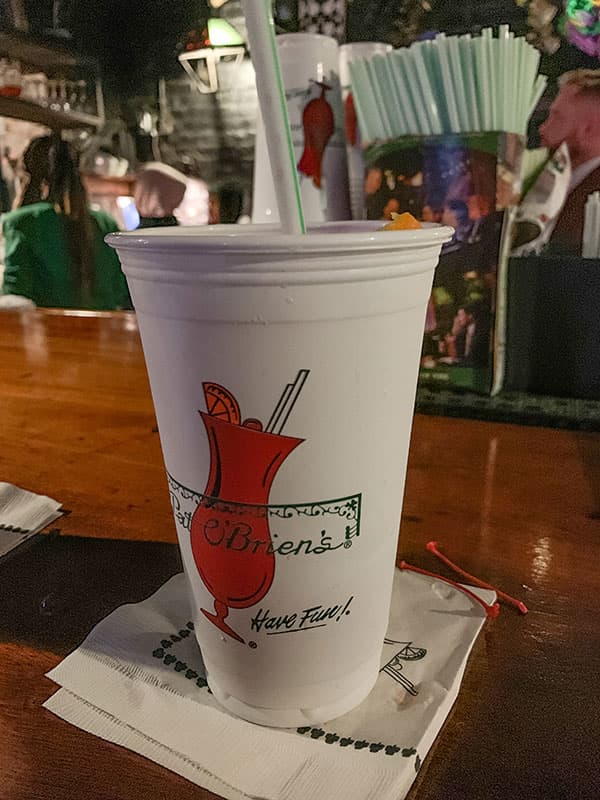 One of the more popular drinks in New Orleans is the Hurricane, a sweet mixture of rum, lemon juice, and passion fruit syrup. While we aren't normally huge fans of sweet drinks, we felt like we had to try one when in New Orleans. They tasted really good and had a ton of alcohol in them, so we just stuck with one. More than that and it would have been an interesting night on Bourbon Street. 🙂
Pat O'Brien's started making this drink in the 1940s when domestic liquor was scarce, but Caribbean rum was plentiful. All these years later, you can still get a Hurricane at Pat O'Brien's today.
Damn Good Nachos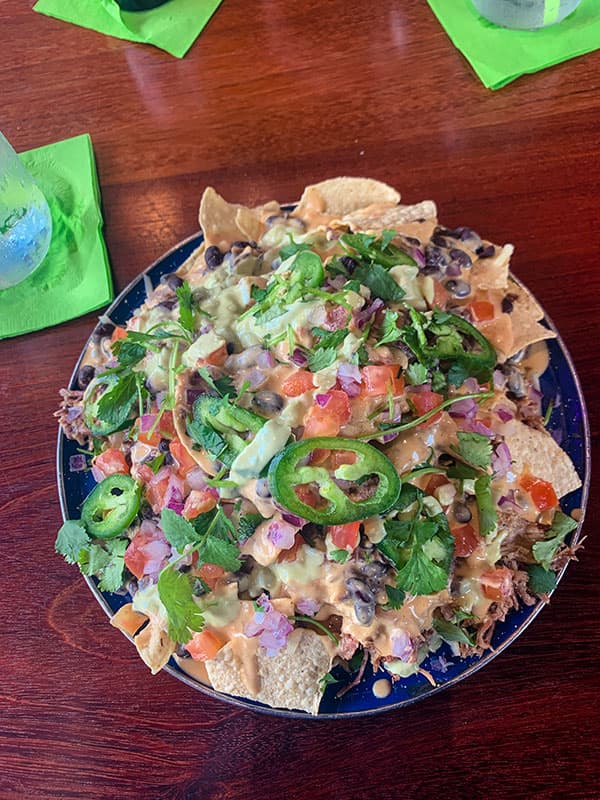 Get the small size. The was the large and it was more than enough!
While nachos aren't really a food that New Orleans is known for, we feel like we have to mention the Damn Good Nachos at The Rum House. These were, hand down, the best nachos we've ever eaten. They had pulled pork and black beans and were topped with jalapenos, onions, lime sour cream, cilantro and the perfect amount of melted cheese. They definitely lived up to their name!
New Orleans is an amazing city to visit, especially if you are foodies like us! This is just a sampling of the food that New Orleans has to offer We really enjoyed our time here and can't wait to come back and try even more. 
Save to Pinterest