You don't realize just how big Texas is until you drive through it. Having spent nearly a month in the state, we saw a lot and clocked hundreds of miles. One fun thing that Texas offers: lots of roadside attractions. Here are the fun things we got to see while in the Lone Star State.
World's Largest Cowboy Boots
Located at the North Star Mall – 60 Northwest Loop 410 #18, San Antonio, TX 78216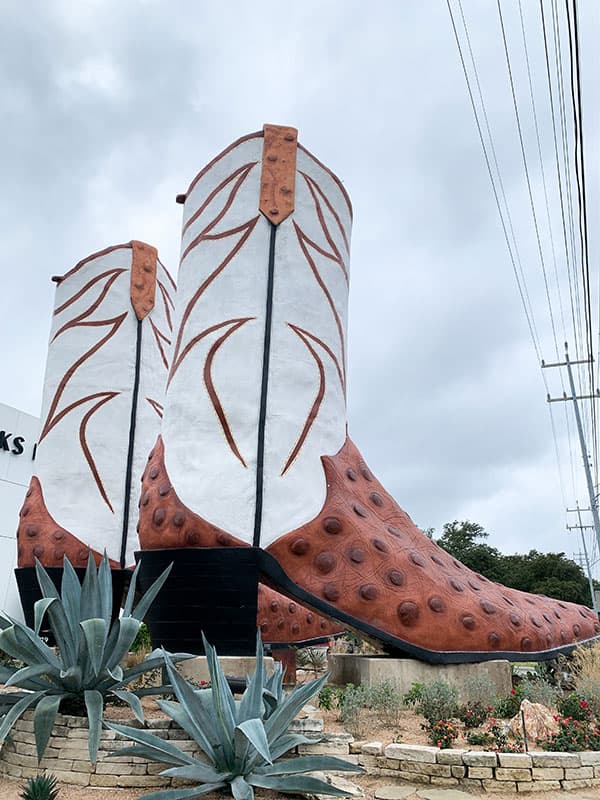 In 1979, Bob Wade designed this pair of cowboy boots to fill an empty lot in Washington D.C. After only 6 months, the boots moved to San Antonio after being purchased by the North Star Mall, where they have remained ever since. Wade claimed that the boots we're the biggest ever and in 2016, the Guinness Book of World Records confirmed that. They do say everything is bigger in Texas!
Graffiti Park
Currently located at 1008 Baylor St, Austin, TX 78703, but moving across from Austin-Bergstrom International Airport in Summer 2020.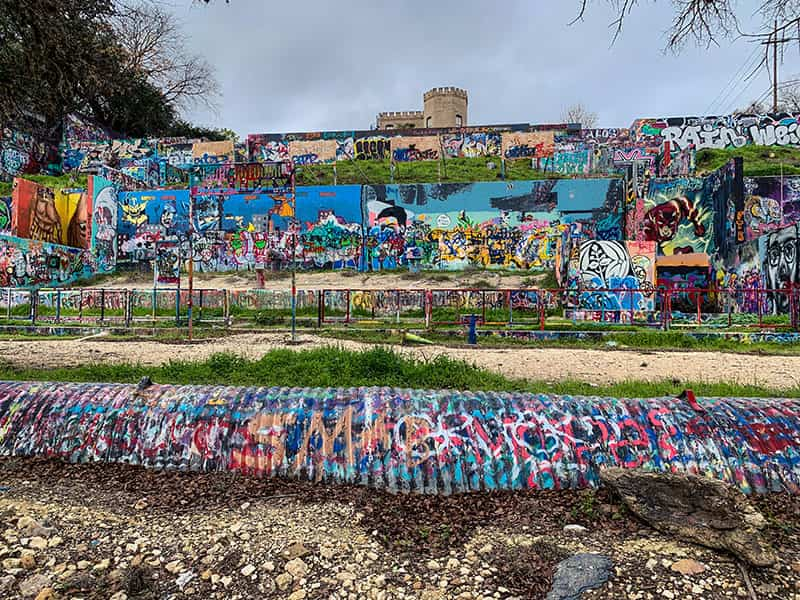 Graffiti Park is unlike any other park in the United States. Street artists in the 1980s turned this once abandoned construction project into a colorful art installation, nicknaming it "The Foundation". In 2011, HOPE, a non-profit foundation connecting creatives with social causes, cleaned up this once abandoned area and reopened it to the public for spray painting and murals.
Since HOPE plans to move the gallery to a new location across from the Austin Airport, the current park is now closed, but you can still catch a glimpse of it before it permanently gets moved. It's definitely an impressive sight and we can't wait to see how it looks once it's moved.
Giant Eyeball
Located at the Joule Hotel, 1601 Main St, Dallas, TX 75201.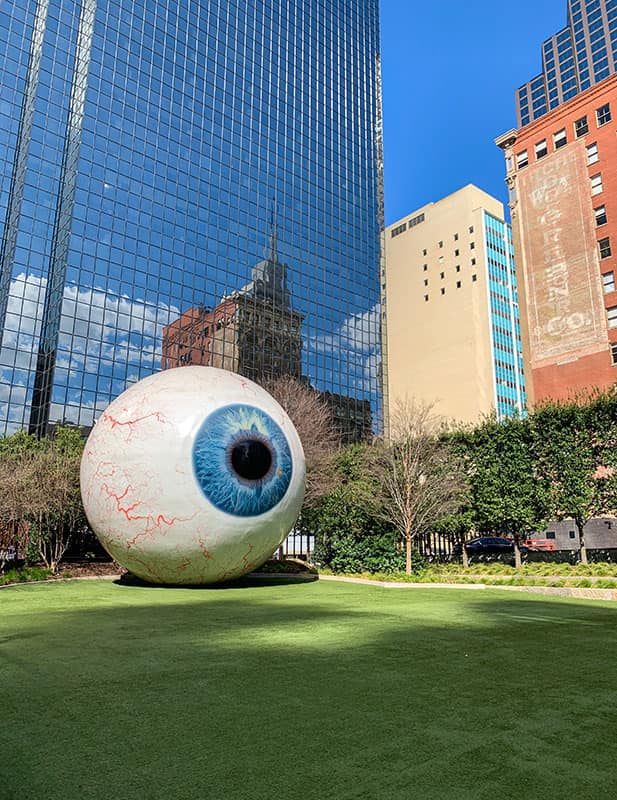 I always feel like…somebody's watching me…
That's how we felt when we came across this 30 ft. eyeball in the middle of downtown Texas. Located in a fenced in yard at the Joule Hotel, this realistic human eyeball sculpture was created by Tony Tasset, the same artist that created the Randy Donuts sign, in 2007. The Joule Hotel is known for its extensive art collection and the Giant Eyeball is the first piece they've displayed in their garden.
On most days, the garden is closed to the public, but you can get a good view of the eyeball from the street. Occasionally, the hotel will open up the park for special events, which would allow you to get a closer look.
The Traveling Man Statue
Located at 2605 Elm St, Dallas, TX 75226.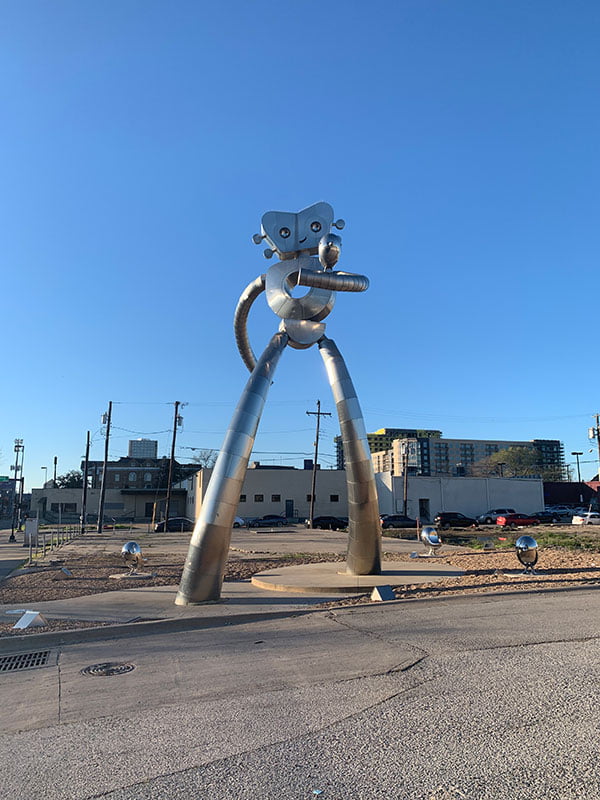 This friendly robot, located in the Deep Ellum neighborhood, was just a few blocks away from where we were staying in Dallas. We drove by several times and it always put a smile on our faces.
This statue is one of three in Dallas created by Brad Oldham and Brandon Oldenburg. DART awarded the artists this project after the construction of a new rail line would cause the demolition of a mural covered tunnel. The sculptures are built using metal sheets and rivets, which pay homage to the rail history of the Deep Ellum neighborhood in Dallas.
Cadillac Ranch
Located at 13651 I-40 Frontage Rd, Amarillo, TX 79124.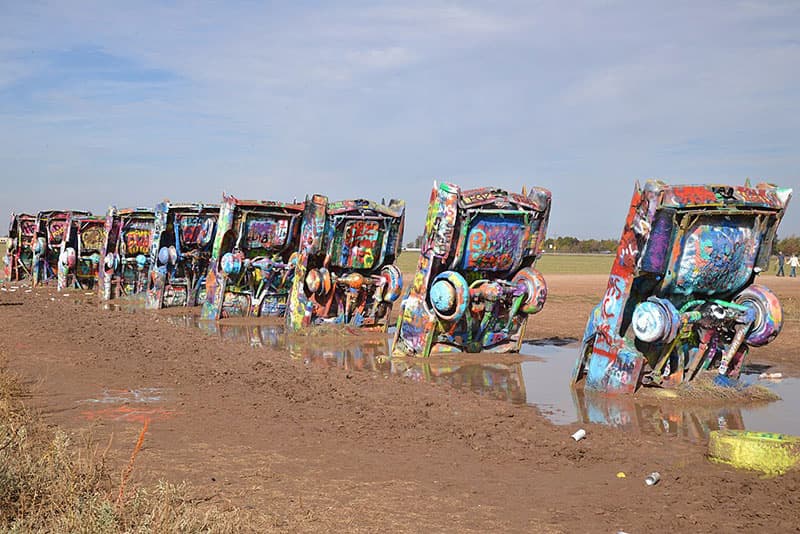 Cadillac Ranch is located in Amarillo, Texas on famous Route 66. Billionaire Stanley Marsh 3 wanted a piece of art in Amarillo that would baffle the locals, so he sponsored and collaborated with the art group Ant Farm to create the exhibit in 1974. They drove ten Cadillacs to one of his fields and half buried them nose down in the dirt. Over the years, people would stop off the side of the highway to view and deface the cars with spray paint, something that Marsh and the Ant Farm embraced and encouraged. The cars are covered in layers of paint from years of visitors and are barely recognizable as Cadillacs anymore.
It was extremely windy and dusty the day we drove through Amarillo. Although we were able to see Cadillac Ranch from the side of the road, we didn't venture out to take pictures. It was really hard to see with all the dust, a bummer since this is something we had always heard about on Route 66. The picture shown above was taken from Wikimedia Commons.
These roadside attractions made our time in Texas even more fun. We know we only scratched the surface when it comes to the quirky things Texas has to offer. There is so much to see in this state and we look forward to returning.
Save to Pinterest