Love Fixer Upper and Chip and Joanna Gaines? So do we! Here's what we saw during our trip to Waco, TX and the Magnolia Silos.
Waco, Texas wasn't a place I really had thought about until I started watching Fixer Upper on HGTV. Like so many people, I got hooked on Chip and Joanna Gaines and the beautiful home restorations featured on the show. I've seen every episode of their show multiple times, have read their books, and have made several recipes from Joanna's cookbook, Magnolia Table (those biscuits…).
I'm not ashamed to admit that I'm a bit obsessed with Chip and Joanna and the business they've created. Knowing what's it's like to run a business with your spouse, I admire them for what they created and find all they do so inspiring. So when we decided to spend time in both Austin and Dallas during our month in Texas, I knew we had to carve out a few days to check out Waco as well. Waco is right in the middle of these two cities, so we'd be driving right by. We had to stop and check it out!
Here's what we saw during the 2 days we were in Waco, TX.
The Magnolia Silos & Market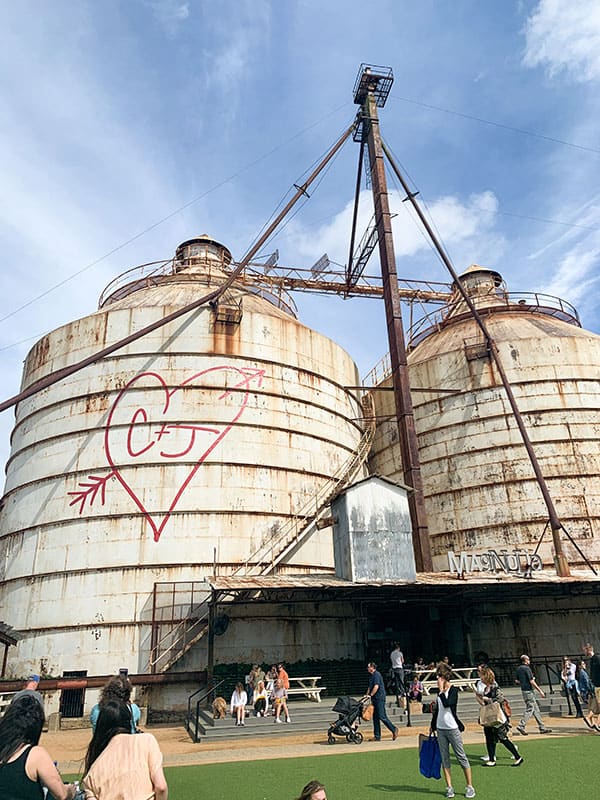 Chip added this heart to the silos for Joanna on Valentine's Day.
After dropping off our things at the hotel, we headed to the Magnolia Silos to check out the market and grab a bite to eat. One thing that surprised me was just how close the Magnolia Silos were to downtown Waco. When I watched Fixer Upper, it always seemed like the silos were far away from everything, but in reality, they are right in the middle of the city. This was a nice surprise because we were able to park our car and walk around Waco.
We heard that the silos get very busy, so we thought it would be best to go on a Monday and try to avoid some of the crowds. We didn't take into account that the Monday we went was President's Day, so schools were closed and people had the day off. It was busy, but not terrible. If possible, we recommend going on a weekday. The silos are closed on Sundays, so we can only imagine how crowded it could get on a Saturday afternoon.
Even though it was pretty busy, the staff did a great job to make everyone feel welcome. There were employees all over the place to help you with any questions and we never once felt rushed. There is a ton of outdoor seating and open areas where families can play games and enjoy themselves.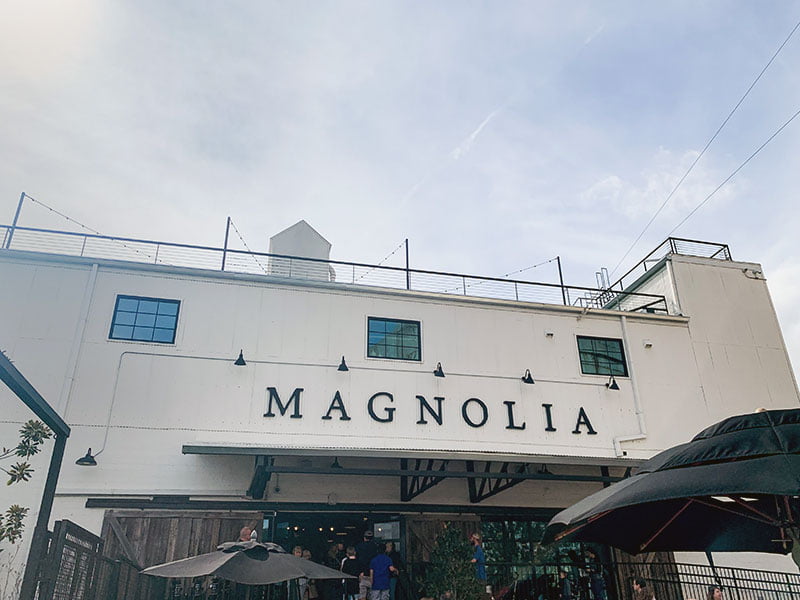 The market was very large and designed exactly how you would imagine it to be. The prices for items were a little high, but that was to be expected. I bought a few t-shirts and one of Jimmy Don's metal signs to give to my parents (they are building a new house in Nevada). I could have spent a lot more time in the market and probably would have bought more things if I actually had a house to put them in. This is a time where being a digital nomad really paid off. 🙂
Magnolia Seed & Supply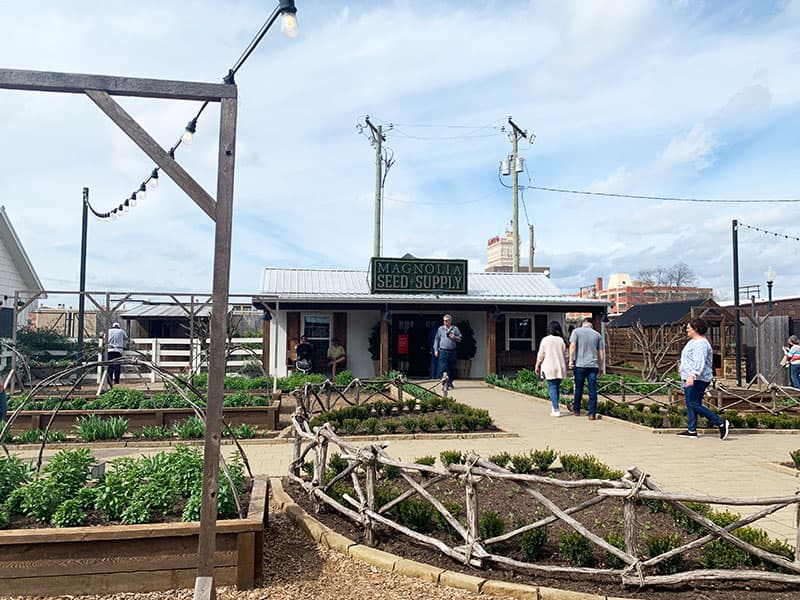 Also on the silos property is Magnolia Seed and Supply. This is a small store that sells gardening tools and seeds for your garden. In front of the store, there are tons of flower beds which really made me miss my small garden in Philly. The garden was so pretty and so carefully thought out. I would love to come back in the spring once everything was in bloom. It would have been even more beautiful!
The Backyard Bar and Magnolia Press
There are several food trucks located on the silos property, but they all had really long lines and were sold out of items. We also found the prices to be pretty high. Instead of getting something from one of the food trucks, we headed to a place a block away called The Backyard Bar. The food was good, reasonably priced, and they had plenty of seating. On the weekends, they have concerts, so it would have been a fun place to go back to if we had time. There are lots of restaurants around the Magnolia Silos, so if the food trucks aren't your thing, we recommend going to one of these places.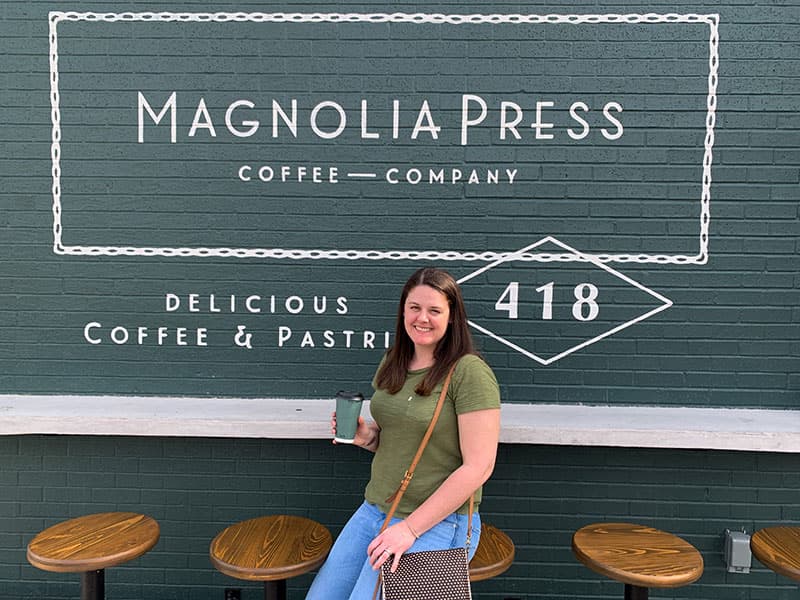 After our lunch, we wanted to get cupcakes at Silos Baking Co., the bakery on the silos property, but the line to get in was down the block. Instead, we went to Magnolia Press for coffee. Magnolia Press is Chip and Joanna's latest renovation, a beautifully designed coffee shop located right down the street from the silos. The lines were short here and there was plenty of seating available both inside and on their back patio. We tried their Texas Pecan coffee and liked it so much, we bought a bag of it to take on the road with us. It smelled so good and tasted even better.
The Dr. Pepper Museum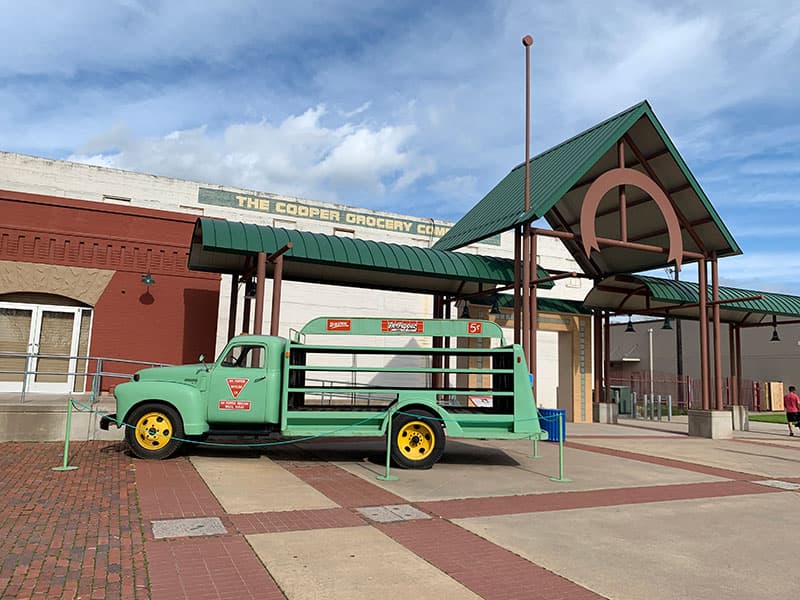 After exploring the silos, we headed to the Dr. Pepper Museum just a few blocks away. The museum is located inside the Artesian Manufacturing and Bottling Company which was the first building to manufacturer Dr. Pepper. The museum was filled with lots of old signage and cool memorabilia. As a designer, I love looking at old packaging and signage, so this museum was right up my alley. The museum cost $10 to get in and included a free Dr. Pepper with the price of admission.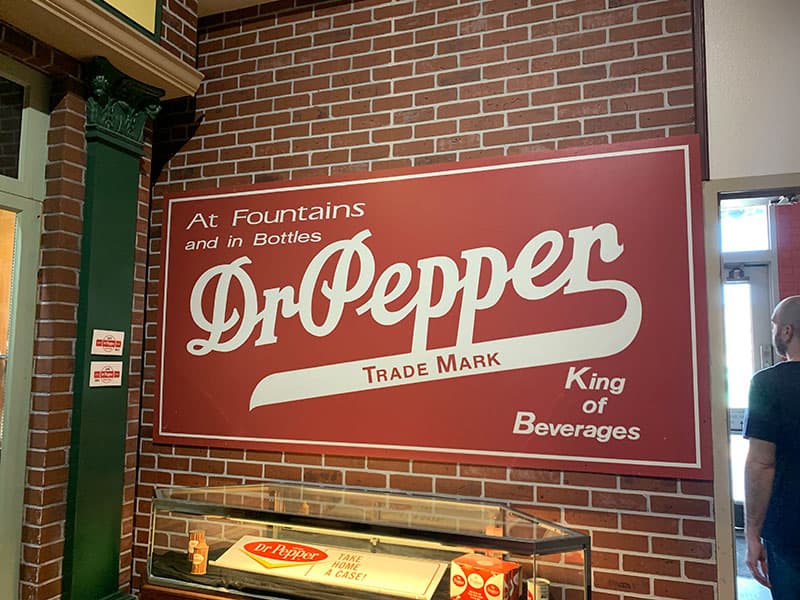 Magnolia Table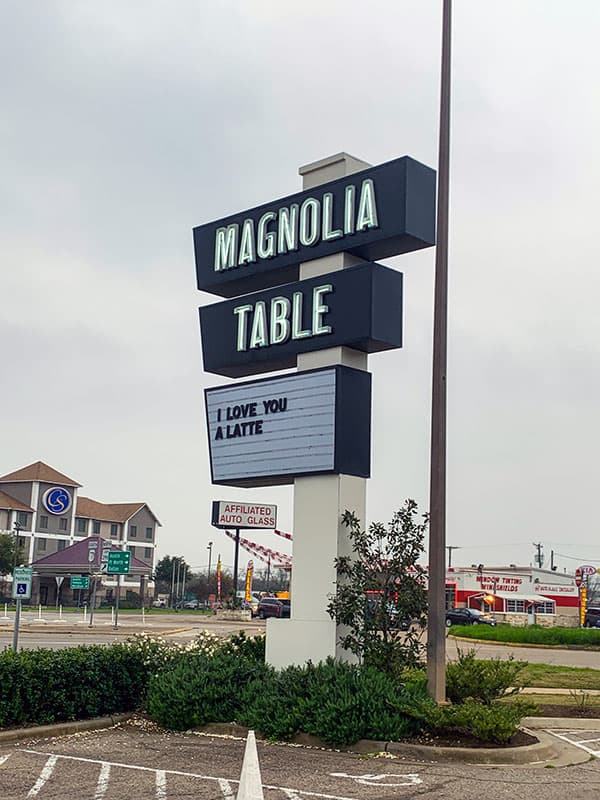 The next morning, we got breakfast at Magnolia Table, Chip and Joanna's restaurant. This restaurant, formerly called The Elite Cafe, had been a staple in Waco for years but closed in 2016. Chip and Joanna bought and renovated the building to what it is today, but did a great job of preserving its history.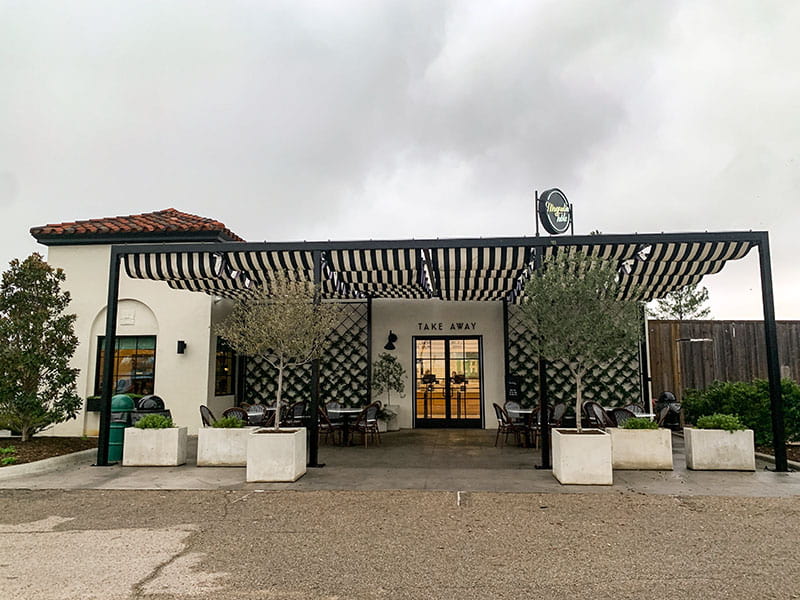 The menu was a bit pricy, but the food was really good. Our favorite- the biscuits with strawberry butter. So yummy! We also got more Texas Pecan Coffee.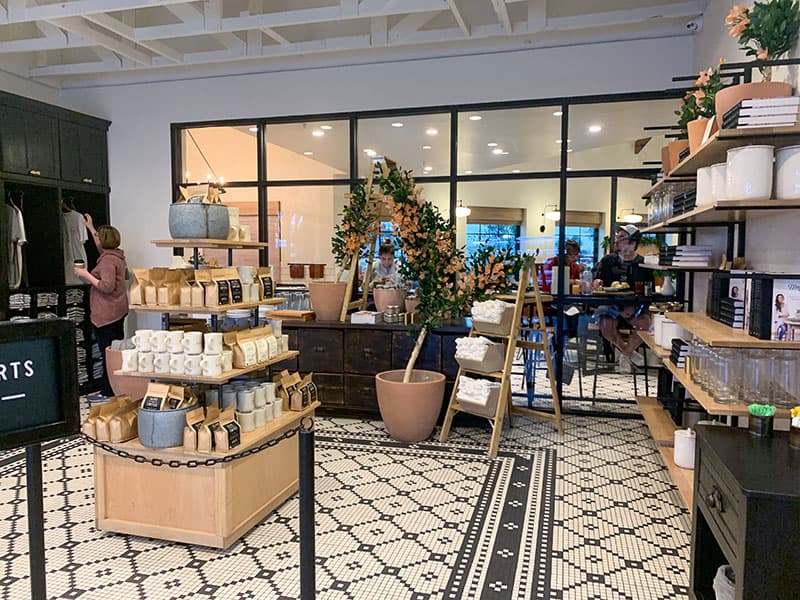 Magnolia Table has a takeaway area where you can buy gifts, coffee, and to-go items. The floor is so pretty!
The restaurant is open Monday – Saturday from 6 am – 3 pm and the place gets packed. They take reservations Monday – Thursday, so we definitely recommend doing that. Otherwise, you could be waiting for hours to get a table. We made our reservation at 8 am on a Tuesday, and while it wasn't that busy when we arrived, by the time we left, there was a wait to get in. You can make reservations online through their website, so save yourself the hassle and do it a few days before you come to Waco.
Would We Return to Waco, TX?
Yes! We had a really nice time in Waco and wished we spent an extra day there to see more of it. We would like to come back and check out more of the local businesses. There is a lot of redevelopment going on in this area, so I'm sure there will be even more things to do the next time we visit. Until a few years ago, Waco was never a town we had imagined visiting, but we are glad we did because we had a fantastic time here.
Save to Pinterest