Looking for fun in Vegas that isn't the strip? There are plenty of other things to do here! Here are some fun attractions we saw off the Las Vegas Strip.
It feels a little weird to talk about travel right now with everything that's going on in the world with COVID-19. The pandemic happened right when we got to the Las Vegas area. My parents live in Nevada, so we were lucky to be staying with family.
After Vegas, our original plan was to head to Portland, where we would have done a housesit, but those plans got canceled. More and more places were shutting down, making it harder to plan anything. Two weeks into our month long stay, Nevada went into lockdown. Shortly after, most of the country did as well.
After a lot of thought, we made the hard decision to stop our full time traveling and head back to the east coast. Last week, we packed up our car and drove 3 days across the country from Nevada to New Jersey, stopping only for gas, fast food drive-thrus, and hotel rooms when we could no longer keep our eyes open. The drive was far from a pleasant experience, but we made it safe and sound.
Before everything went into lockdown, we did manage to visit some fun places. To be honest, both Mark and I are not huge fans of the Las Vegas strip. It's overpriced, over stimulating and way too commercialized for our tastes. Seriously, how many Louis Vuitton stores do they need?
While we were here, we only visited the strip once. We wanted to see some of the other things that Vegas had to offer. It turns out, there is a lot more to Vegas than just the strip. Here is what we checked out.
Freemont Street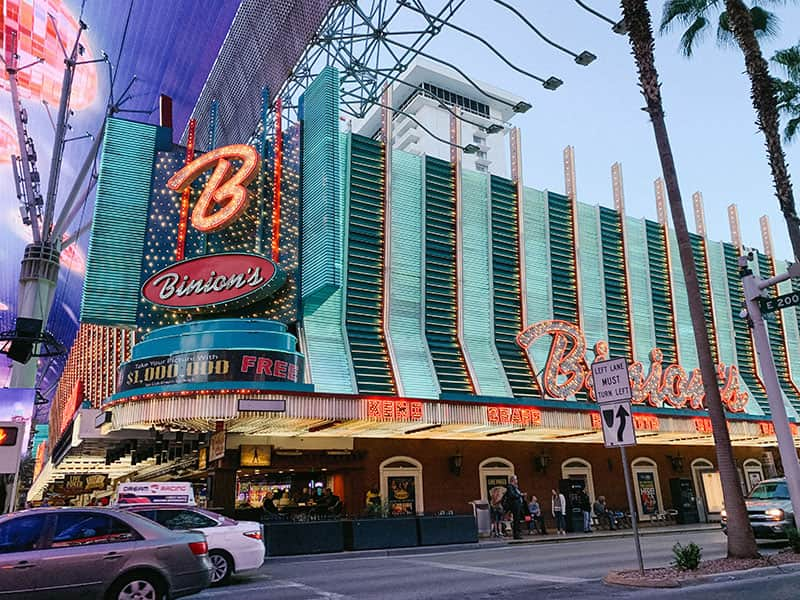 Freemont Street is the Las Vegas you've seen in old movies. The hotels here are smaller, the prices are cheaper, and the casinos still have their vintage neon signs. In a city where buildings get torn down and replaced frequently, this is the one part of Vegas that has a history.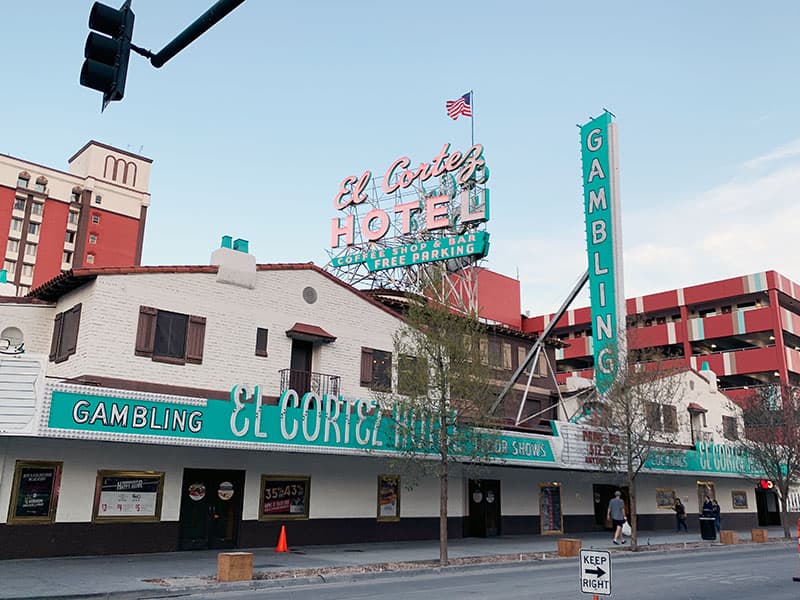 Yes, Freemont Street is way tackier than the strip, but that's what makes it fun. Instead of the world-class entertainment found on the strip, you'll find street performers and cover bands. Instead of fancy, high-end shopping, you'll find cheap souvenir stores filled with tie-die Las Vegas shirts. There is a restaurant that lets you eat for free if you weigh over 350 lbs (America!) and a zip line that you can ride down the entire street. Freemont Street doesn't try to be fancy and that' is why we love it.
Freemont Street still has plenty of opportunities to gamble. The casinos are much smaller than what is on the strip, making it a lot easier to visit multiple places in one day. We walked through 5 different casinos the day we visited and even won a little money playing slot machines. A few of the casinos even have the old machines that spit out quarters.
The Container Park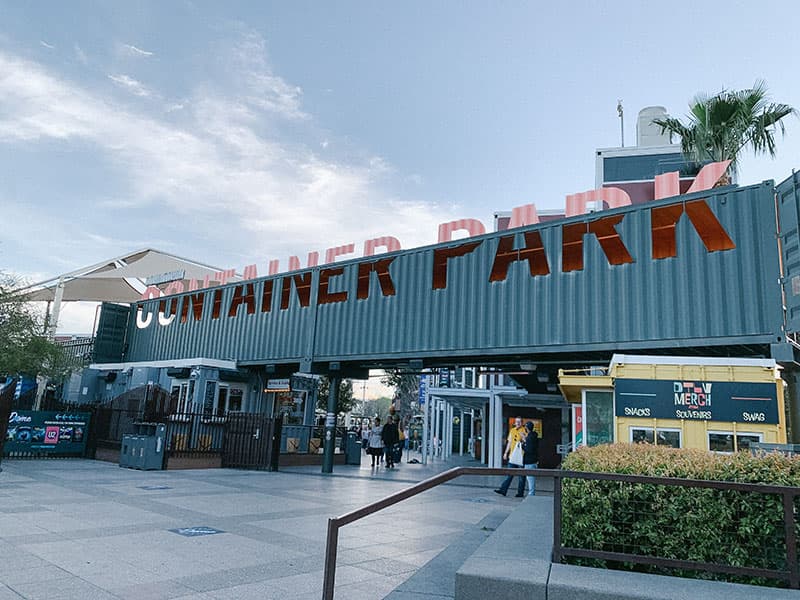 Just down the road from all the casinos on Freemont Street is The Container Park, a shopping, dining, and entertainment center in downtown Las Vegas. Here, you'll find fun boutiques, quick services restaurants, a stage with free live entertainment, and even a playground area for kids. The food is cheaper than what you would pay on the strip and they offer a good amount of options. Unlike the hustle of the strip, the vibe here is relaxed, making it easy to spend a few hours here without spending a ton of money.
Ellis Island
Located a few blocks from the strip is Ellis Island, a small casino, hotel, and microbrewery. Ellis Island definitely caters to Las Vegas locals and is one of the few places left near the strip where you can get a good meal for cheap. You can get a steak dinner for $7.99 at their 24-hour cafe or head to their Village BBQ restaurant where a BBQ chicken dinner will cost you $13.99 (only $10.99 with a player's card). They have a good variety of microbrews and have been voted Best of Vegas since 2015.
If you like karaoke, this is the place to be. The karaoke lounge at Ellis Island is open seven days a week and has over 10,000 songs to choose from. Download their app off of their website to browse and choose the songs you want to sing before you come.
Recently, Ellis Island expanded and now has an awesome two-story beer garden called The Front Yard. In this indoor/outdoor space, you can watch the game on their 18 foot big screen TV, grab a drink or a bite to eat or head to the second floor where you'll get a great view of the Vegas strip. The Front Yard is an awesome addition to this casino and our favorite part of Ellis Island.
Red Rock Canyon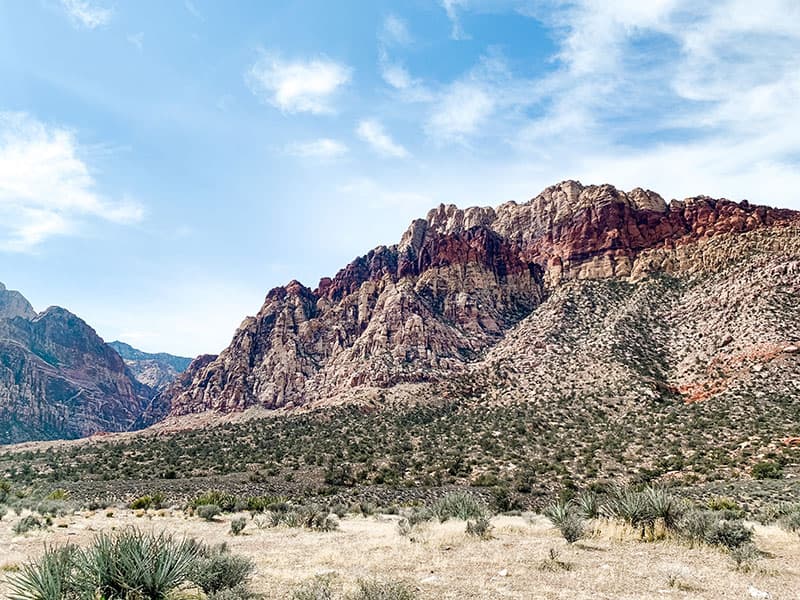 Red Rock Canyon is about a half-hour from the Las Vegas strip and is a great destination for anyone that wants a break from the city. Red Rock offers stunning hiking trails for both beginner and experienced hikers as well as a 13-mile scenic road that gives you access to popular destinations in the park. The weather was perfect the day we went, so we didn't worry too much about the heat. If you're going in the summer, definitely bring sunscreen and plenty of water!
A day pass to Red Rock will cost you $15 per car. We used our America the Beautiful pass, which gives you access to National Parks all over the country for $80.
Valley of Fire State Park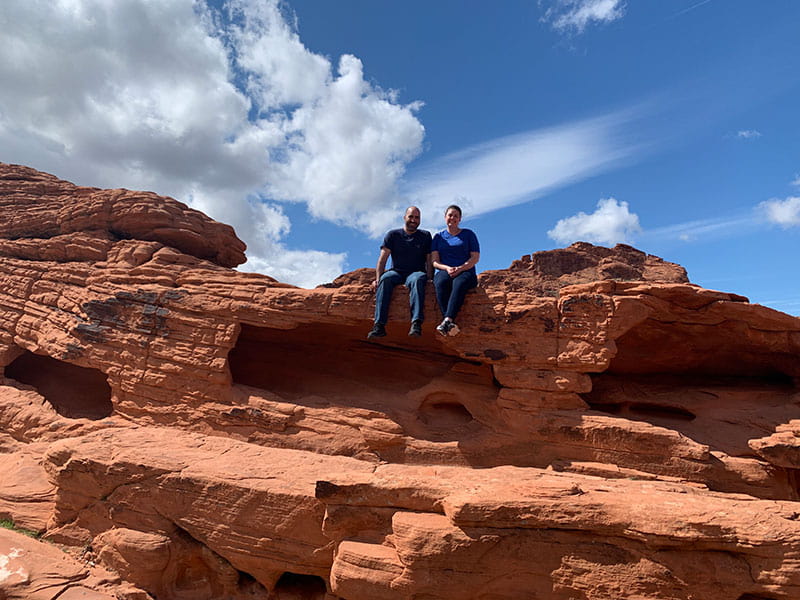 A little further outside of Vegas, you can see even more rock formations at Valley of Fire State Park. The park is open year round and is home of 40,000 acres of bright red Aztec sandstone formations. There are 2 campgrounds on site and several hiking trails throughout the park.
Valley of Fire is about an hour drive outside of Vegas, but is definitely worth the trip, especially if you're a nature lover. We had a great time hiking the trails and seeing all of the beautiful rock formations. Admission is $10 per vehicle and they do not accept national park passes.
Hoover Dam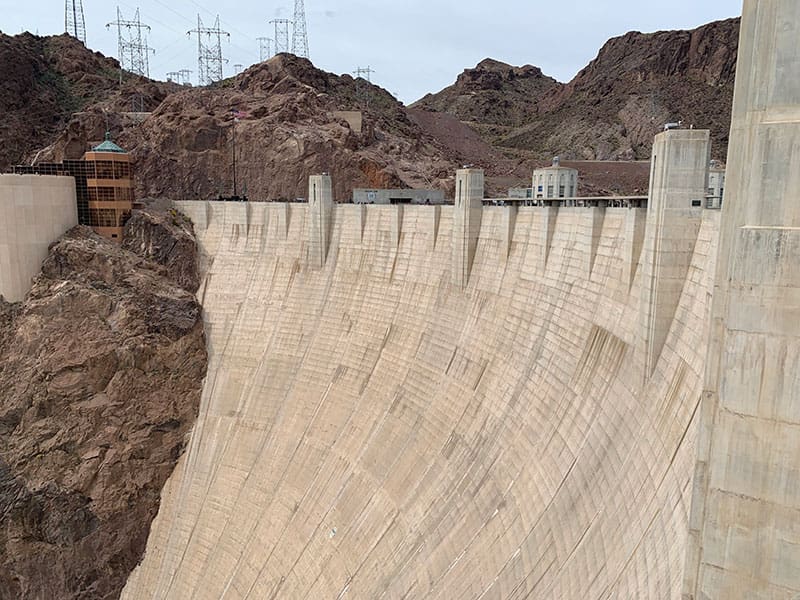 Hoover Dam is located in the Black Canyon of the Colorado River between Arizona and Nevada. It was completed in 1936 and is recognized as one of the biggest feats in engineering. The construction took thousands of workers and over 100 people lost their lives during its construction. The dam provides water and power to seven states – Colorado, Wyoming, New Mexico, Utah, Arizona, Nevada, and California, as well as a portion of Mexico.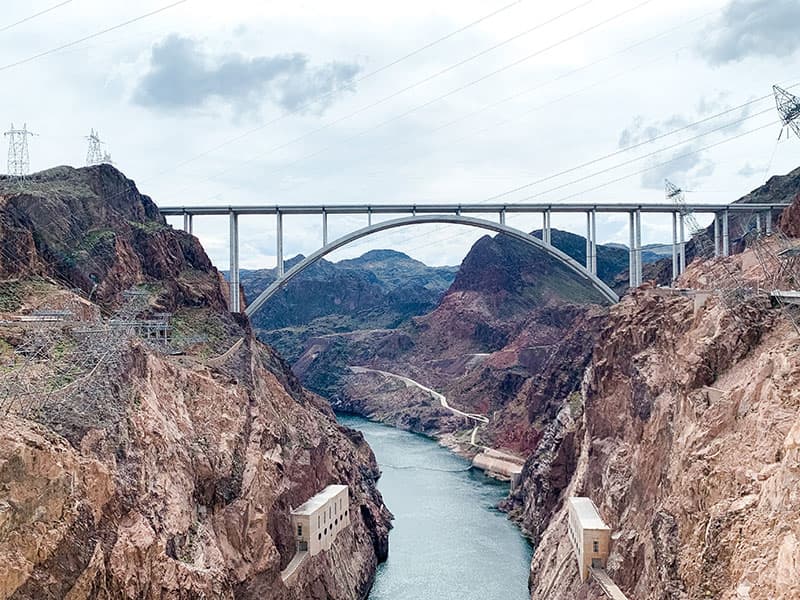 Get an awesome view by walking or driving across the dam. Guided tours that show you the history and construction of the dam are usually available, but due to the COVID-19, they were not operating when we were there. I went on this tour as a teenager and found it very fascinating, so I definitely recommend booking one if you can. A guided dam tour will cost you $30. They also have a guided power plant tour for $15 and a self guided visitors center tour for $10.
Vegas offers a lot more than just glitz, glamor and gambling. We're happy we were able to venture out to places off of the Las Vegas strip and see some of Nevada's beautiful desert. We hope to return and see even more once it's safe to travel again.
Save to Pinterest