Our first time in Paris was a trip we will never forget. There is beauty all around in this city and we couldn't help but marvel at all the beautiful buildings as we walked through the streets. Paris is massive and has tons of world class attractions, so fitting it all into one trip would be impossible. This is a place you'll want to come back to. We know we want to.
If you're planning your first trip to Paris, here are 10 things you'll want to see during your stay.
1. The Eiffel Tower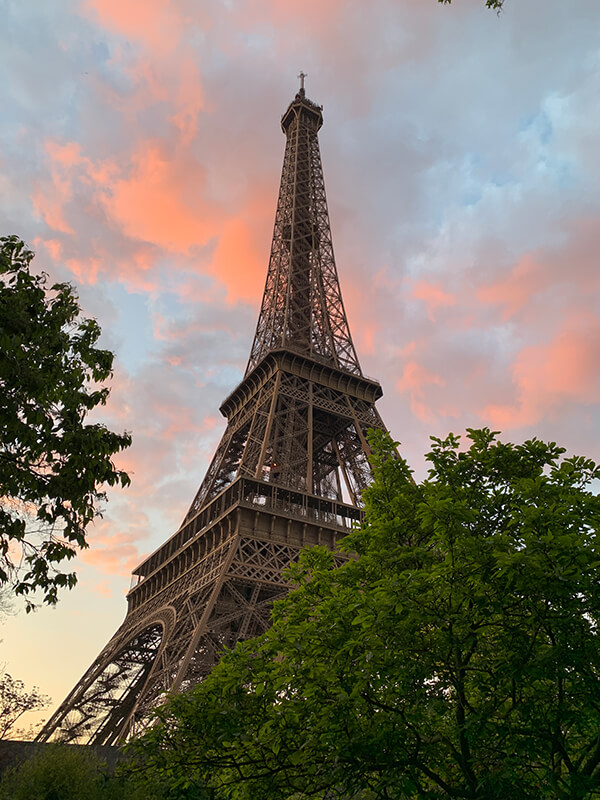 This pretty much goes without saying. If you're coming to Paris, the Eiffel Tower is a must! It's the icon of the city and the first thing you think of when someone says Paris. We took about 100 pictures of the Eiffel Tower during our trip, from a variety of different locations and during different times of the day. Seeing it never got old and it was a completely different experience during the day versus at night. So beautiful!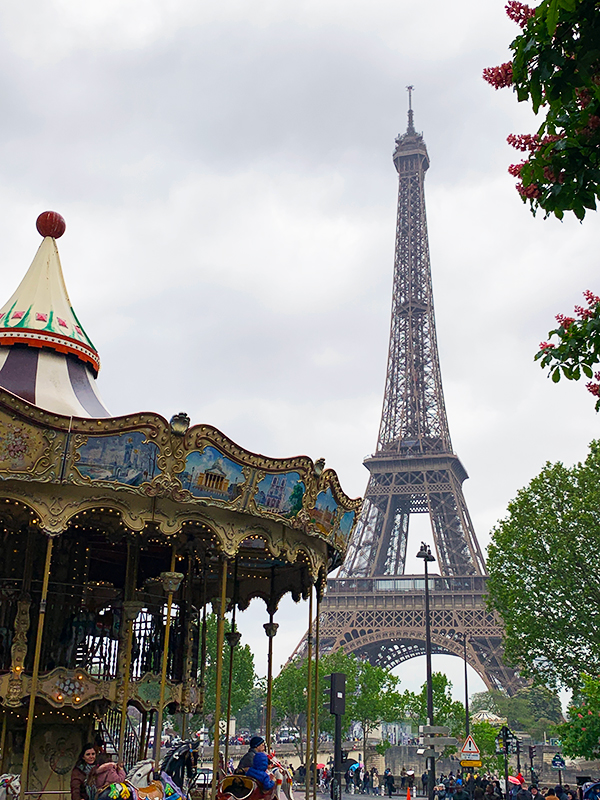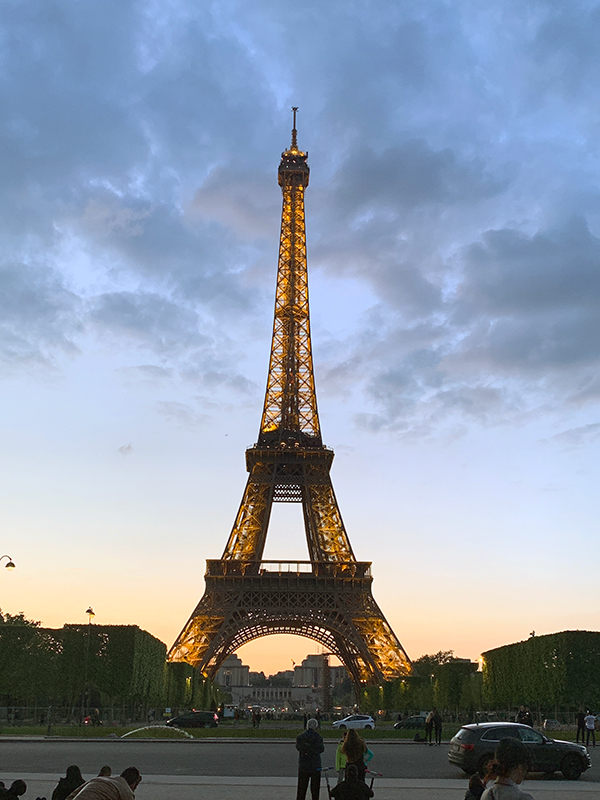 Tickets are available to go up the tower, but we decided not to do that. The lines were long, the tickets were expensive, and we aren't a huge fan of heights. Instead, we got a good view of it from The Trocadero during the day and in the Champ de Mars, the park by the tower, at night.
We also got some great shots of it during our visits to other attractions, like the Arc de Triomphe and Sacré-Cœur, as well as just walking around the city. You can see the Eiffel Tower in so many places throughout Paris, so be on the lookout!
Related: Best Eiffel Tower Photo Spots
2. The Louvre Museum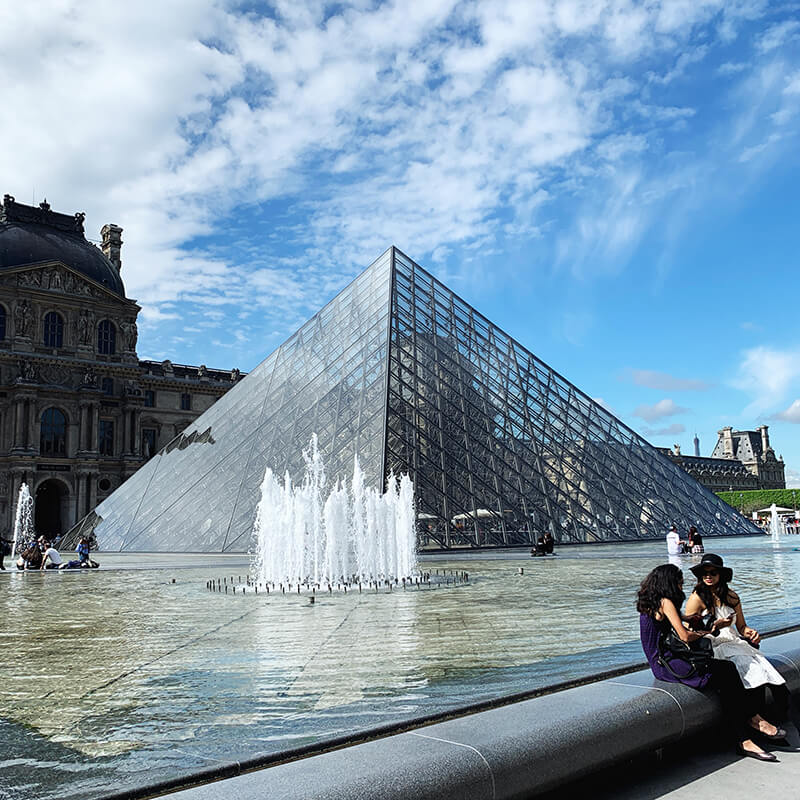 The Louvre might be the best museum in the entire world. The building itself is an architectural marvel, and the art inside is just…wow. It would take you weeks to see everything, but some of the hits are: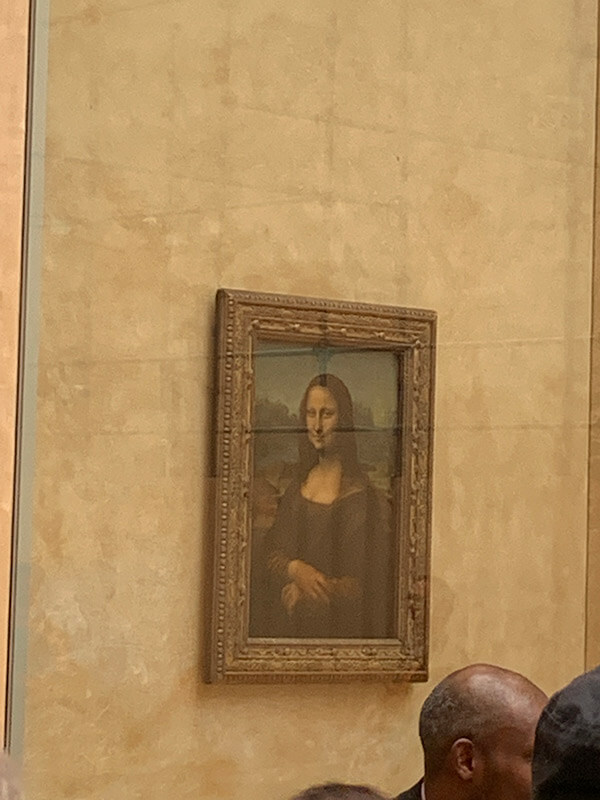 The best photo we managed to get of the Mona Lisa
The Mona Lisa
Venus de Milo
Winged Victory
Great Sphinx of Tanis
St. John the Baptist
and much, much more.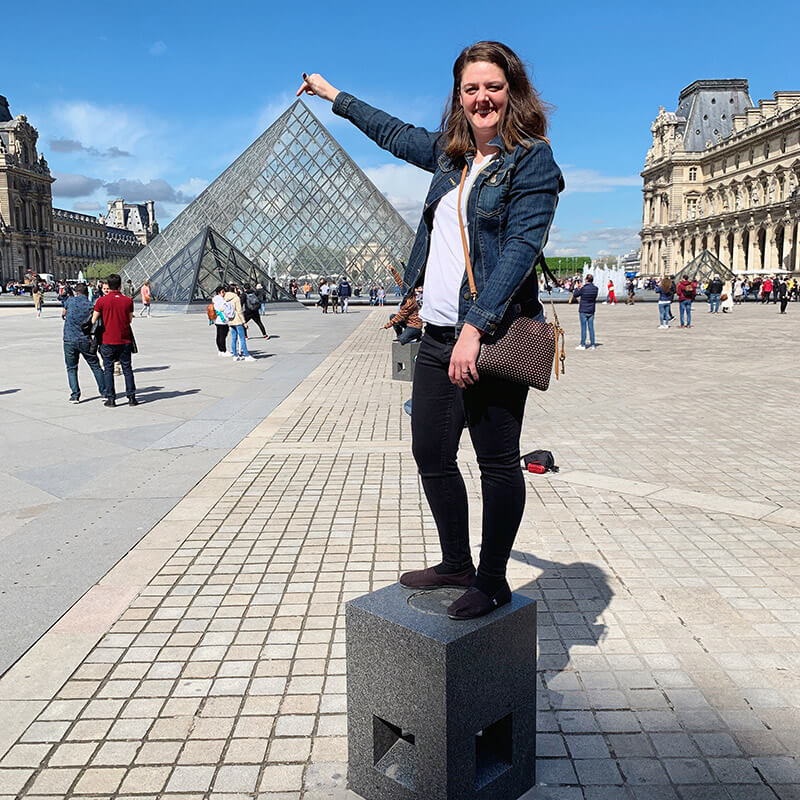 Yes it's cheesy, but when in Paris!
The Louvre is one of the biggest tourist destinations in Paris, so buy your tickets in advance. Otherwise, you will be waiting hours to get in. It's also closed on Tuesday's, so keep that in mind when making plans.
3. Arc de Triomphe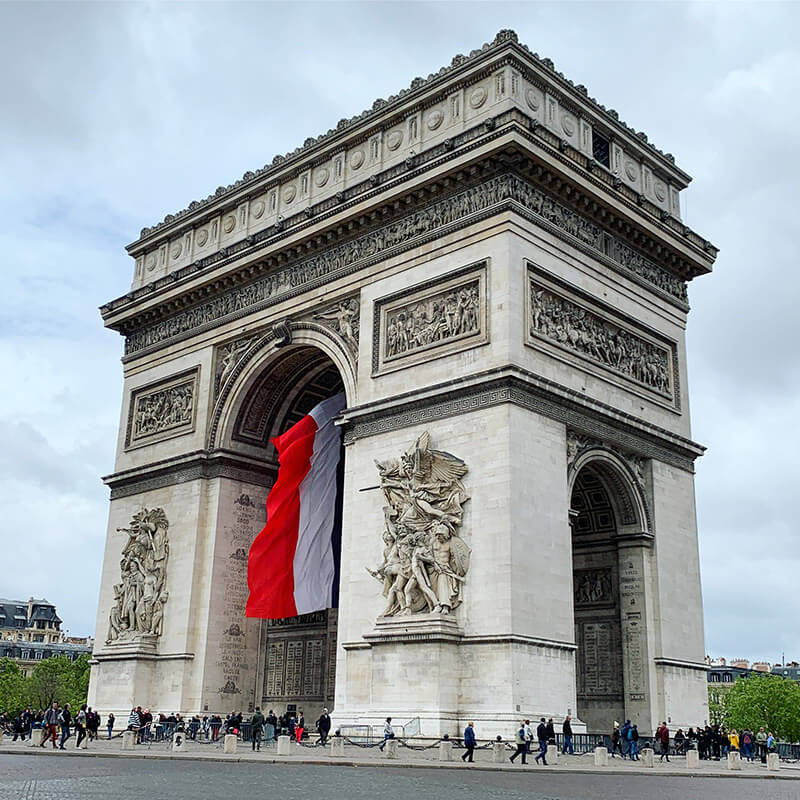 The Arc de Triomphe is one of the most famous monuments in Paris. Located at the western end of the Champs-Élysées, this monument honors those that fought during the French Revolutionary and Napoleonic Wars. Climb up the 284 steps to the top and get one of the most beautiful views of Paris.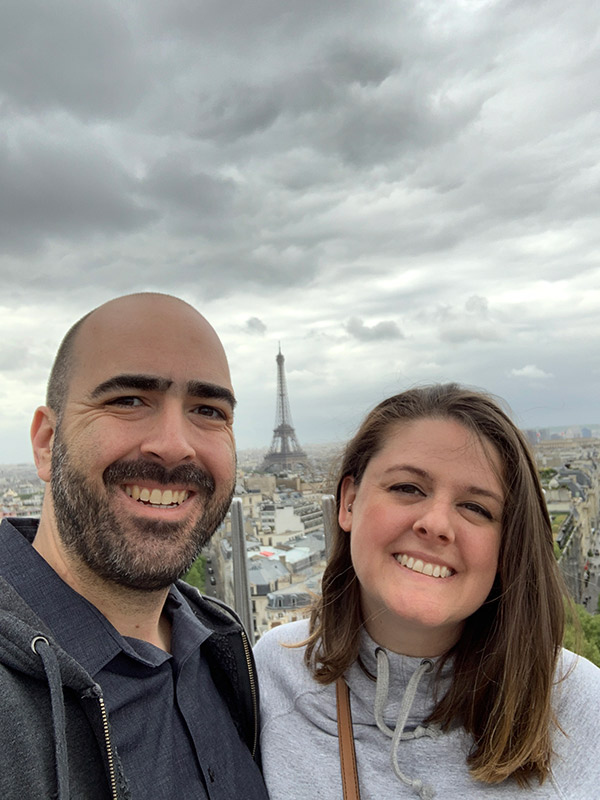 4. Monmarte and Sacré-Cœur Basilica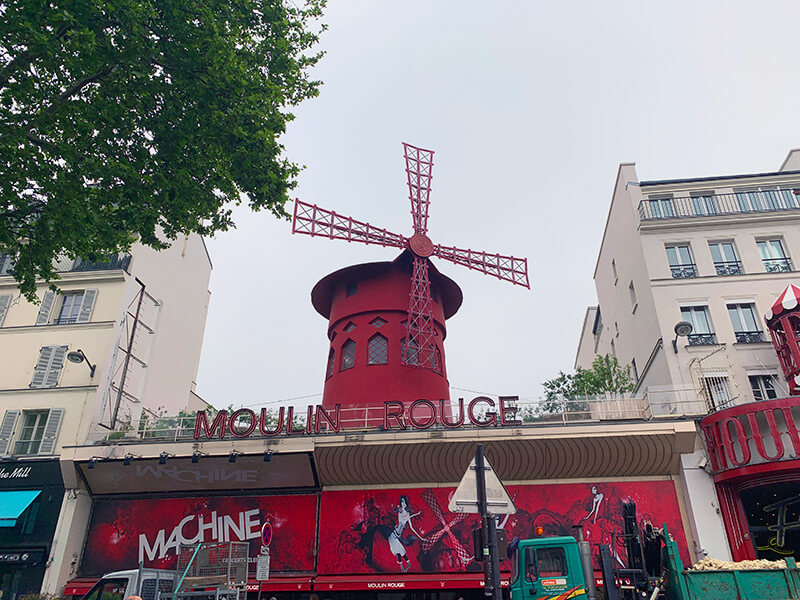 Monmarte captured all of our expectations of Paris. It had the cobblestone streets, cute cafes and all the things we've seen over and over again in movies. It was our favorite area of the city and one we definitely recommend exploring. Monmarte is home to the famous Moulin Rouge and lots of famous restaurants.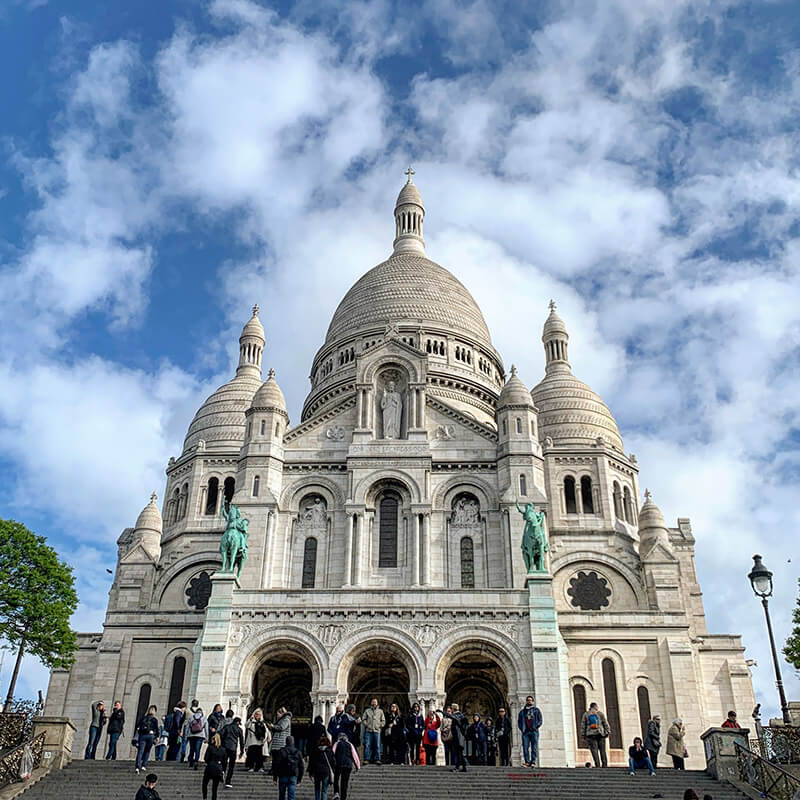 Hike to the top to see the Sacré-Cœur Basilica, another architectural wonder and one of the most beautiful churches we've ever seen. From Sacré-Cœur, you'll get another stunning view of the city.
5. The Catacombs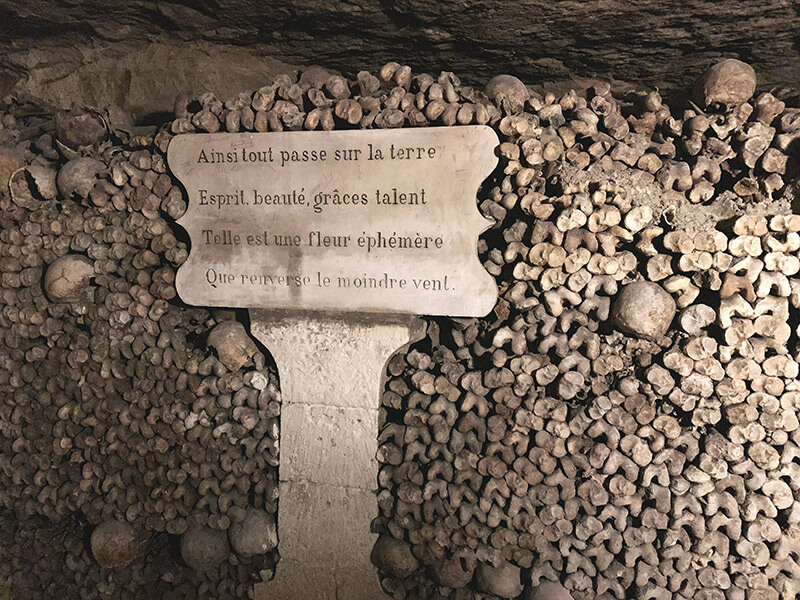 This underground cemetery holds 6 million people and was one of the most interesting things we saw in Paris. In the late 18th century, cemeteries were a cause of major health problems in Paris, so a decision was made to transfer those bodies underground in an effort to protect the citizens. We couldn't believe how long and massive the tunnels were and how far we walked down to get to them. The history of this place was so fascinating and something we highly recommend any first timer does while in Paris.
This is another attraction that has huge lines, so book your tickets in advance to avoid waiting hours. We booked ours online weeks ahead of time and were given a set time to show up, saving us hours of waiting.
6. Seine River Cruise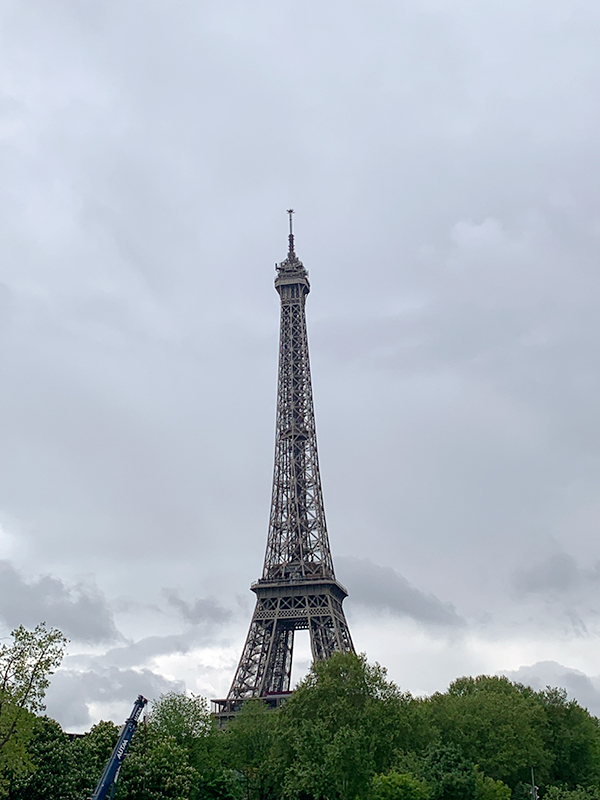 A Seine River Cruise is a fun and unique way to experience Paris. You'll get to see some of the main attractions of Paris from the river and the boat ride is nice and relaxing. The cruises run both day and night, so if you're looking to get a great shot of the Eiffel Tower at night, this could be your opportunity. We took our cruise during the day and it actually started raining a few minutes into it, but we still had a great time. After a few days of walking around, it was nice to be able to sit on a boat and relax.
7. The Panthéon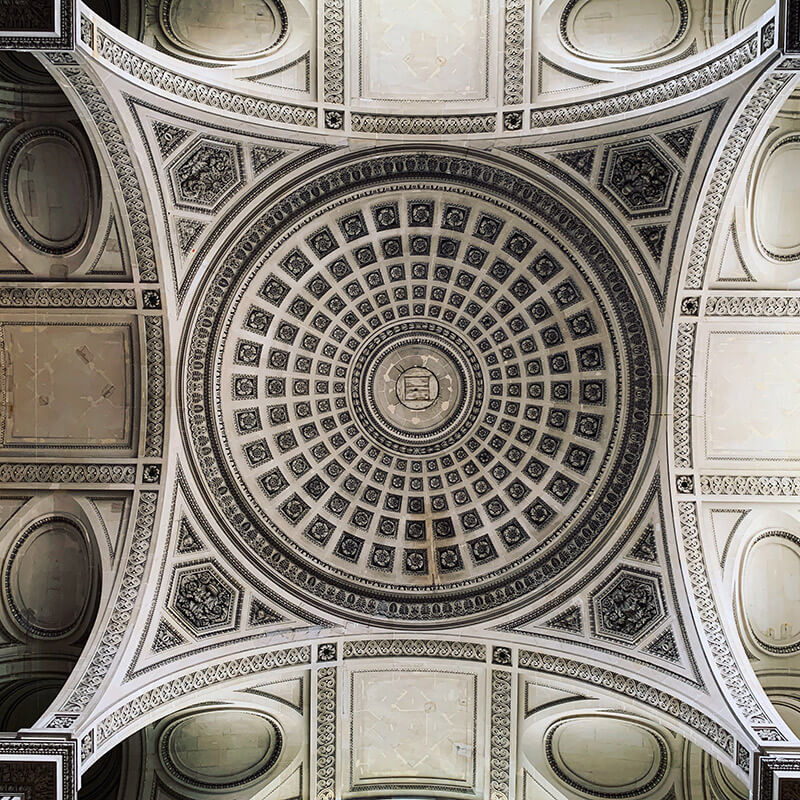 The Panthéon was originally built as a church dedicated to St. Genevieve, the patron saint of Paris, but now serves as a mausoleum to the most distinguished people of France. Both the inside and outside of this building are absolutely gorgeous. Inside, you'll find paintings that illustrate the life of St. Genevieve and the story of the beginnings of Christianity in France. You'll also see Foucault's pendulum, a device used to demonstrate the rotation of the Earth. Underneath in the crypt, you'll get details about the lives of the distinguished people buried there, including the philosopher Voltaire, who was known for his criticisms of the Roman Catholic Church.
8. The Rodin Museum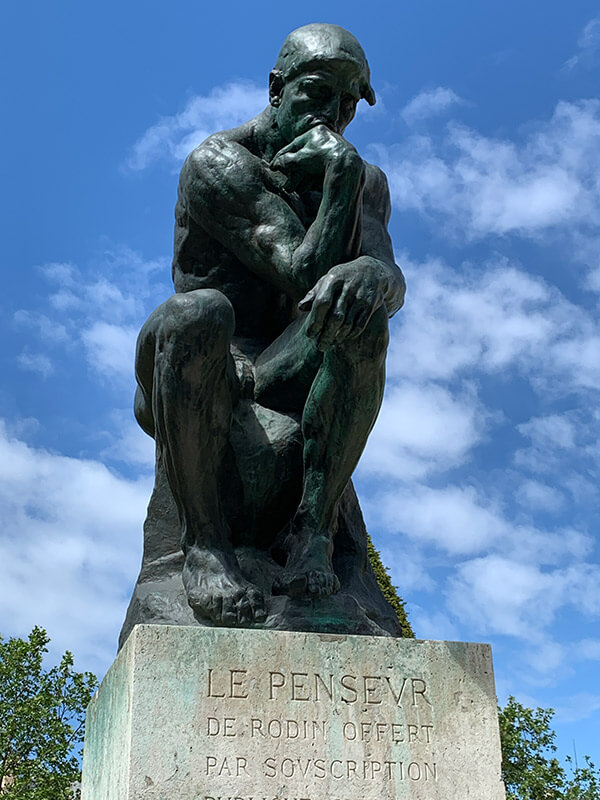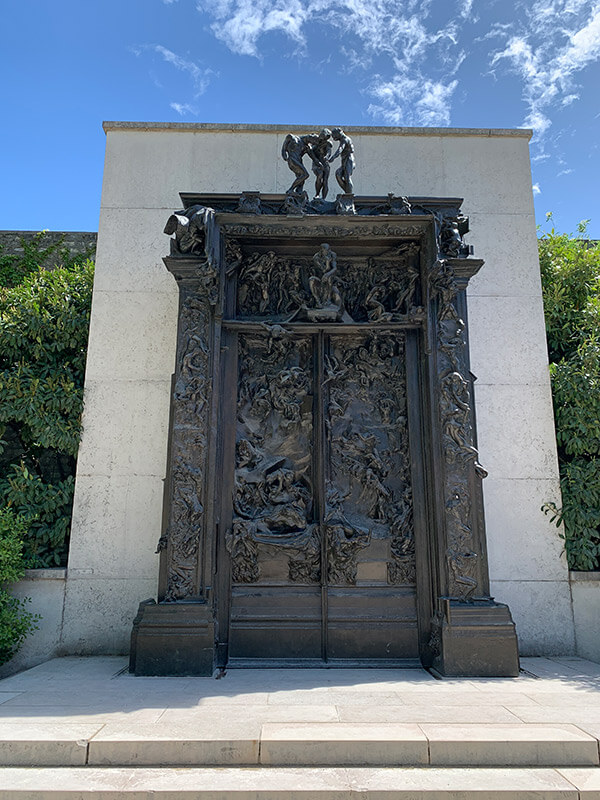 Opened in 1919, this museum is dedicated to the works of French sculptor Auguste Rodin. The museum is located in Hôtel Biron, which was Rodin's workshop for many years. Surrounding Hôtel Biron is a beautiful garden that displays many of his sculptures. The museum includes Rodin's most popular works, including The Thinker, The Kiss and The Gates of Hell, as well as paintings by Van Gogh, Monet and Renoir, all acquired by Rodin over his years working there.
9. Notre Dame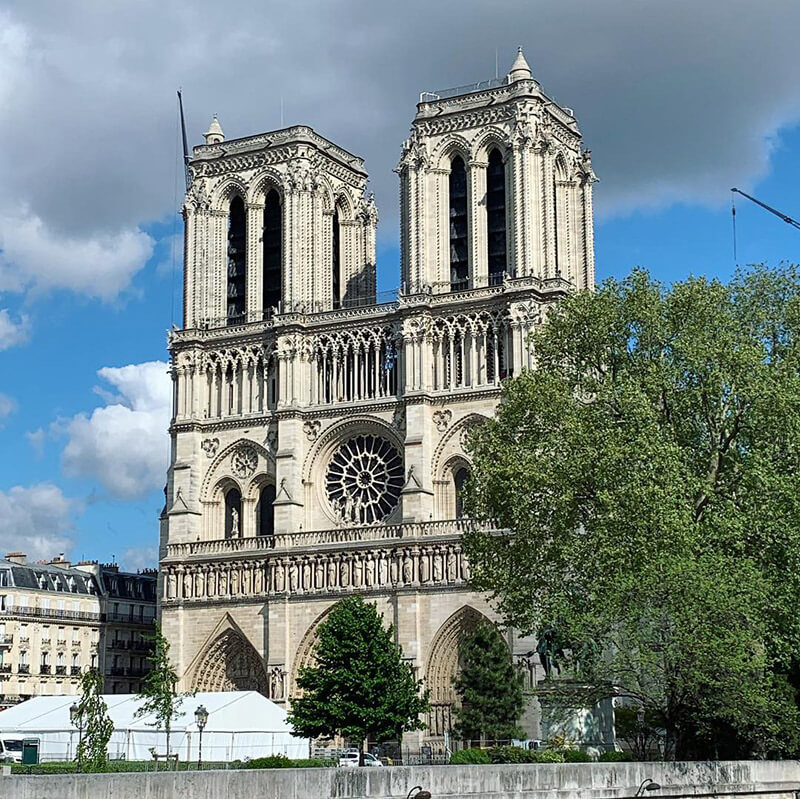 Notre Dame is the most famous gothic cathedral in the world. The twin steeple and beautiful rose window tower above all the buildings that surround it. It's an incredible sight.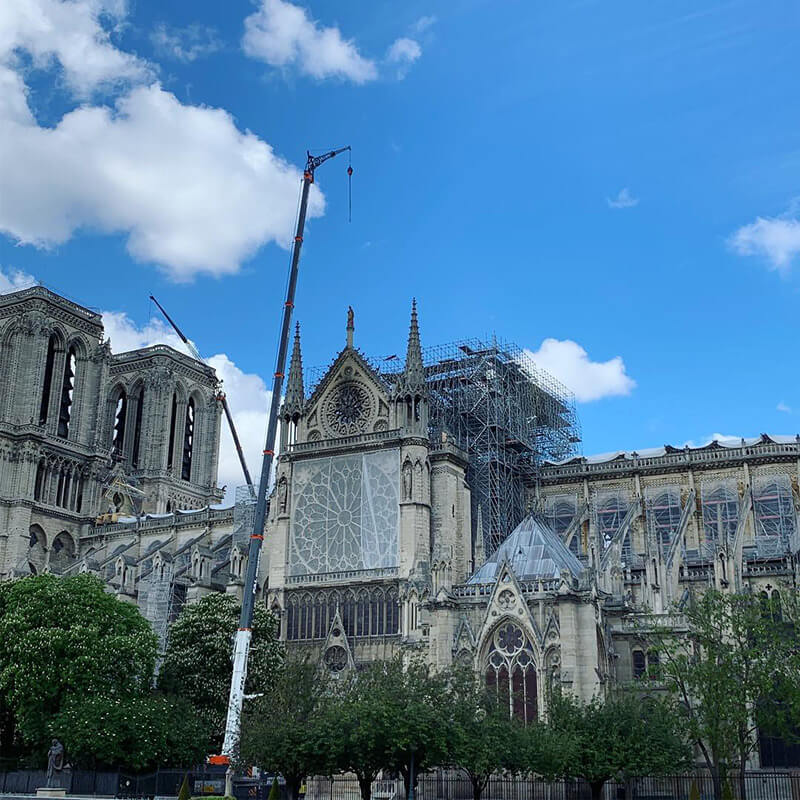 Unfortunately, a week before our trip, the Notre Dame fire happened, so we weren't able to go inside. Despite the damage, tourists still were flocking to see Notre Dame and it's something I believe every first time visitor to Paris should see. This beautiful building has gone through so much over the years and we hope to return to Paris to see it restored to its former glory. There isn't any information available as of now to when Notre Dame will be back open, but while we were there, we saw crews working, so we are hopeful that it's soon.
10. Versailles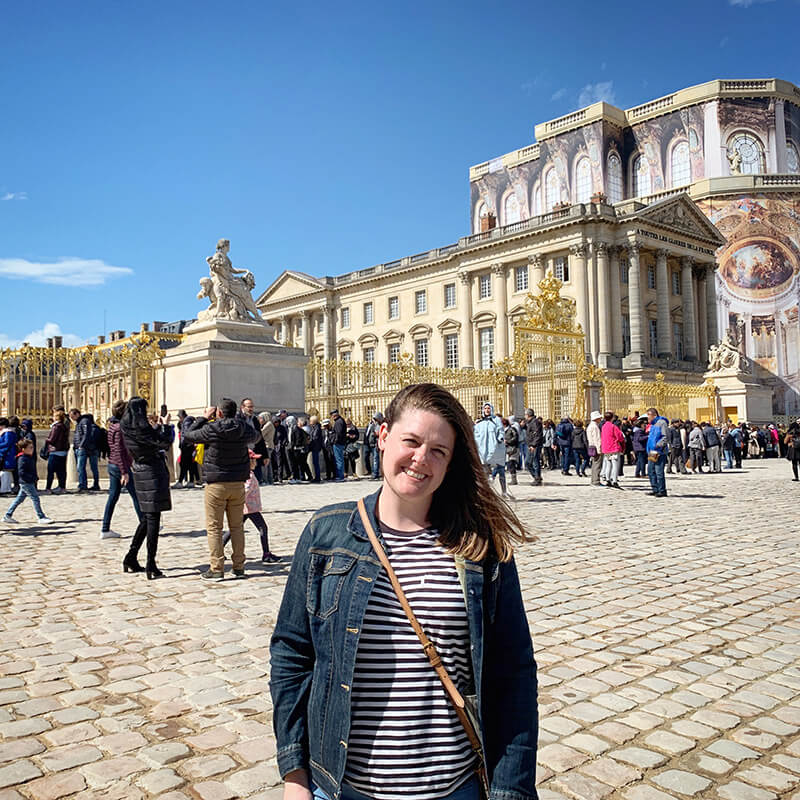 Versailles is actually a little outside of Paris, but we totally recommend taking the train ride there. This jaw dropping palace has 2,300 rooms and is considered to be one of the greatest achievements in 17th century art. We've never before seen a place so extravagant.
We had an unfortunate experience when visiting Versailles. We had purchased tickets in advance and were told that they got us to the front of the line. When we got there, we realized that although they did allow us to skip the entry line, that didn't apply to the security checkpoint, which was at least 3 hours long. There was literally thousands of people standing in line waiting to get in. We didn't want to spend the afternoon waiting, so we didn't go inside. It was really frustrating, but a lesson learned for the next time we visit Paris.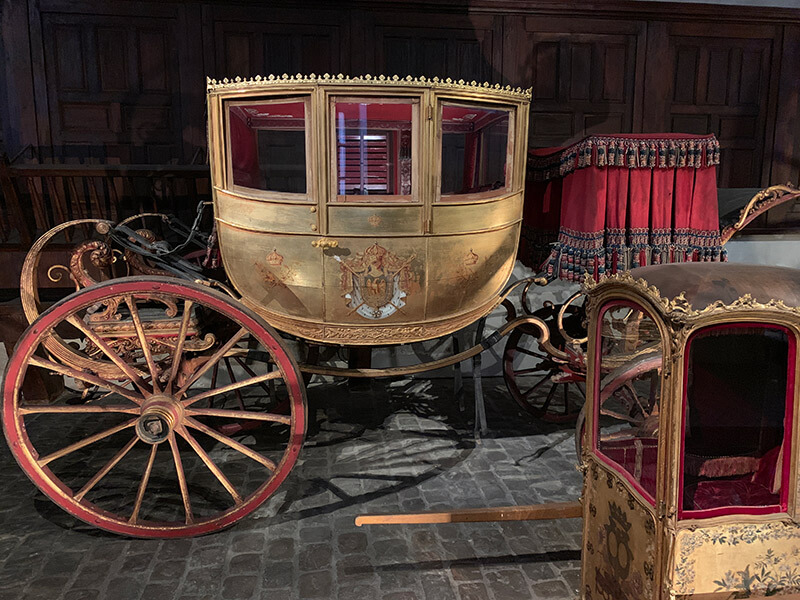 We did walk around the building, see the gardens and take some pictures of the outside. We then headed across the street to the horse stables, which actually turned out to be really interesting. Although we didn't get to fully experience everything, we still enjoyed it. It was unlike anything we have ever seen.
Our recommendation for Versailles is to get early (before they open) and don't bother spending the extra money for online tickets as they were pretty much worthless due to the security checkpoints they make you go through. The palace is closed on Monday, but we recommend going during the week if possible as there is less of a crowd.
Your First Trip to Paris will be Unforgettable
This list is just a small portion of all the things that Paris has to offer. We did so much during our first visit to Paris, but didn't get anywhere close to seeing everything! We hope to go back in a few years to explore the city even more.
We hope you find these 10 must see destinations of Paris helpful for planning your trip. Enjoy your time in Paris!
Save to Pinterest