We've just completed a month long road trip across the United States. We had a fantastic time and got to see so many new places. Both Mark and I agree that the best way to see the United States is to drive through it and we're grateful for a business and lifestyle that allows us to travel.
A lot of people think that traveling is expensive, but I'm here to tell you that it doesn't have to be. In fact, most of our month long trip was paid for using points and miles. This saved us hundreds of dollars and helped offset the rising cost of fuel prices.
The concept of travel hacking is nothing new. In fact, we have an old article that talks about how we didn't pay for a domestic flight for 3 years using rewards programs. It's entirely possible to have your next vacation paid for by taking advantage of the various programs available.
In this article, I want to break down the new programs we used to obtain free hotel stays, the credit card offers you can apply for, and other reward programs you can take advantage of that will give you rewards for things you're already spending money on.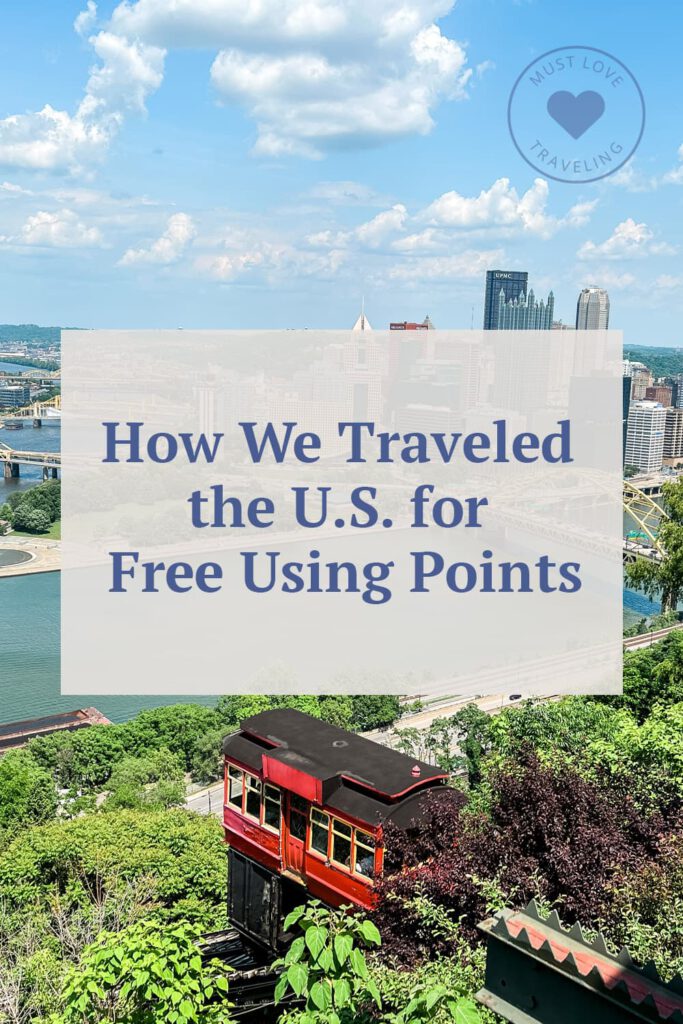 Table Of Contents
Travel Hacking Resources
By no means am I a travel hacking expert. While I think I do pretty well with points and miles programs, there are two different people I learned a lot from, especially when it came to using points and miles for hotel stays – a world I knew very little about.
Geobreeze Travel – Julia is an expert on travel hacking and has a great podcast that will teach you all the different ways to can earn points and miles. Definitely worth a listen if you're new to the game!
Pointsforfamilytravel – I follow this account on Instagram and have learned so much about how to take advantage of different credit card rewards programs and ways you can upgrade your stays for free. This is a great account to follow especially if you are looking to travel with kids.
A Note About Credit Cards
There are a lot of misconceptions about credit card reward programs. Some common things I've heard in the past:
Having multiple credit cards will ruin your credit score
This isn't true, as long as you pay off the balance every month. Both Mark and I have multiple cards and we're diligent about our spending and make sure none of them ever have a balance.
We have a simple rule – if we can't afford to pay for something twice, we don't buy it. We'll never go into debt to try and get something for free. You can take advantage of the many benefits to having a credit card if you use them responsibly.
It's impossible to hit the minimum spend to get your bonus points
Not if you plan out your spending. We like to take advantage of bonus offers when we know we're going to have some big upcoming expenses. We're currently in the process of doing home renovations, which made hitting our minimum spend easy. In the past, we used reward cards for business expenses and Christmas shopping.
Also, not every card requires a minimum spend. The Barclay AAdvantage Card will give you 60,000 miles after you make one purchase and pay their $99 annual fee. We used this card in 2019 to book our flight to San Francisco.
Redeeming your rewards is difficult
While it's true that some reward programs are better than others, I've never found it difficult to redeem rewards. Places like Capital One and Chase make it easy and even give you the option to transfer to partners. Southwest Airlines has a calendar that shows you the number of points required to redeem flights on different dates. IHG and Hilton rewards are constantly offering specials that allow you to earn and redeem points faster. It does take some research, but overall, I find redeeming points and miles easy.
How We Earned Points
There are a lot of different ways to earn points for travel. These are the two main programs we used for this trip:
Capital One Venture Card
Both Mark and I have Capital One Venture credit cards. I find Capital One to be one of the better travel reward programs. You get 2x points for every dollar spent, so points can accumulate quickly. It's easy to redeem points and the number of points required to book a decent flight or hotel is a lot less than other programs we are a part of.
Capital One currently has a bonus offer where you can earn 75,000 bonus miles once you spend $4,000 on purchases within the first 3 months from account opening.
To sign up for this offer, click my referral link.
I signed up for the Capital One Card first, and after spending the required amount, got my additional 75,000 bonus points.
I then sent Mark my referral link, where he signed up for his own card. I received an additional 20,000 points for referring Mark. Then Mark spent the required amount to receive his additional 75,000 points.
In total, we received over 170,000 points in just bonuses (that doesn't include the points we earned for spending)
Those points were enough to cover several nights in hotels across the country, saving us hundreds of dollars.
Pros and Cons of the Capital One Venture Card
Pros 
Easy to redeem points
Points can be used for flights, hotels, car rentals, and more
If your points don't cover the total amount, you can pay the rest in cash

2X per dollar on every purchase
Cons 
Venture card has a $95 annual fee
Requires you to have good – excellent credit to qualify
IHG Rewards Card
IHG hotels are all across the US, so it made sense to take advantage of their bonus offer to get some points for our hotel stays. We used our IHG Rewards Traveler card  from Chase to get 80,000 bonus points after spending $2,000 in the first 3 months. We were able to stay several nights for free in various locations across the country.
Use my referral link to sign up for your own IHG Card.
Pros and Cons of the IHG Rewards Traveler Card
Pros
Card has no annual fee
5x points on IHG purchases
3x points on dining, gas stations and streaming services
2x points on everything else
Redeem 3 nights, get the 4th night free
Cons
Requires a lot of points to book. It was hard to find hotels for less than 20,000 points a night.
Not as flexible as some other programs
Other Points and Rewards Programs We Use
While we mainly took advantage of our Capital One and IHG Rewards for this trip, here are a few other programs we use to get points.
American Airlines AAdvantage
Many airlines have shopping or dining portals that give you miles for things you're already spending money on. They are free to join and don't require you to have a credit card with them.
We signed up for the American Airlines shopping and dining portals as a way to easily rack up miles for future flights. You simply shop through their portal or dine at participating restaurants to receive points.
If you want to sign up for an airline's rewards program, pick the most popular airline in your airport so you'll have more options. We live in the Philadelphia area, so we chose the AAdvantage Program as it's one of the bigger airlines in our area.
Fetch Rewards
Fetch Rewards is another great way to get points for things you're already buying. Scan a receipt from any store or restaurant to earn points that can be redeemed for gift cards. You can even scan receipts from online retailers and Amazon.
You can redeem points for a variety of gift cards, but specifically for travel, they've partnered with Airbnb, Hotels.com, and several major airlines, making it another great program for travel rewards.
It's completely free to sign up for Fetch Rewards. If you enter my referral code, QQBBAK, you'll get 2,000 points at signup! Sign up here.
How to Get Points Even Faster – Stacking Rewards
The best way to get points quickly is by stacking rewards. When you stack rewards, you shop strategically in order to get the most points possible.
For example, let's say I needed to buy a washing machine. I could drive to Home Depot, figure out the machine I wanted to buy and purchase it with one of my rewards credit cards to get points.
OR
I could check to see if Home Depot was a part of the AA Shopping Portal. Yes, it is, and they're offering 4 AA miles/ dollar right now! If I purchase it online, I'll get AA miles and credit card points. And once I get my receipt, I'll make sure to scan it in Fetch Rewards to get additional points there.
By stacking reward programs, I was able to take advantage of multiple reward programs, instead of just one.
Additional Tips for Travel Hacking
You might be feeling pretty overwhelmed if this is all new to you. I definitely felt the same way at first. Here are some additional tips that will hopefully help you feel more at ease.
Have a Plan
I find it much easier to have a travel destination in mind before you try to attempt travel hacking. This way, you can do research as to how much things will cost and how many points or miles you'll need to get there.
Avoid FOMO
There are a lot of really enticing deals and bonuses out there, but not all of them will be right for you. If you see an airline credit card with a great bonus offer, but that airline doesn't fly out of your city, it might not be the best idea to sign up for it. If you prefer certain hotel chains, sign up for their rewards program instead of others. You get the idea.
Start Small
If you're just getting started, I recommend signing up for credit cards with no annual fee first. You won't get as many rewards or benefits as the cards with fees, but these programs will give you a better understanding of how things work. Move on to cards with annual fees once you're comfortable with everything.
Also, if you're not ready to go the credit card route, almost every airline or hotel chain has rewards programs you can join for free. Places like the AA Shopping and Dining portals are easy ways to get rewards for things you're already buying. Why not take advantage of them?
Traveling Doesn't Have to be Expensive
The idea that traveling is super expensive is nonsense. With a little research and some strategy, we saved hundreds of dollars on our month long road trip and made memories that will last a lifetime. I hope this article gave you some insight on ways you can take advantage of the different travel reward programs out there. Happy travels!