I didn't know how much I loved beer gardens until I moved to Philadelphia! Once the warmer months come there are over 40 different beer gardens around the city. Each beer garden is unique in its own way. For example, some of the gardens offer more food choices, some are more family-friendly, while others are 21+ at certain hours.
Since there are over 40 different beer gardens in Philly I won't list all the locations. Instead, I will give you a list of my top 6 beer gardens.
PHS Pop Up Garden on South Street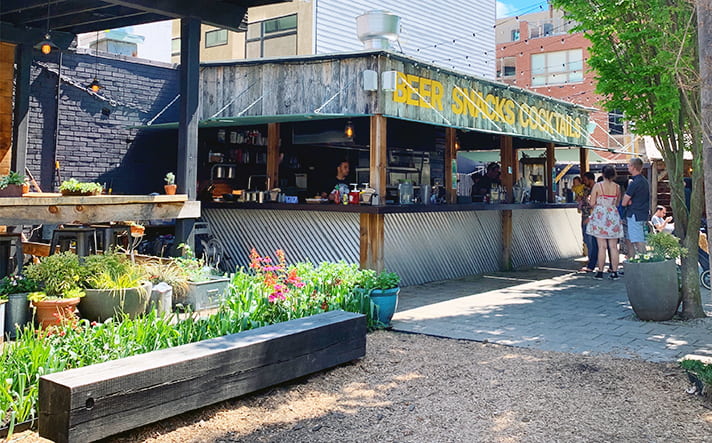 The beer garden at 15th & South is our favorite beer garden in all of Philly. We used to live a few blocks from there and would visit often. The main reason we both love this beer garden is because of its location and neighborhood feel. You can easily spend a few hours here because they have food and tons of games.
Yes, it's a beer garden but they also offer tons of different cocktails in case you are with a friend that doesn't like beer. I personally will mix it up sometimes and switch between drinking beer and cocktails. I highly recommend you check out this beer garden. It's a great place to end the night or go here before having a nice dinner somewhere on South Street.
Morgan's Pier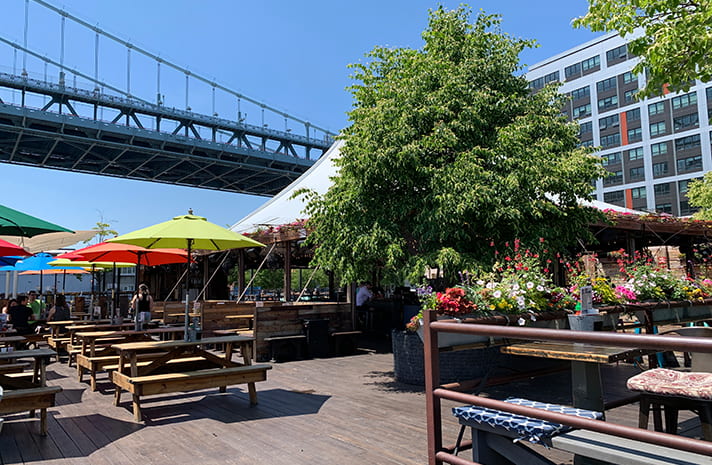 Morgan's Pier is my second favorite beer garden. What makes this place unique are the views. You will be overlooking the Delaware River and have a view of New Jersey. I like watching all the traffic and trains that go over the Ben Franklin Bridge while having a drink. About half of their draft beers are local breweries. That's a big plus for me! They also have a large selection of canned beers and cocktails. The food selection is nice here. I've had a few small snacks while visiting here and the food is good quality.
Morgan's Pier is one of the best beer gardens if you are looking for live entertainment. They offer tons of themed events. Visit their website for their events calendar.
Note: Anyone under the age of 21 must be accompanied by a parent or legal guardian & exit the venue by 9 pm.
Spruce Street Harbor Park

Photo Credit: https://www.delawareriverwaterfront.com/places/spruce-street-harbor-park
Spruce Street Harbor Park is close to Morgan's Pier and offers similar views. I sometimes call this place the hammock beer garden. If you're lucky enough, you can grab a hammock and relax while people watching. Sometimes, it's hard to get a hammock because this place can get really busy. What makes this place unique are all the different activities and food choices. They have several different restaurants such as Hip City Veg, Chickie's & Pete's, Garces, and Franklin Fountain.
This place is amazing at nighttime! They have multi-color lights hanging from the trees. There's no other place like this in the city.
Tip: The weekends can get very busy at this place, so I recommend you visit here earlier in the day or on a weekday.
Bok Bar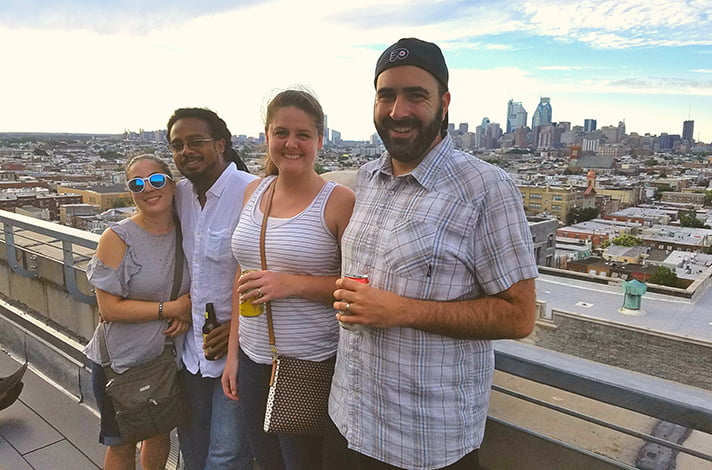 Bok Bar wins for best views! A quick history lesson on this building: it was built in 1936 as a high school and closed in 2013. Although there were some cosmetic changes over the 75-year history, the building remains mostly unchanged.
When you first get into the building you will be transformed back in time. You will walk through a few hallways of the old school and then go up an elevator to the roof deck to the beer garden. As you walk through the hallways, you'll see signs for many local businesses who are now using Bok as office space. I love when I see a historical building being used again instead of being torn down to build overpriced townhomes.
Once you are on the roof deck you will immediately be blown away by the view of Center City. There is plenty of seating and tables to take in the views while you are drinking your beer or wine. They also offer some food choices, but the menu is pretty limited.
Note: Kids age 12 and under accompanied by an adult are allowed in up until 7 pm. After that, they are a 21+ bar. On Sunday's dogs and children are welcome.
Drury Beer Garden at Opa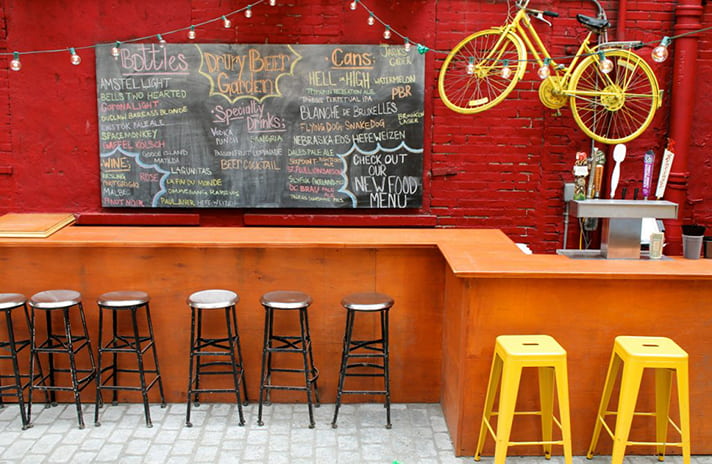 Photo Credit: https://www.phillymag.com/foobooz/2017/04/07/drury-beer-garden-2017/
This beer garden is very unique; almost like a speakeasy. It's tucked behind a restaurant called Opa. You gain access through the restaurant or a back alley entrance. They offer a good selection of draft beers and an even larger selection of select canned beers. Just like most beer gardens they have some good food choices.
I haven't visited this beer garden at the later hours, but have heard that it can get pretty crowded at night. I can understand why this place can get packed because it's surrounded by tons of other bars and restaurants in Midtown Philly.
Parks on Tap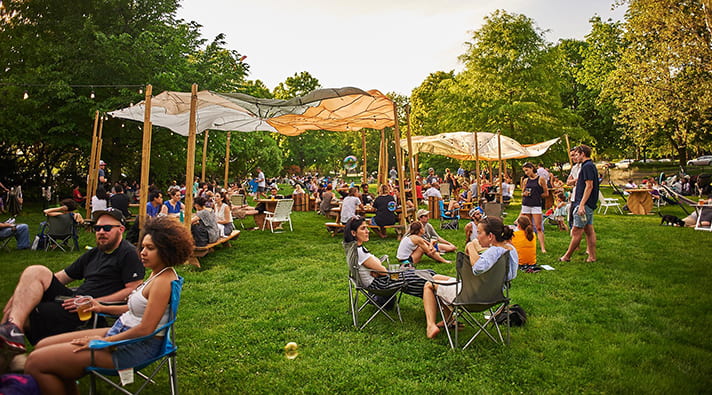 Photo Credit: https://www.facebook.com/parksontap/
I can't talk about beer gardens without mentioning Parks on Tap. This is a traveling beer garden series, so they change locations every week. I love to look at their schedule and plan out a nice night out depending where they are located that week. This forces you to explore different neighborhoods that you normally wouldn't visit on a normal night. They cover a large part of the city, so each location will have a totally different feel when you visit.
The beer selection is pretty standard. For 2019, they have 9 rotating drafts and a few different canned beers. They also offer some good food options.
This summer enjoy what these beer gardens have to offer! You might have a new favorite place to hang out and enjoy the outdoors with family or friends.
Save to Pinterest