Looking for a fun day trip? Look no further than Cape May, NJ. It's beautiful beaches, charming shops and historic Victorian buildings will make it a great destination for a fun day with the family.
Growing up in New Jersey, people would always talk about how nice Cape May was. It was one of those places I kept telling myself I would visit, but it never actually happened until last weekend. Since it was only an hour from where we are currently staying, it seemed like a good destination for a Sunday afternoon. Mark and I hopped in the car and headed down there.
Cape May is the most southern beach in New Jersey. It was designated as a National Historic District in 1976 due to its nearly 600 preserved Victorian-style homes. It's beautiful beaches, quaint shops, and tons of family-friendly activities make it a perfect day trip. After visiting, it's no surprise why Cape May was voted one of the best beach towns in America. Here are some places we recommend you visit on a day trip to Cape May.
Visit The Cape May Lighthouse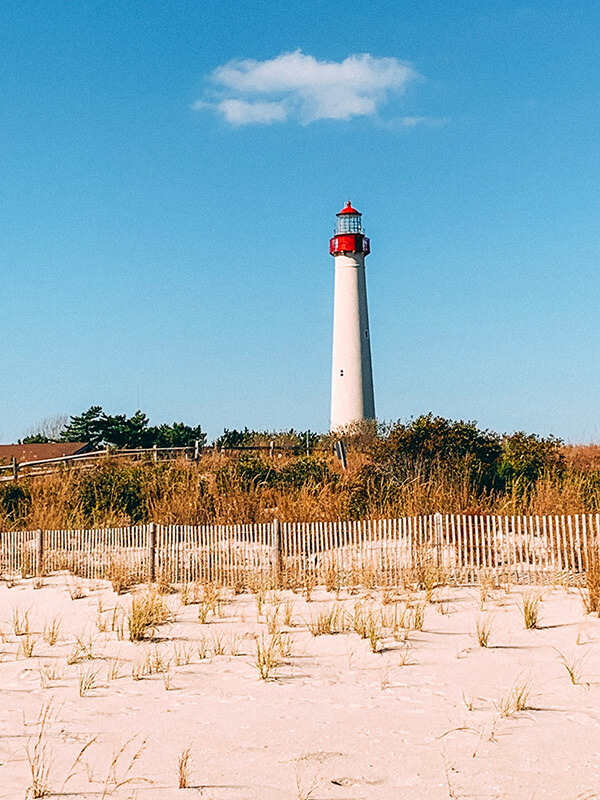 We decided it would make sense to drive to the furthest point south, then work our way up, so our first stop was The Cape May Lighthouse and surrounding beach. The Cape May Lighthouse was built in 1859 and continues to operate to this day. From the lighthouse, you can see beautiful views of the beach and surrounding areas. Lighthouse tours cost $10. If you're scared of heights, visit the Oil House, where you can learn more about the lighthouse in its orientation center.
The Lighthouse is located at a state park, which offers many amenities for people that love nature. While we were there, there was a group of people bird watching, which is a popular activity in the fall. They also have a visitor's center, where you can see and learn more about the native wildlife in Cape May, a great activity for kids.
Eat at Exit Zero Filling Station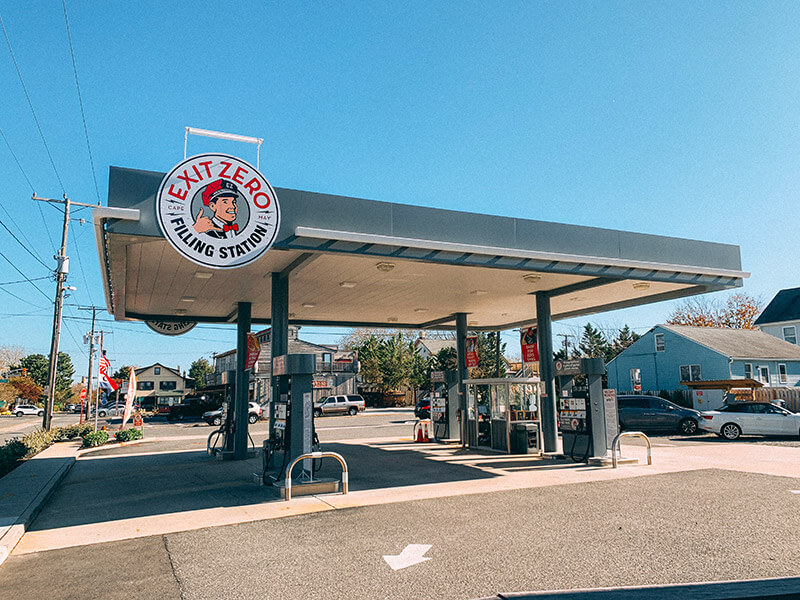 After we explored the Lighthouse, Mark was hungry. Located just a few minutes from the Lighthouse is Exit Zero Filling Station, a really unique place to grab a delicious bite to eat. Exit Zero is part gas station, part restaurant, and part gift shop.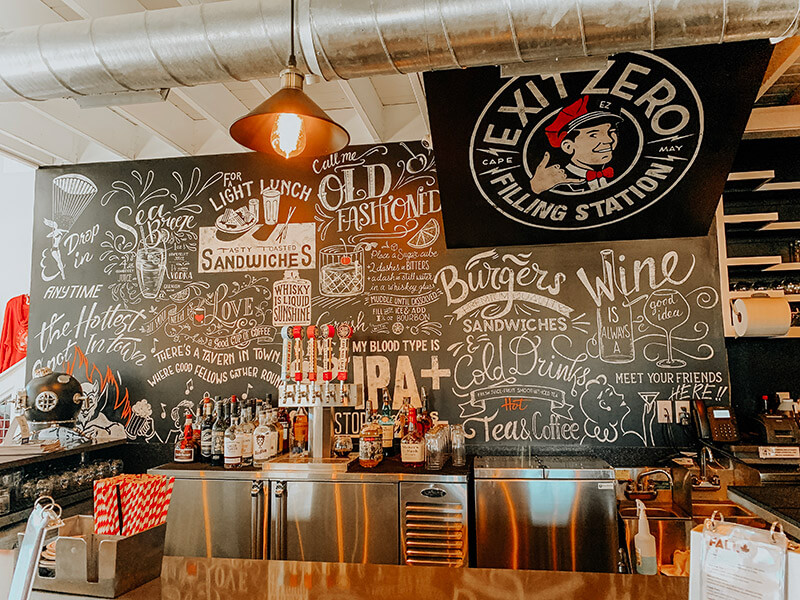 The inside of the restaurant had a beautiful mural painted throughout and lots of fun decor. The food here was delicious! Both Mark and I really liked the waffle fries, which had some special seasoning on them that made them so good.
Exit Zero is located at 110 Sunset Blvd 08204 Cape May, NJ.
Walk Down Washington Street
After we ate lunch, we headed to Washington Street to check out the shops and cute cafes. This area is only open to pedestrians, so you can walk freely in the street and explore.
This area of Cape May reminded me a lot of Stars Hollow from Gilmore Girls. It was decorated perfectly for fall and all the storefronts were so charming and inviting. I'd like to imagine that everyone working there knew each other and were all friends.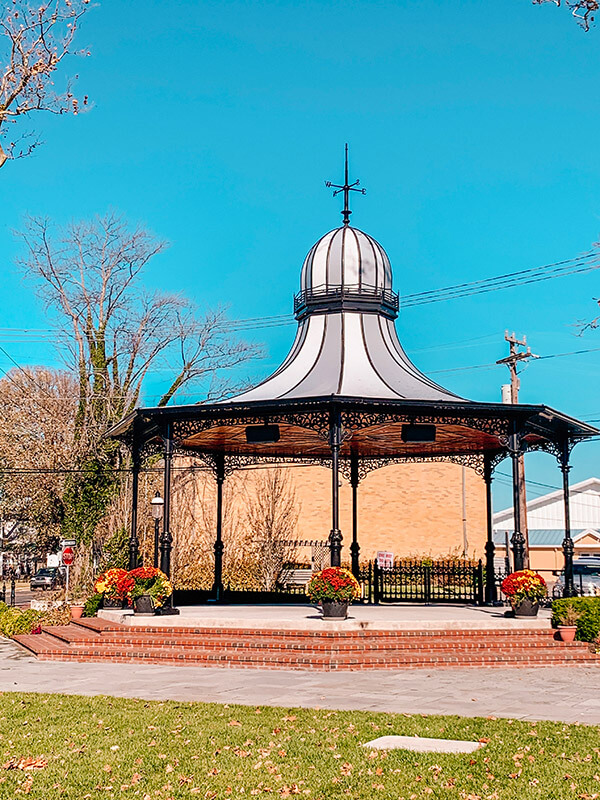 They even had a square with a gazebo.
Admire the Victorian Architecture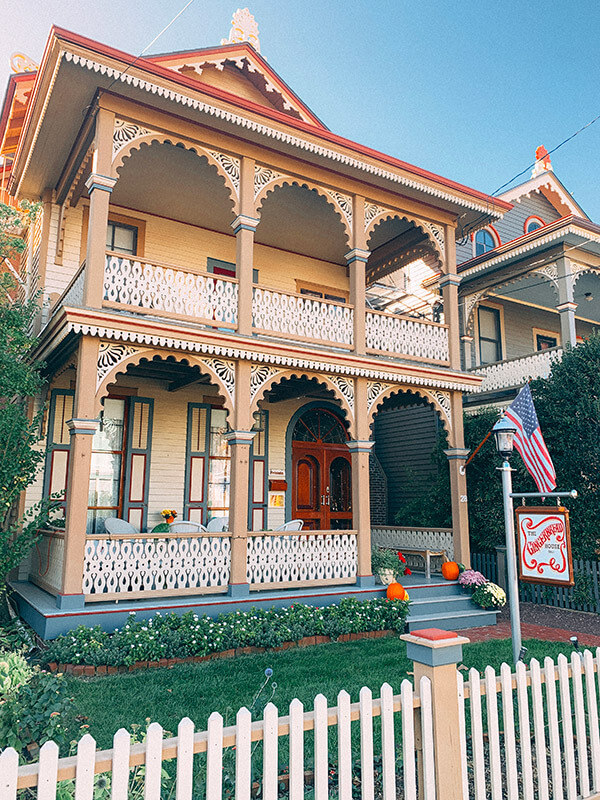 Cape May is definitely not your typical Jersey Shore beach town, mainly because of the rich history here. There are nearly 600 Victorian-style homes in Cape May, many of which are now bed and breakfasts or hotels you can stay in.
I love this style of architecture, so this was my favorite part of Cape May. Even though many of the homes were built in the 1800s, they have been incredibly well preserved. Both Mark and I agreed that the next time we visit Cape May, we need to stay in one!
Go to the Emlen Physick Estate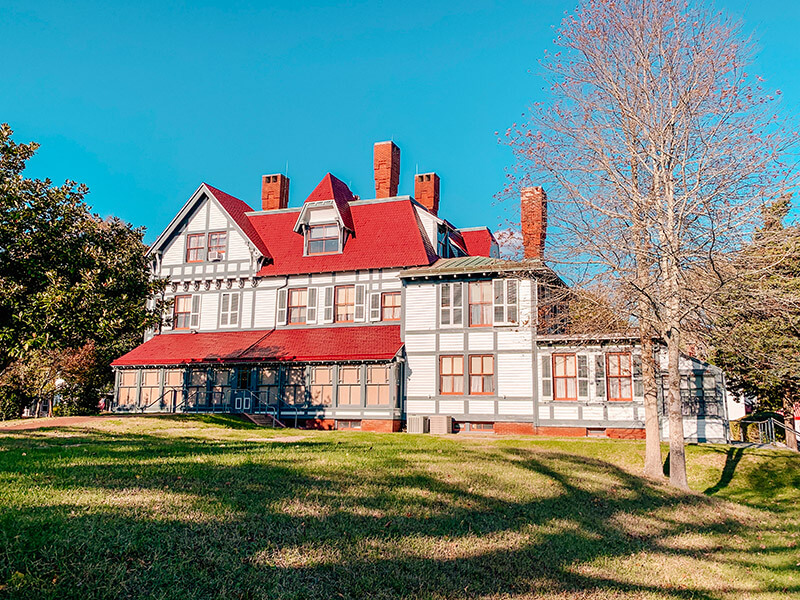 The Emlen Physick Estate is an 18 room Victorian mansion built in 1879. It was built by Frank Furness for Dr. Emlen Physick Jr., a descendant of a well-known family in Philadelphia. The mansion was under threat of demolition in the early 1970s but was saved by the Mid-Atlantic Center for the Arts and Humanities (MAC).
Be sure to buy tickets in advance or get here early if you want to take a tour of the mansion. They only do a few tours a day and unfortunately, when we got there all of the tours were sold out. While we weren't able to visit inside, we still enjoyed the grounds and learned a little about the history of the estate.
The Emlen Physick Mansion is located at 1048 Washington St, Cape May, NJ 08204.
Get a Drink at Cape May Brewing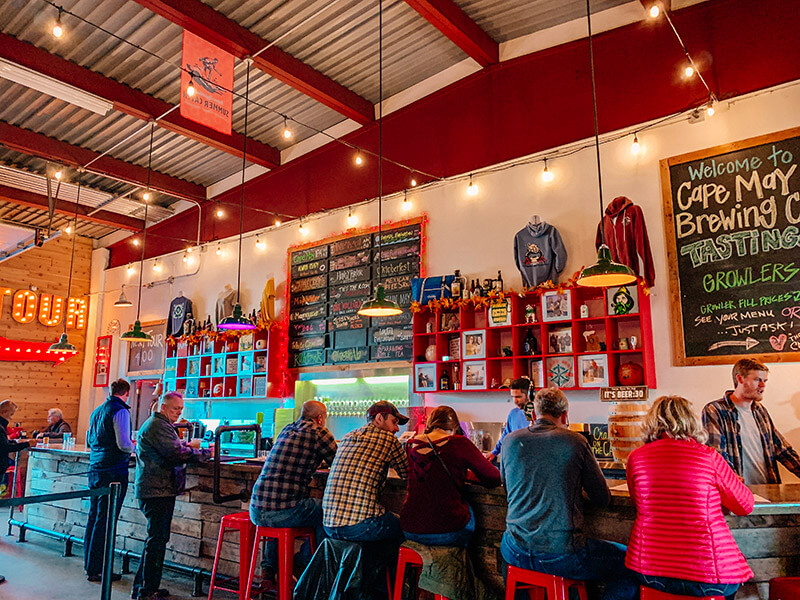 It wouldn't be a complete day without stopping for a drink somewhere. We ended our day with a flight at the Cape May Brewing Company. We've had their beers in the past and really enjoyed them, so we were excited to check out their space. Cape May is a pretty big craft brewery in the area and their quality is top-notch. We enjoyed all of the beers we tasted, but my favorite was their porter called Mexican Coffee. It tasted so much like coffee and went down smoothly.
 Cape May Brewing is located at 1288 Hornet Rd, Cape May, NJ 08204.
Related Article: Exploring South Jersey Breweries
Cape May is a Fantastic Place to Take a Day Trip
We really enjoyed our day in Cape May and wish we had checked out this beautiful beach town sooner. With its beaches, history, shopping, great restaurants, and tasty drinks, Cape May really had something for everyone. We definitely want to come back and stay at one of the B&B's and explore more of what this charming town has to offer.
Save To Pinterest